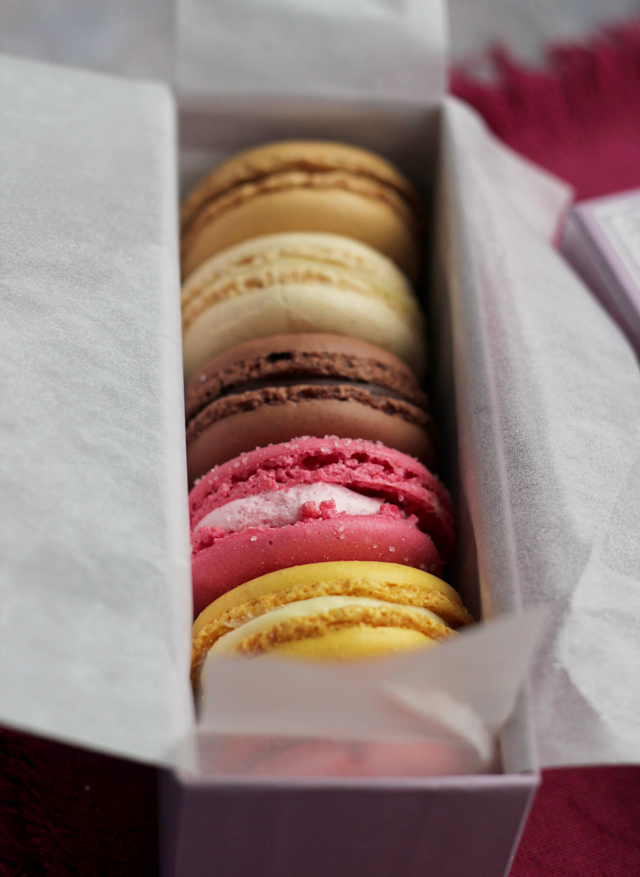 1. Sometimes, I eat Laduree macarons for "blog research". It's a hard job but someone has to do it.
2. Actually, one of my running friends gave me these as a thank you this past weekend, and it just so happened that I am working on a project this month that involves making the perfect mac. Talk about perfect timing. I don't feel like I absorbed quite enough of the good mac juju from eating these, though, because my most recent batch was partly cracked and hollow in the middle. Womp womp. I think I need to go back for a second round. I'm still posting them tomorrow, though, because even a bad mac is a good mac! If you have macaron tips and/or a failproof recipe, you can feel free to send it my way. Hint hint.
3. I have done zero wedding things in the past two months. I can't tell whether this makes me super happy or super anxious. Or just negligent.
4. Eats Well With Others got LLC-ed this past week! This has absolutely no effect on you at all, except that you might have to listen to me explain that I am now a CEO of a small business. And you will have to try to keep a straight face while I say it.
5. Currently obsessed with this cookbook
. So far it has produced the best pie crust I've ever had (you can actually SEE THE FLAKY LAYERS) and sweet salty peanutty blondie heaven. Someone needs to take it away from me before I bake myself into high cholesterol.
6. I just want you all to know that I really intended to make mango gelato for the past two weekends. But somehow all the mangoes disappeared. Into my belly. And for that, I apologize.
7. How do you guys feel about sifting? I never sift. Until two days ago when I decided it might be a good idea, but I don't have a real sifter, so I just put flour in a fine-meshed sieve and kind of tried to push it through. <– Non-ideal. I think more flour ended up falling out of the sieve and into the bowl instead of actually going through it. All it did was convince me I should never try to sift again.
8. The only thing The.Boy enjoys more than screaming at the tv during baseball/football/hockey games. Is screaming at the tv during Shark Tank. Like, every five seconds.
9. I try not to even be in the same room as him when Law and Order is on, because then nothing is sacred. Which is pretty hard because our whole apartment is basically one room.
10. Who is going to go see The Other Woman with me?? (You know you want to.)