Berry-studded lemon-glazed blueberry muffins that taste a bit like sunshine and make mornings brighter.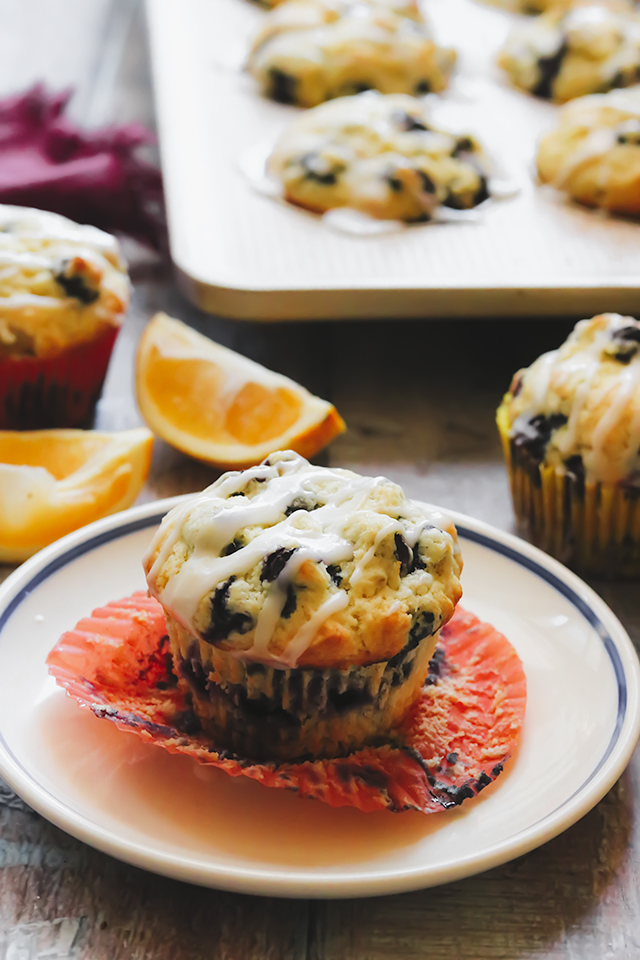 When you eat a muffin and it tastes like HAPPINESS.
If, you know, your version of happiness is a soft and plushy breakfast pastry loaded up with an allllmmmmost excessive amount of berries and a lemon glaze drizzle.
That's what we have going on here today. Lemon-glazed blueberry muffins!
Perfect for all of life's mornings (and afternoons. and evening snacks.) but especially ones where you're wishing it were finally spring and it really just isn't. It's okay! Because we're muffin-ing and that's what counts.
We love muffins for breakfast treats around here, especially because they tend to come together pretty quickly, feel like an indulgence, AND I can load them up with so much fruit that it's basically the same as eating fruit salad. Don't try to convince me otherwise.
These are especially simple in that the batter is mixed up by hand and requires absolutely zero finesse or specialty ingredients. This makes them excellent for little helpers who have a tendency to get a tad overzealous with a spatula. 
There are just two tricks to making these muffins a little bit extra (in a good way).
The first is that we're going to zest a lemon and use our (clean) fingers to rub it into the sugar. The grittiness of the sugar helps to release the essential oils in the lemon zest, bringing out their flavor that much more. The oil then coats the sugar and gets into every muffin nook and cranny so that they are positively bursting with bright, lemon flavor.
The second trick is to use buttermilk as our prime source of liquid in the batter. This adds tang, a little bit of extra flavor, and ensures that the muffins stay gloriously moist after baking. I try to always keep a carton on hand for spur-of-the-moment muffin and pancake cravings and tend to use the expiration date as more of a suggestion than a hard and fast rule. Honestly, I've probably used some months after the carton said I really shouldn't have and am still here to talk about it, so as long as you're within a few weeks or so, it's fine.
Finally, the muffins are topped off with a simple lemon glaze that adds the final touch of brightness to the whole deal.
Let's get baking!
Lemon-Glazed Blueberry Muffins
Berry-studded lemon-glazed blueberry muffins that taste a bit like sunshine and make mornings brighter.
Ingredients
For the muffins
2 cups (272 g) all purpose flour
2¼ tsp baking powder
¼ tsp baking soda
¼ tsp fine sea salt
⅔ cup (133 g) sugar
finely grated zest of 1 lemon
¾ cup buttermilk
2 large eggs
8 tbsp (113 g) unsalted butter, melted
1½ cups blueberries
For the lemon glaze
1 cup (120 g) powdered sugar
1-2 tbsp lemon juice
Instructions
For the muffins
Heat oven to 400F. Line a standard muffin tin with cupcake liners or grease with baking spray. Set aside.
In a large bowl, whisk together the flour, baking powder, baking soda, and salt. Set aside.
Combine the sugar and lemon zest in a medium bowl and use your fingers to rub the two together until the sugar is fragrant and looks a bit like wet sand. Add the sugar to the flour mixture and whisk to combine.
Add the buttermilk to the bowl used for the sugar. Whisk in the eggs until well combined. Whisk in the melted butter.
Pour the wet ingredients into the dry ingredients and stir until mostly combined. Add in the berries and stir to incorporate them. Scoop the batter into the prepared muffin cups, dividing it as equally as possible.
Bake for 18-20 minutes, or until the muffins are golden on top and a toothpick inserted in the center comes out clean. Allow to rest in the tin for 5 minutes, then remove to a wire rack to cool completely.
For the lemon glaze
In a medium bowl, whisk together the powdered sugar and lemon juice. Add as much lemon juice as necessary to reach desired consistency. Use a spoon to drizzle over the cooled muffins.