A gorgeous rhurbarb rosemary streusel pie with a delicious sweet-tart filling and slightly herbal crumble topping.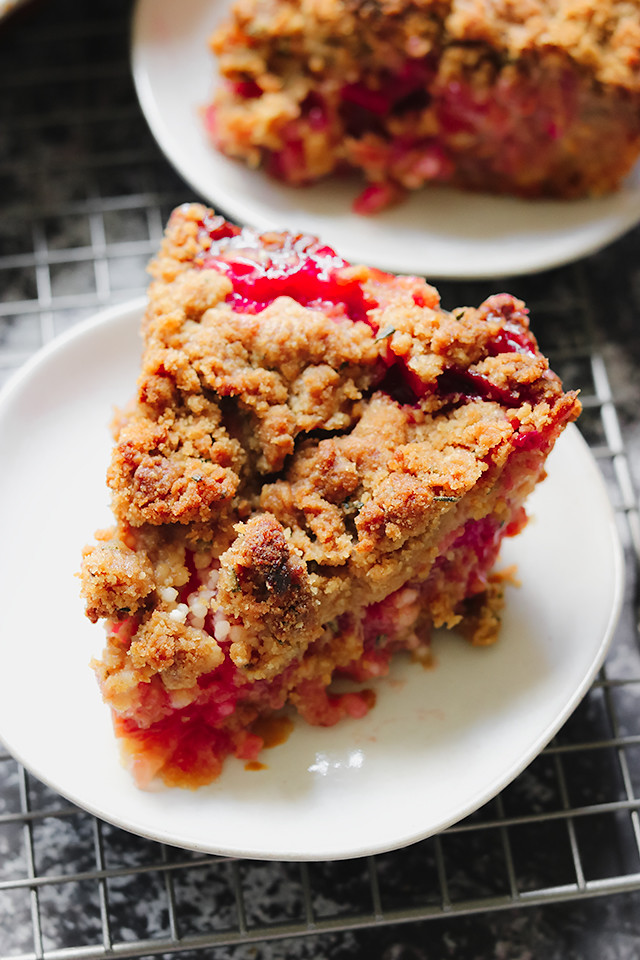 I've been waiting my WHOLE LIFE to share this recipe with you.
Okay, a year. But it feels like a lifetime because a year ago we were entirely different people living entirely different lives.
We could leave our houses!! Without masks!! Or lysol spray!!
What crazy, weird, reckless people we were back then.
What day is it? What month are we in?
ARE WE EVER EVEN GOING TO FIND RHUBARB AGAIN.
I've actually been on a hunt for it (and by that I mean that I scour all the online delivery services for it on a weekly basis) and it has been impossible to find. I actually remember this being true in my BC (before corona) life as well, but back then I could just run to the corner store and pick some up.
Now I'm left sending frantic (definitely NOT annoying) messages to my Amazon Prime Now shopper who basically ignores all of my pleas/requests.
I tip well, I swear.
Basically, this is my way of saying don't feel bad if you can't find rhubarb. I can't either!!
But maybe someday we'll meet again and when we do I'll absolutely definitely be RUNNING to make this pie because it is fricking glorious.
The filling is made of just rhubarb, (lots of) sugar, and a hint of ginger spice. It's beautifully sweet-tart and sets up absolutely perfectly. It's topped with a slightly herbal streusel that ties the whole thing together and will make you wonder why you haven't been eating rosemary with your rhubarb your whole life.
Rhubarb Rosemary Streusel Pie
A gorgeous rhurbarb rosemary streusel pie with a delicious sweet-tart filling and slightly herbal crumble topping.
Ingredients
For the crust
2½ cups all purpose flour
1 tsp sugar
1 tsp kosher salt
1 cup unsalted European-style butter, cut into ½-inch cubes
½ cup ice
1 cup ice water
2 tbsp apple cider vinegar
For the rosemary streusel
¾ cup (90 g) all purpose flour
¼ cup (30 g) whole wheat flour
½ cup (100 g) packed light brown sugar
2 tsp finely minced fresh rosemary
¼ tsp kosher salt
½ cup (113 g) unsalted butter, chilled and cut into ½-inch cubes
For the filling
1¾ lb (790 g) rhubarb, trimmed and sliced into 1-inch pieces
¾ cup (150 g) sugar
¼ cup (50 g) turbinado sugar
¼ cup + 2 tbsp (40 g) tapioca starch
⅛ tsp ground ginger
¼ tsp kosher salt
¼ tsp lemon zest
1 large egg, beaten
Instructions
For the crust
Whisk together the flour, sugar, and salt in a large bowl. Add the cold butter cubes and toss so that they are coated with the flour. Using a pastry blender, cut the butter into the flour until the largest butter pieces are the size of peas. The rest of the mixture should look and feel like Parmesan cheese.
Place the ice in a liquid measuring cup. Add ice water until it reaches the 1 cup mark, then stir in the apple cider vinegar.
Add the ice water-vinegar mixture to the pie crust mixture by the tablespoon, mixing with your hands, until the dough comes together. Remove it from the bowl and cut it into two equal pieces. Pat each piece into a 2-inch thick disc, wrap in plastic wrap, and refrigerate for at least 2 hours or overnight. (This makes enough for two single crust pies or one double crust pie, so freeze any unused discs. This recipe only uses one.)
Once chilled, roll the dough into a 13-inch round on a floured surface. Fit into a pie plate and crimp as desired. Freeze the crust for 15 minutes.
Heat oven to 450F. Remove the pie crust from the freezer and line with aluminum foil. Fill with dried beans or pie weights and place in the oven on a baking sheet. Bake for 25-27 minutes. Fold back the foil, exposing the crimps. Bake for another 5-7 minutes, or until the crimps are a deep golden brown.
Remove from the oven and let cool while you prepare the filling.
For the streusel
Combine the flours, brown sugar, rosemary, and salt in a large bowl. Cut the butter into the flour mixture, using your fingers or a pastry blender. Continue to break down the butter until the mixture resembles wet sand. Place in the refrigerator until ready to use.
For the filling
When ready to bake the pie, heat oven to 350F. Line a baking sheet with parchment paper. Set aside.
In a large bowl, toss together the rhubarb, sugars, tapioca starch, ginger, salt, and lemon zest until evenly mixed.
Brush the crimped edge of the pie crust with the beaten egg. Layer the rhubarb mixture on top of the pie crust in an even layer. Cover with the streusel topping, leaving a hole in the center to vent it. Place the assembled pie on the prepared baking sheet.
Place in the oven and bake for 1.5-2 hours, or until the pie juices are bubbling in the center and the streusel is a deep golden color.
Allow to cool completely before serving.