Perfect for those days when you don't really want to cook, these greens, jalapeno, and brie quesadillas make for a quick and delicious meal.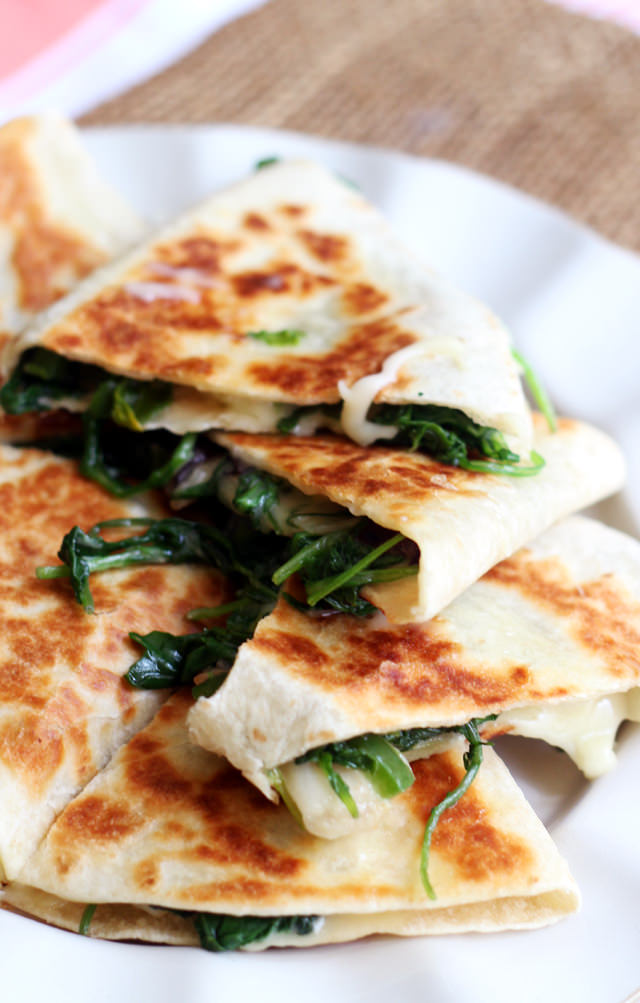 This is pretty much Christmas in June.
Call me crazy, but scanning the salad greens section is one of my favorite pastimes.
The day I discovered baby kale? One of the best days of my life.
Second only to the day I discovered Earthbound Farm's Power Greens Blend, which has baby kale, baby chards, AND baby spinach.
I just don't even have words for how much I love it.
I really thought that couldn't be topped…and then they went and came out with their KALE ITALIA blend. And what perfect timing since I'm leaving for Italy TODAY.
Way to get me in the mood.
This new blend has our old favorite baby kale along with some new friends: mizuna, arugula, and radicchio. I call them the Bitter Baby Greens…because we're besties like that.
As much as I love a good salad, sometimes I crave my greens with a little bit more…pizzazz.
And spice. And CHEESE.
Quesadillas, you say?! I like where this is going.
Perfect for those summer days when you don't actually feel like cooking but you still have to eat, these 'dillas require no more than 15 minutes of standing in front of the stove…and they are DEEEELICIOUS. The greens get some heat from a few jalapenos, a touch of Vidalia onion sweetness, and lots of melty brie glory all wrapped up in a crispy tortilla shell.
I dare you to not get excited about them. Because, IMPOSSIBLE.
Not sure where to find Earthbound Farm products near you? Check out their product locator for more info and to get a store coupon!

Greens, Jalapeno, and Brie Quesadillas
Perfect for those days when you don't really want to cook, these greens, jalapeno, and brie quesadillas make for a quick and delicious meal.
Ingredients
3 tbsp olive oil, divided
1 large Vidalia onion, diced
2 jalapenos, seeded and thinly sliced
salt and black pepper, to taste
10 oz Earthbound Farm Kale Italia Blend
8 oz brie, cut into 1-inch cubes
6-8 8-inch tortillas
Instructions
In a large skillet, heat the olive oil over medium heat. Add the onion and jalapenos to the pan, along with a pinch of salt. Saute for 6-8 minutes or until onions are translucent and soft. Add the greens to the pan a handful at a time and saute until wilted. Season to taste with salt and black pepper.
Divide the greens among the tortillas, arranging them so they are gathered on one half of the shell. Top with the brie. Fold the other half over to form a sandwich.
Heat a grill pan over medium-high heat. Add 1 tbsp olive oil to the pan and heat until shimmering. Place 3-4 quesadillas on the pan at a time, cooking for 2 minutes on each side or until crispy and browned. Serve warm.
Notes
An Eats Well With Others Original
Nutrition Information
Serving size:
1-2 quesadilla
This conversation is sponsored by Earthbound Farm. The opinions and text are all mine.