A double layered cranberry cheesecake pie made with a gingerbread spiced crust.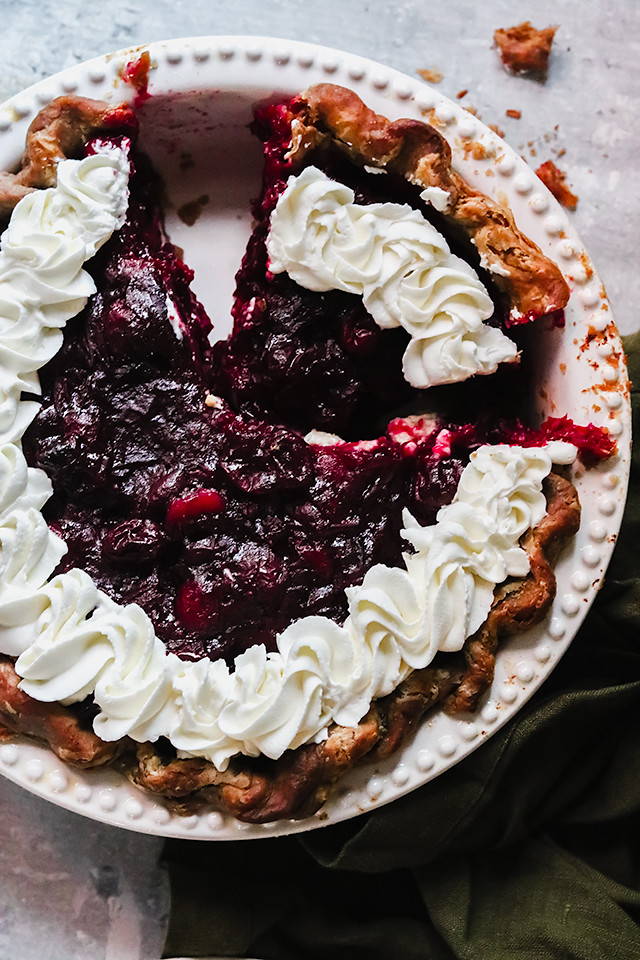 We're heading into pie-for-breakfast season and I am SO. PUMPED.
To be fair, that can and should be every season, but somehow it feels more socially acceptable at this time of year.
When your fridge is so filled with pie that there's no room for breakfast staples, then what else can you possibly do?
I feel like we need it even more this year because there is no better incentive to get out of bed than the knowledge that you can be eating pie for breakfast. Seriously.
This cranberry cheesecake pie is a little bit off the beaten Thanksgiving pie path, but that just makes me love it that much more!
It's from Erin McDowell's new pie book, The Book On Pie, and holy moly if you love pie then you need this book. There is not a single recipe in it that I don't want to make. It is also a great pie reference with amazing tips and tricks on all the pie basics, like crust making, crust crimping, crust topping, etc.
I had some cranberries languishing in my fridge, which is what pushed me to tackle this pie. It's a good thing too because I had complete decision fatigue and would have found it impossible to choose a recipe otherwise. Really, they all look perfect.
This pie starts with an all-butter crust that is filled with gingerbread spices. It is impossibly flaky and so aromatic! I've never spiced a crust before, but it is so genius and I will definitely be doing it again. And again. And again.
At the bottom there is a layer of cream cheese filling that it is the perfect counterpart to the tart cranberries that top it. The cranberry filling is also well-spiced and cooked on the stovetop to a thick cranberry sauce consistency before baking. I would recommend making the cranberry filling early on in the pie making process (like during one of the crust chill steps) so that it can cool while you prepare the rest of the pie.
I topped the pie with a simple whipped cream, but a dollop of vanilla ice cream would also be quite excellent here.
Cranberry Cheesecake Pie with Gingerbread Spice Crust
A double layered cranberry cheesecake pie made with a gingerbread spiced crust.
Ingredients
For the crust
150 g (1¼ cups) all purpose flour
1¼ tsp ginger
1 tsp cinnamon
½ tsp cloves
¼ tsp nutmeg
1 g (1/4 tsp kosher salt)
113 g (8 tbsp) cold unsalted butter, cut into ½-inch cubes
60 g (1/4 cup) ice water
For the cranberry filling
906 g ( 2 lb) cranberries
113 g (1/2 cup) orange juice
100 g (1/2 cup) sugar
100 g (1/2 cup) dark brown sugar
1 tsp ground cinnamon
¾ tsp ground ginger
¼ tsp ground cloves
½ tsp kosher salt
½ tsp vanilla extract
For the cream cheese filling
226 g (8 oz) cream cheese, room temperature
56 g (1/2 cup) powdered sugar
1 large egg, lightly beaten
½ tsp vanilla extract
¼ tsp kosher salt
Instructions
For the crust
In a large bowl, whisk together the flour, ginger, cinnamon, cloves, nutmeg, and salt. Add the butter to the bowl and toss to coat in the flour mixture. Press the butter cubes between your fingers to flatten then into big shards of butter. Continue to flatten and press them between your fingers until the pieces of butter are about the size of walnut halves.
Add the ice water to the flour and butter mixture a few tbsp at a time, tossing quickly after each addition, adding enough just enough so that the dough holds together. You may need a few more or less tbsp than the recipe states.
Once the dough comes together, form it into an even disk, about 1-inch thick. Wrap tightly in plastic wrap and refrigerate for at least 30 minutes or up to 2 days.
Once chilled, roll out your dough on a lightly-floured work surface to a 12-inch circle and then fit into your pie plate, crimping the edges as desired. Dock the crust all over with a fork and place in the refrigerator to chill for another 30 minutes.
To parbake the crust, heat oven to 425F. Line the chilled crust with parchment paper and top with pie weights to fill the crust entirely. Place in the oven and bake for 15-17 minutes, or until the edges are set and just starting to brown. Remove from the oven and lift the parchment and weights out of the pie shell. Return the crust to the oven and bake for another 3-5 minutes, or until the bottom appears set. Allow to cool completely.
For the cranberry filling
In a medium pot, mix the cranberries, orange juice, sugars, cinnamon, ginger, cloves, and salt. Cook over medium heat until the cranberries start to break down, about 12-15 minutes. Decrease the heat to low and continue to cook until thickened, about 6-8 minutes. Remove from the heat and stir in the vanilla. Cool completely.
For the cream cheese filling
In a medium bowl, stir the cream cheese with a spatula until smooth. Add in the sugar and mix until completely incorporated. Add in the egg, vanilla, and salt. Mix to combine.
For the pie
Pour the cream cheese filling into the bottom of the parbaked pie crust. Spread in an even layer. Place in the freezer and freeze for 15 minutes.
Meanwhile, heat the oven to 375F.
Pour the cooled cranberry filling over the chilled cream cheese filling. Spread into an even layer. Bake for 35-40 minutes, or until the crust is golden. Allow to cool completely before serving.