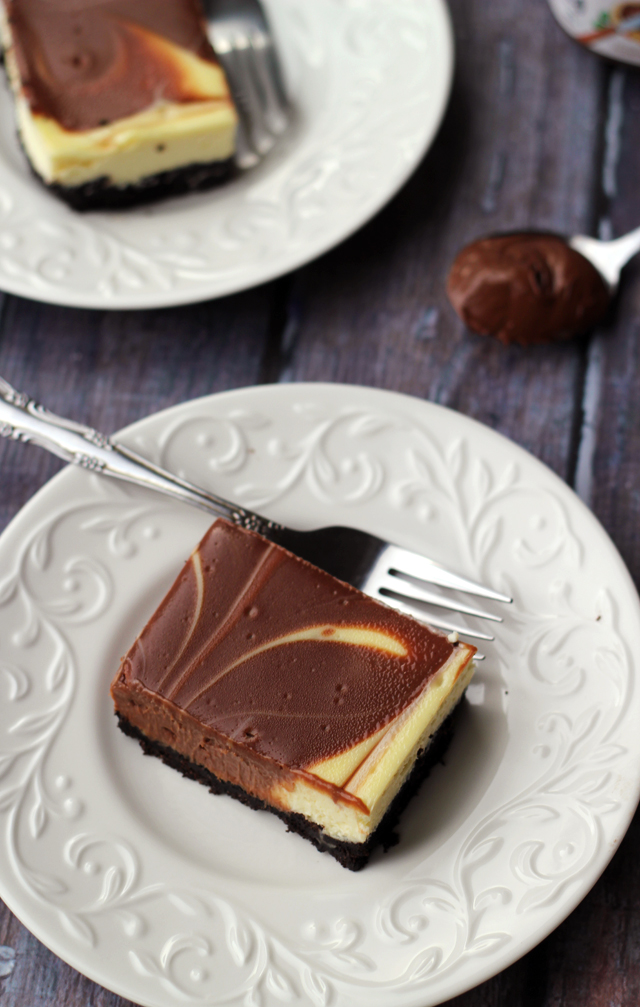 When a Top Chef winner tells you to #LiveOffTheMenu. You just do it.
And you do it hard.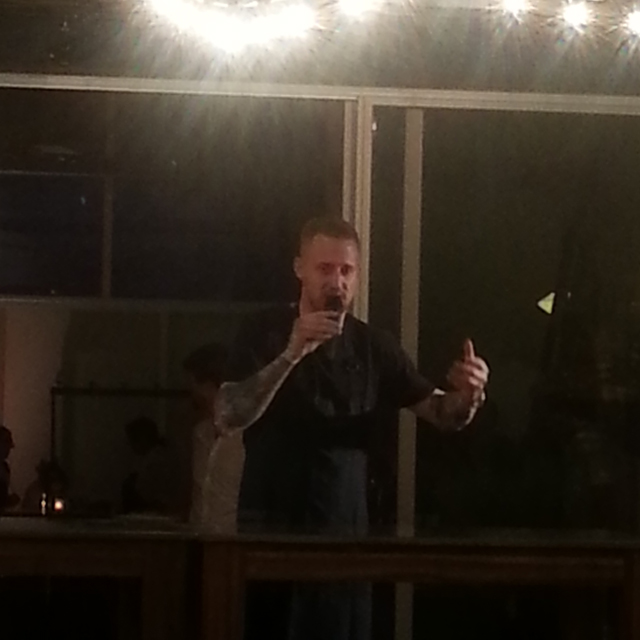 And when that Top Chef is Michael Voltaggio?
You swoon, and you giggle, and you bat your eyelashes because, CUTE.
And then you eat all the food and drink all the drinks, because the guy with the tattoos up and down his arms said so.
It is definitely the right thing to do.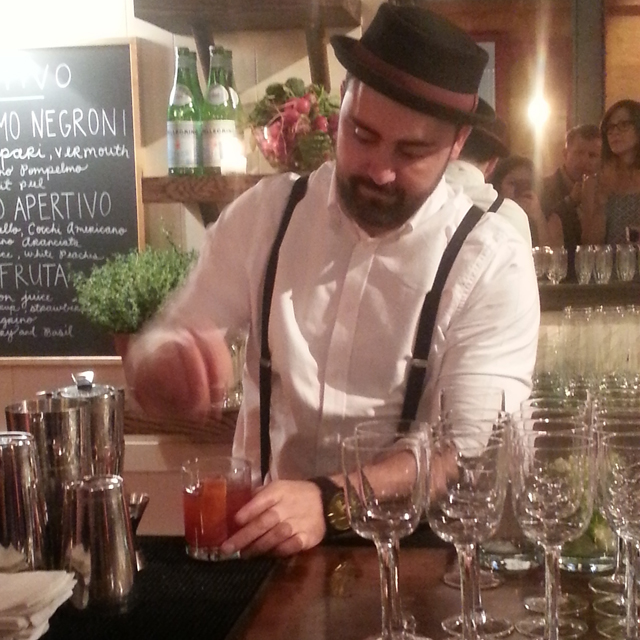 Last week I had the opportunity to take part in a culinary experience hosted by S.Pellegrino at Bathhouse Studios in Manhattan. I say "experience" and not "event" or "dinner" with intention, because it was exactly that – an experience.
The theme of the night was "Live in Italian", and as soon as I walked into the venue, I felt like I was walking into the center of a piazza in Tuscany. One corner was filled with flowers and loaves of bread that we were free to pull off a chunk of if we got hungry. On the other side of the room, a band was playing and we were encouraged to dance and let the music take us.
Every last detail, down to the bartenders' suspenders, was carefully selected so that it really felt like we were being immersed in Italian culture, and the whole night was imbued with the Italian passion for food and life.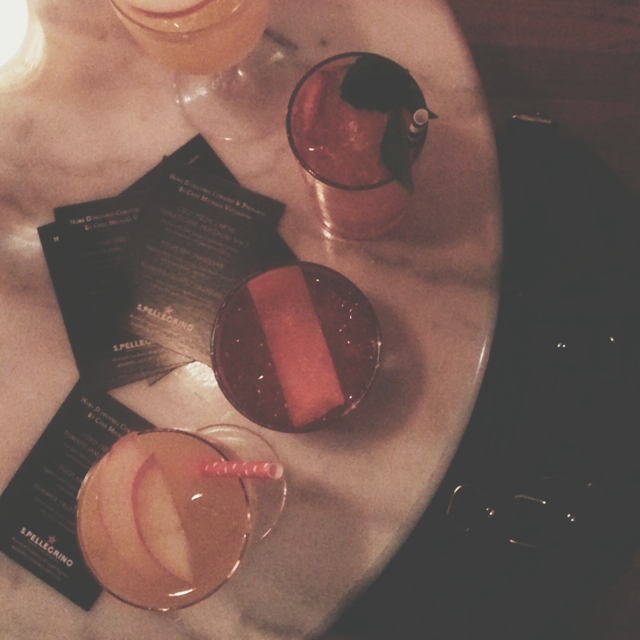 I hung out with some blogger friends for most of the evening – Susan, Kelli, Ashley, and Aly – and we made sure to start our night off right by hitting up the bar. There were three signature cocktails on offer for the night and between the five of us, I'm pretty sure we tried each one. (A few times over.) My favorite was definitely the Bella Frutta, which was infused with fun and fruity strawberry flavor, but with a hint of basil to keep things interesting. There was also a spin on the Negroni, which I neglected to try, and a Peach Apertivo, which was almost like a slightly stronger version of a bellini.
The passed hor d'oeurves served during the cocktail hour were plentiful and offered a wide variety of textures and flavors, ranging from dehydrated carrot wrapped in beef tongue (I passed on it) to a whimsical a spin on eggplant parm that involved an eggplant tomato mousse served with a parmesan cracker. We ate our fill while taking in the scene around us, before we were whisked upstairs to an outdoor patio where dinner was being served.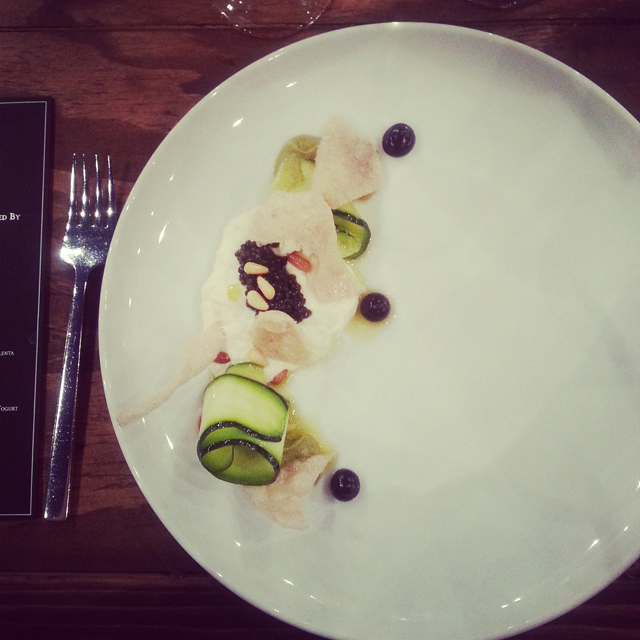 In keeping with the night's theme of celebrating food to it's fullest without having to worry about following all of the rules of fine dining, the dinner space was decorated so that it felt like we were picnicking with friends instead of eating a five-star meal with (mostly) strangers. Vibrant flowers decorated every table and the room was awash in color and greenery, a rare sight in NYC.
Michael Voltaggio, our chef for the night, came out in between each course to make some jokes and describe to us exactly what we were eating. The bulk of the menu was planned and made in LA, where he is from, and then flown to NYC by plane. There were some mishaps along the way, of course, but Voltaggio's ingenuity in describing them only served to give the night more of an authentic feel. There was no pretense at all, just a bunch of people who are really passionate about food, sharing a meal together.
The first course consisted of a large dollop of gloriously creamy burrata topped with caviar, toasted pine nuts, zucchini rolls, and an aged balsamic. The tart balsmic offset the richness of the cheese and caviar, and each bite was pretty much a revelation.
If eating like that is wrong, then I don't want to be right.
Next came the fish course, which was (of course) branzino (how much more Mediterranean can you get?!) served with crispy dehydrated cauliflower, pickled cauliflower florets, and a nutty cauliflower puree. The fish itself was fall-apart tender, well-seasoned, and perfectly cooked.
For obvious reasons, I couldn't appreciate the meat course to it's fullest extent, but from what I could tell, it was pretty well received. I did, however, try the banana polenta that came with it and was surprised at how much I liked it given that I am generally pretty on the fence about banana-flavored things. It was mostly savory with just a hint of sweet and the banana flavor was both present, and not. Hard to describe, but suffice it to say that it was done well if even I could tolerate and enjoy it!
The night was capped off by a decadent dessert of a gianduja (or chocolate hazelnut) ganache log served with caramelized white chocolate and strawberry frozen yogurt to offset the chocolate's bitterness. A rosemary-ash pizelle on top infused a slight herbal quality to the course.
For most of the dinner, I stuck to white wine as my drink of choice, though those sips were interspersed with glassfuls of S.Pellegrino's absurdly refreshing sparkling natural mineral water. It helped to cleanse the palate and satiate my thirst, both of which were key in enjoying the meal.
In all, my experience at this Off The Menu event was a great one. I loved being surrounded by people who are as passionate about food and eating as I am, and just wanted to live in the moment, from bite to bite. This spirit and attitude towards life and food shouldn't be restricted only to those who could attend the event, so to spread the love, so to speak, S.Pellegrino is hosting an Off The Menu Pinterest Sweepstakes, the winner of which will receive a year's supply of S.Pellegrino Sparkling Water! All you have to do to enter is to create a board that captures the spirit of this kind of dinner party, including recipes, decor, unique place settings, themes, etc. For inspiration, feel free to check out the Pinterest board that I created and entered into the sweepstakes!
To see video footage from the event, (potentially including images of me double fisting cocktails) check out S.Pellegrino's YouTube page!
For days after the event, Michael Voltaggio's imperative to #LiveOffTheMenu, break free of any and all so-called "food rules", and just eat what you want and what you love kept ringing in my ears.
Combined with the memory of the chocolate hazelnut flavor from his gianduja ganache still on my taste buds?
I needed Nutella and I needed it YESTERDAY.
And thus, these Nutella cheesecake swirl bars came into this world. On a wing and a prayer and a craving six miles wide.
If that doesn't embody the #LiveOffTheMenu #LivingInItalian spirit to the fullest, I can't really say what does.
Bon appetito.
Nutella Cheesecake Swirl Bars
Rich Nutella and vanilla cheesecake layers are swirled together to create a decadent dessert bar that you won't soon forget.
Ingredients
24 Oreos or chocolate wafer cookies
¼ cup unsalted butter, melted
16 oz lowfat cream cheese, room temperature
2 large eggs
½ cup sugar
¼ cup + 1 tbsp heavy cream, divided
⅓ cup Nutella
Instructions
Heat oven to 325. Grease an 8x8-inch baking pan and then line with parchment paper. Set aside.
In the bowl of a food processor, pulse the Oreos until they are finely ground. Add the melted butter and pulse until they are evenly moistened. Pour the Oreo crumbs into the prepared baking pan and pat down to form an even layer. Bake for 12 minutes or until set. Let cool slightly.
Meanwhile, clean out the food processor and add the cream cheese, eggs, sugar, and ¼ cup of heavy cream to it. Pulse until pureed and smooth, scraping down the sides as necessary. Pour ⅔ of the filling into the prepared crust. To the remaining ⅓ of the filling, add the nutella and 1 tbsp of heavy cream. Pulse until combined and smooth. Pour over the cheesecake filling and spread into as smooth of a layer as possible. To create the swirled effect, drag a knife or a spoon through it in zigzags.
Bake for 30-35 minutes or until set around the edges but still a bit wobbly in the center. Let cool and then refrigerate overnight before serving.
I was selected for this opportunity as a member of Clever Girls Collective and the content and opinions expressed here are all my own.