Cinnamon, ginger and nutmeg-spiced zucchini muffins are topped with a sweet tangy lemon glaze, making for the perfect breakfast treat.
Disclosure: This post was sponsored by Pompeian. As always, my thoughts and opinions are my own. Thank you for supporting the brands that keep me inspired in the kitchen.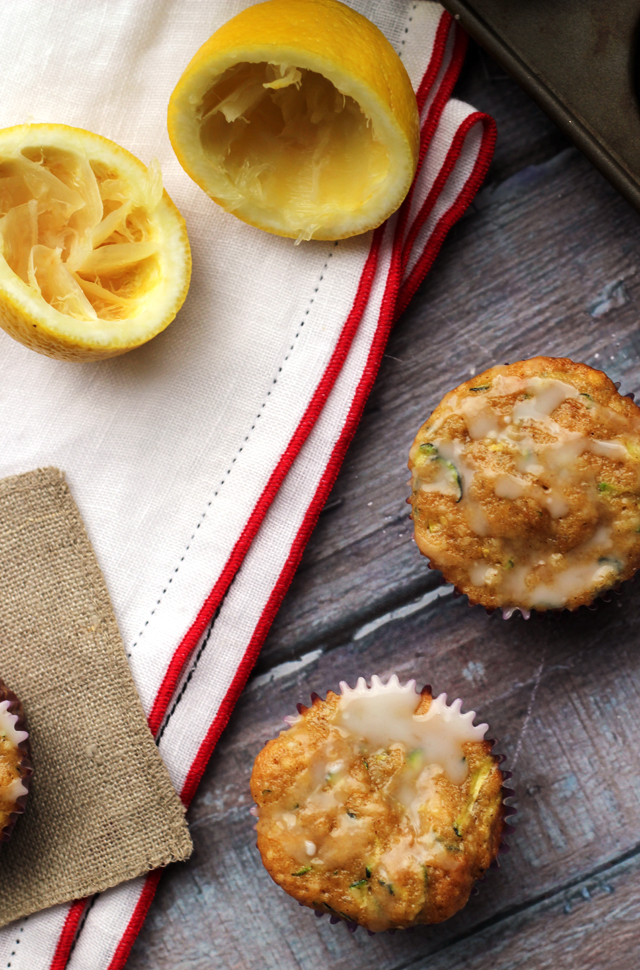 So, I think zucchini might be my summer spirit vegetable.
I mean, obviously you know I've gone gaga for corn, but zucchini.
ZUCCHINI.
ZUCCHINI!!!!
It just hits all the right spots and hides itself in all the right places and all of a sudden you're eating a vegetable in a cupcake and calling it a muffin and it's totally cool.
If you're not down with that, you probably don't have a pulse. Just saying.
The.Boy's mom dropped some off from her garden this past weekend, and it was all I could do to not tackle her in my attempt to grab the zucchini out of her hands.
Meanwhile, inside I was doing cartwheels to the beat of the latest BodyPump soundtrack and counting down the minutes until these zucchini muffins could be in my breakfast.
And mid-morning snack.
And dinner.
I don't discriminate when it comes to eating my veggies. #sorrynotsorry
What makes these muffins so special is that they have all the best of the warming comfort spices (cinnamon! ginger! nutmeg!) but with a fresh clean summer flavor from the tart tangy lemon glaze on top and zucchini infusion insides. In addition, whereas most breakfast treats are butter-laden, which is fine for special occasion meals but not so great when you have 24 muffins on your counter and the intent to consume all of them singlehandedly, these are olive oil-ed up, leaving them more heart-healthy, fabulously moist, and full of rich flavor.
Olive oil can actually be a great substitution for butter in many of your favorite treats, including popcorn, cakes, pie crusts, etc, and what better time to make the switch than during National Olive Oil Month! This month, Pompeian has asked all of it's #PantryInsiders to take the Pompeian Pledge to make a conscious effort to swap out butter for olive oil as much as possible. In order to encourage you all to take it as well, 1,000 people who take the pledge will be randomly selected to win a coupon for a free bottle of Pompeian Extra Virgin Olive Oil, along with a free movie rental redemption code. They will also be giving away other movie prize packs throughout the month, so make sure to follow along on their facebook page!
Spiced Zucchini Olive Oil Muffins with Lemon Glaze
Cinnamon, ginger and nutmeg-spiced zucchini muffins are topped with a sweet tangy lemon glaze, making for the perfect breakfast treat.
Ingredients
For the muffins
1 cup (135 g) almonds, toasted
2 cups all purpose flour
1 tsp baking powder
½ tsp baking soda
1 tsp kosher salt
2 tsp ground cinnamon
1 tsp ground ginger
½ tsp ground nutmeg
3 large eggs
1¾ cup sugar
1 cup olive oil
2 tsp almond extract
2½ cups (300g) finely grated zucchini
For the lemon glaze
¼ cup lemon juice
1 cup confectioner's sugar
Instructions
Heat oven to 350. Line two cupcake tins with paper liners.
In the bowl of a food processor, pulse the almonds until finely chopped. Set aside.
In a large bowl, whisk together the flour, baking powder, baking soda, salt, cinnamon, ginger, and nutmeg. Set aside.
In the bowl of a stand mixer fitted with the paddle attachment, combine the eggs, sugar, and olive oil. Stir on medium speed for 3 minutes. Add in the almond extract and mix until combined.
Add the flour mixture into the stand mixer bowl and mix until combined. Scrape down the sides of the bowl and then mix for another 30 seconds.
Stir the almonds and the zucchini into the batter.
Divide the batter among cupcake tins, filling up to ¾ full. Bake for 20-25 minutes or until a toothpick inserted comes out clean.
Let cool completely.
For the glaze, whisk together the lemon juice and confectioner's sugar in small bowl. Drizzle over the muffins.
Notes
Adapted from
Dolce Italiano: Desserts from the Babbo Kitchen
Because part of having a spirit vegetable is wanting to impose it on everyone you care about, I sent these to Johanna from Notes From a Messy Kitchen for this month's Leftovers Club! I hope they put as much pep in her step as they did mine!

For more uses of olive oil in unconventional places, check out these: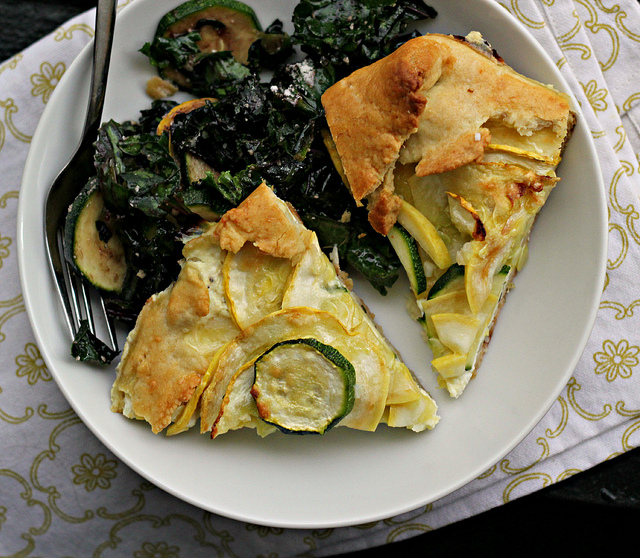 Summer Squash and Ricotta Galette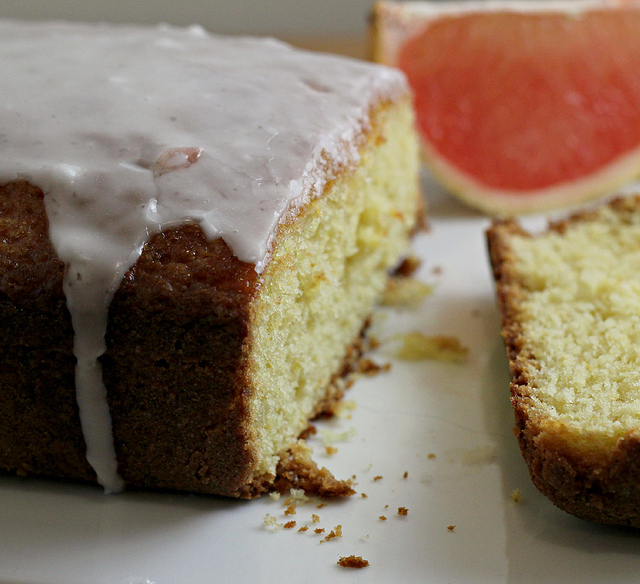 Grapefruit Olive Oil Pound Cake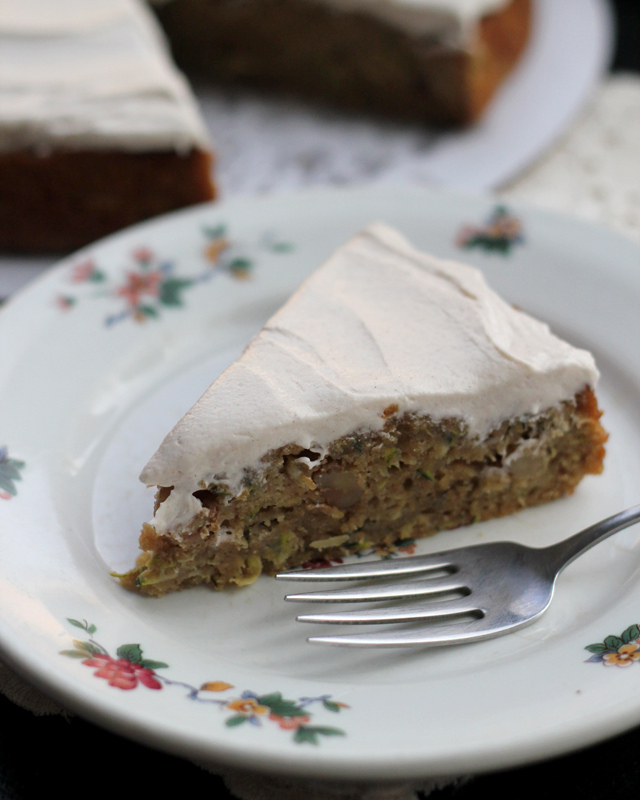 Zucchini-Walnut Cake with Cinnamon Honey Buttercream
From Around the Web:
Olive Oil and Ricotta Pound Cake from Baked Bree
Chocolate Almond Olive Oil Granola from The Law Student's Wife
Orange Olive Oil and Chocolate Cake from Desserts for Breakfast
Little Chocolate Tarts with Olive Oil Pastry from The First Mess
Raspberry and Almond Olive Oil Cake from London Bakes