A simple side dish of blistered green beans served with creamy tahini sauce and a fresh hot sauce.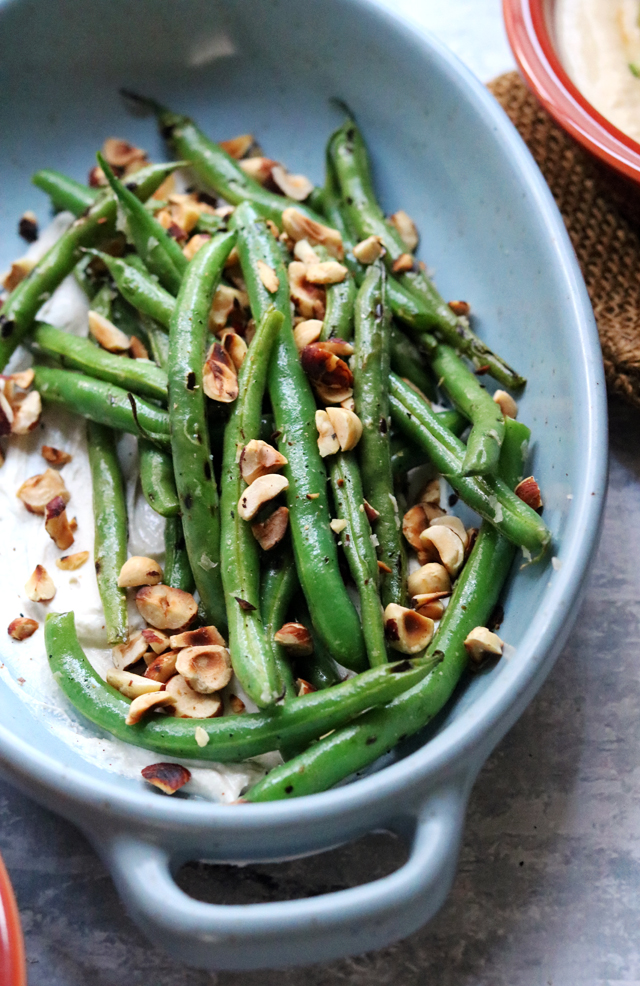 There's almost nothing I don't like about living in New York City, but probably the thing I bemoan the most is my lack of easy access to a grill.
Sometimes you just want to impart that smoky charred flavor into a dish and the stovetop doesn't really do it justice. It also doesn't help that my broiler is completely non functional. Since we moved in, the door has been taped shut because the hinges are broken and so it's either that or it hangs open, which is not exactly safe for small fingers (or my toes) or efficient in terms of heat insulation (prior to taping it, the oven would get to a solid 250F and no hotter).
I'm not sure what the previous tenants did, but clearly they didn't cook much.
Before you start feeling too bad for me, let me tell you about blistering, which is possibly my new favorite cooking technique of 2019 at least where these green beans are concerned.
Basically, you heat a cast iron skillet to high heavens and then toss some oiled green beans into the pan. Their sides get charred and burnt in the best way and you'll only set off your fire alarm a little bit in the process.
They are absolutely delicious after a brief sit in some spicy vinegar and then tossed with a lemony tahini-yogurt sauce and toasted hazelnuts prior to serving.
It might be a little early to be thinking about Thanksgiving, but these may just be THE green bean dish of 2019. Yep, calling it now.
Blistered Green Beans with Creamy Tahini and Fresh Hot Sauce
A simple side dish of blistered green beans served with creamy tahini sauce and a fresh hot sauce.
Ingredients
¼ cup hazelnuts, chopped
2 tbsp white vinegar
½ red or green jalapeno, seeds removed, finely chopped
1 garlic clove, finely grated
salt, to taste
pinch of sugar
½ cup full fat Greek yogurt
2 tbsp tahini
1 tbsp lemon juice
1 lb green beans, ends trimmed
1 tbsp vegetable oil
freshly ground black pepper
Instructions
In a small skillet, toast the hazelnuts over medium heat until golden brown and fragrant. Remove from the hot pan and set aside.
In a large bowl, whisk together the vinegar, jalapeno, and garlic. Season with salt and sugar. Set aside.
In a smaller bowl, whisk together the Greek yogurt, tahini, and lemon juice. Season to taste with salt. Set aside.
Heat a large cast iron skillet over high heat. Toss the green beans with the vegetable oil so that they are evenly coated. Season with salt and black pepper. Toss the green beans into the hot skillet and cook, shaking the pan frequently, until lightly blistered and charred on all sides, about 4 minutes.
Remove from the heat and add the string beans into the bowl with the jalapeno-vinegar mixture. Toss to coat. Let them sit for 1-2 minutse.
Meanwhile, spread the tahini sauce onto a serving platter. Top with the green beans and hazelnuts. Serve immediately.