A fresh and herby quinoa and wild rice salad with roasted sweet potatoes, feta, and sumac.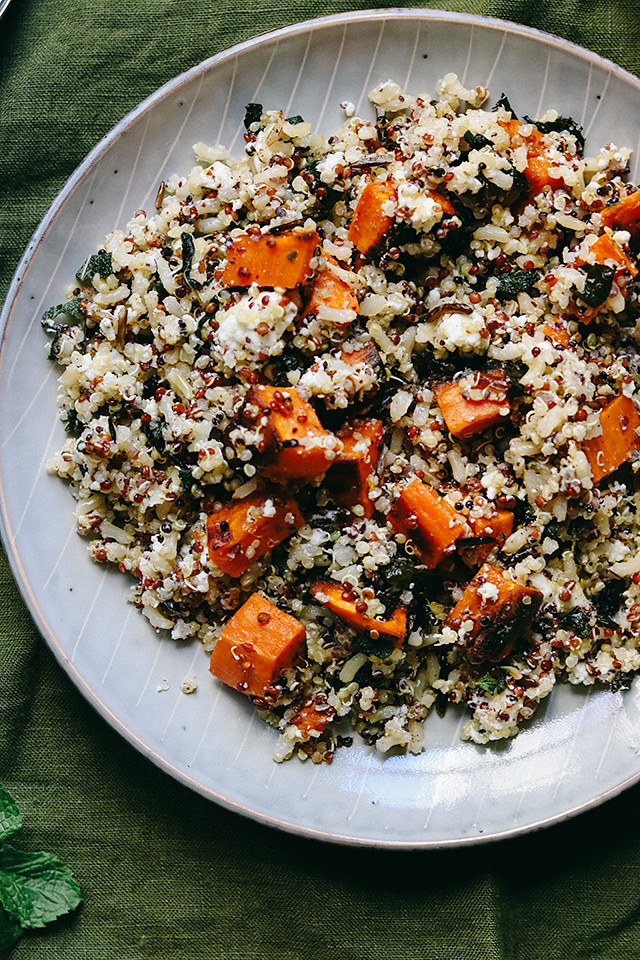 Pinky swear that this is not your average quinoa salad!!
I mean, it's based on an Ottolenghi masterpiece so you know it has to be good and filled with flavors you never thought it was possible to combine. He's coming out with a new cookbook in the fall and I'm already hinting to Mike that I will be needing it as a pre-Christmas present. Yes, I'm as bad as Remy with the Christmas requests in March.
NO SHAME IN MY GAME.
Until then, I'll just be over here eating my way through this masterpiece of a salad. It's kind of a jack-of-all-trades in that it can serve as a stand alone meal or paired with other dishes in a more elaborate menu. And it makes a LOT of food, so be prepared to serve a crowd or meal prep it for lunches all week long!
This salad is filled with some of my favorite whole grains (quinoa! wild rice! brown rice!) and roasted sweet potatoes, which always manage to win me over. It also features lots of fresh flavor from a mix of fresh herbs – sage, oregano, and mint! Not a trio I would have ever thought to put together, but it works.
While the original recipe calls for dried Iranian limes to add tangy, sour notes to the dish, I chose to use dried sumac instead, which adds a similar mouth-puckering punch but is a bit easier to source. Toss with feta and you have a salad that is at once sweet, sour, and completely satisfying.
Quinoa and Wild Rice Salad with Sweet Potatoes, Feta, and Sumac
A fresh and herby quinoa and wild rice salad with roasted sweet potatoes, feta, and sumac.
Ingredients
2 medium sweet potatoes, peeled and cut into 1-inch cubes
7 tbsp olive oil
salt and black pepper, to taste
1 cup mixed basmati and wild rice
1 cup quinoa
4 garlic cloves, thinly sliced
3 tbsp shredded sage leaves
3 tbsp roughly chopped fresh oregano
1-2 tbsp dried sumac
6 tbsp shredded mint
4 scallions, green parts only, thinly sliced
1 tsp lemon juice
6 oz feta, crumbled
Instructions
Heat oven to 400F. Toss the sweet potatoes with 3 tbsp of the olive oil and spread on a parchment-lined baking sheet. Season to taste with salt and black pepper. Roast for 20-25 minutes, or until tender.
Meanwhile, cook the basmati and wild rice blend as instructed on the package. Drain.
Rinse the quinoa to remove any bitter resin. Place it in a pan with boiling water and simmer for 9 minutes. Drain well. Once dry, transfer to a large serving bowl along with the cooked rice.
Pour the remaining 4 tbsp of olive oil into a small frying pan and heat over medium heat. Add the garlic and fry it until it turns golden, about 30 seconds. Add in the sage and oregano. Stir for a minute, taking care not to burn it. Pour over the rice and quinoa.
Add the sweet potatoes, sumac, mint, scallions, lemon juice, and feta to the bowl with the quinoa mixture. Toss together gently. Season to taste with salt and black pepper. Serve warm or at room temperature.