Smoky black bean and tofu scramble tacos with a quick tomato salsa.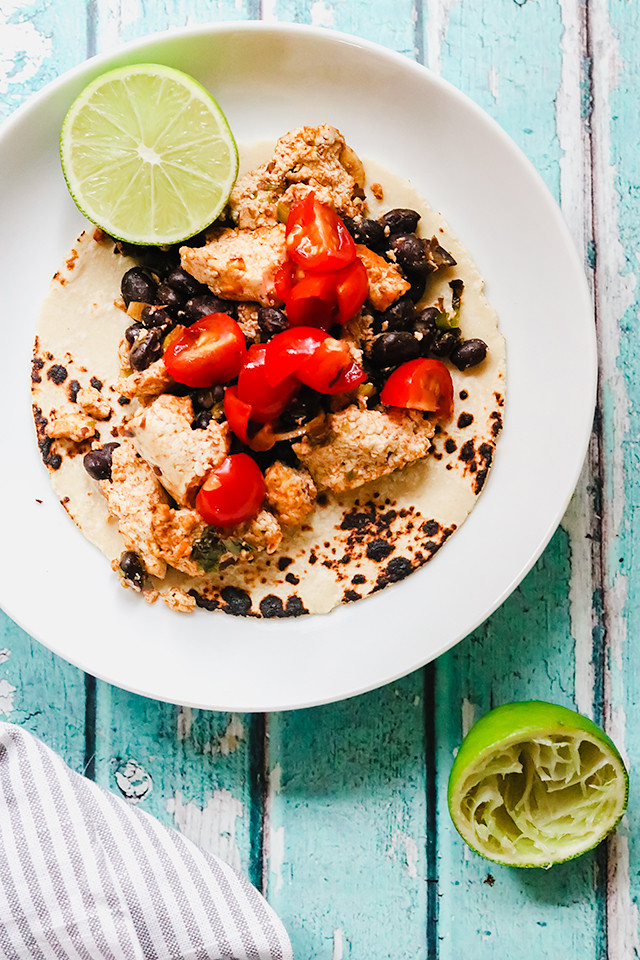 Back when I first met Mike he would fast for lent, which in Greek Orthodox tradition involves exactly no fasting at all (god save the person who tries to come between a Greek and their food), just abstaining from meat and dairy on the Fridays during lent and then the entirety of holy week.
This all stopped after we started living together because he felt so altruistic from eating vegetarian at home 365 days of the year, that he didn't think he needed to do any additional penance.
*insert emoji of girl smacking her head in disbelief*
We are not religious at all, but I kind of like the idea of eating vegan one day a week (like the way some people do meatless Mondays).
Vegan Fridays??? Let's do it!!
For me, I think the hardest meal of the day to go vegan would be breakfast since our go-tos around here are yogurt and eggs. I've generally been skeptical of tofu scrambles as egg replacements, and even after making this recipe I still am.
TOFU IS NOT EGGS. IT TASTES NOTHING LIKE EGGS.
But it tastes really good as it's own thing. And that's okay. It doesn't need to pretend to be anything it's not.
I was so pleasantly surprised by how much great flavor and texture is packed into these black bean and tofu scramble tacos. They're smoky and crispy, with lots of fresh flavor from the quick tomato salsa that goes on top. Feel free to also add some avocado (or a little cheese, if you're not doing the vegan thang).
Smoky Black Bean and Tofu Scramble Tacos
Smoky black bean and tofu scramble tacos with a quick tomato salsa.
Ingredients
9 oz cherry tomatoes, roughly chopped
red pepper flakes, to taste
2 limes
salt and black pepper, to taste
olive oil
6 scallions, thinly sliced
2 garlic cloves, finely sliced
a bunch of cilantro, stalks and leaves separated and minced
1 tsp hot smoked paprika
1 (15 oz) can black beans, drained
1 lb tofu, crumbled into bite-sized pieces
8 flour or corn tortillas
Instructions
First make the tomato salsa. Mix the tomatoes with the red pepper flakes, salt, black pepper, and juice of half a lime. Set aside.
Heat a nonstick skillet over medium heat. Add a few tbsp of olive oil and once hot, add the scallions, garlic, and cilantro stalks. Cook for 2 minutes, then add in the smoked paprika along with a pinch of salt and black pepper. Saute for another minute. Stir in the black beans and fry them for 2 minutes, or until dry and a little crispy. Add in the crumbled tofu and turn the heat up to high. Cook until the tofu starts to brown and crisp around the edges, about 4-8 minutes, stirring frequently. Remove from the heat and season with salt and black pepper.
When ready to serve, warm the tortillas. Top with the black bean-tofu mixture, tomato salsa, a squeeze of lime juice, and the remaining cilantro leaves.