The darkest dark chocolate cake perfectly paired with a sweet and fruity strawberry meringue buttercream made with fresh strawberries!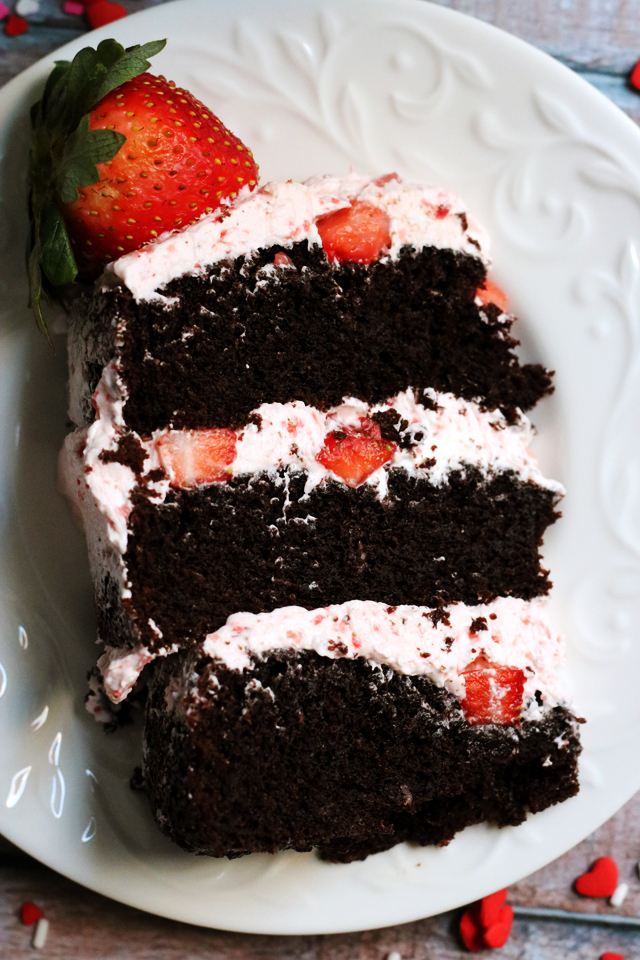 Happy Valentine's Day!!!!
Three weeks late. Errr….49 weeks early???
WHATEVER. Whether we're talking loving yourself or loving your significant other, that should be a daily celebration!!
And daily celebrations obviously necessitate daily cake.
Also, you can't blame a girl for cake tardiness when the entire process of making the cake involved getting over a little bit of baking PTSD.
You see, I've actually made this before (about four years ago) for my sister's high school graduation. It's a memory that's mired in stress and heart palpitations, not only because my sister and mother were NOT getting along at the time and so having to be in the same room as both of them was a panic attack waiting to happen, but ALSO because that cake was a total disaster. It started off well intentioned, but pretty much immediately after assembling it, the top two layers slid off of each other and off the cake stand. Thankfully, it was slow motion enough that I could catch them in a bowl (and the.boy could catch them on camera), and so we got to eat cake mush for dessert that night.
But to say that memory has been haunting me for the past 1460 days is an understatement.
Partly because the cake was SO GOOD that I was so mad at myself for not getting to share it to you, but also because I haven't had that many total cake failures so this one has really been a sore point for me.
No need to throw a pity party, though, because here we are, fully assembled cake in tow.
Apparently second time is a charm when it comes to these things, especially when you've had four years to actually become a better baker. I suspect the initial problem was that I didn't let the cake layers cool enough before frosting, and so everything kind of melted into an all too literal puddle.
Oh well.
You live, you learn, and then you eat cake.
And what an amazing cake it is!!
The chocolate layers are so rich and DARK CHOCOLATE. I can't get over them and probably will never be able to make another chocolate cake again because it just won't taste chocolate-y enough compared to this. And the strawberry meringue buttercream layers are sweet, buttery, and full of fresh fruit flavor.
10/10 would recommend.
Juuusssttt let your cake layers cool before frosting. Don't be like me.

Dark Chocolate Covered Strawberry Layer Cake
The darkest dark chocolate cake perfectly paired with a sweet and fruity strawberry meringue buttercream made with fresh strawberries!
Yield:
1 8-inch layer cake
Ingredients
For the cake
1½ cups black chocolate stout (Brooklyn Brewery makes a good one!)
1½ cups unsalted butter, cut into ½-inch pieces
1½ cups dark Dutch-process cocoa powder
3 cups all purpose flour
2¾ cups sugar
¾ tbsp baking soda
1½ tsp salt
1 cup full fat sour cream
3 large eggs, room temperature
For the strawberry frosting
3 cups fresh strawberries, rinsed, hulled and coarsely chopped, divided
4 large egg whites
1¼ cups sugar
3 sticks (1½ cups) unsalted butter, at room temperature
To garnish
12 whole strawberries, rinsed and dried
Instructions
To make the cake, heat oven to 350F. Spray three 8-inch cake pans with baking spray. Line with parchment paper and spray again. Set aside.
Bring the stout and butter to a simmer in a large heavy pan over medium heat. Remove from the heat and stir in the cocoa powder. Whisk until smooth. Let cool for 5 minutes.
Meanwhile, whisk together the flour, sugar, baking soda, and salt in a large bowl.
In a separate large bowl, whisk together the sour cream and eggs.
Add the stout mixture to the egg mixture and whisk to combine. Using a spatula, combine the flour mixture with the stout-egg mixture until all of the ingredients are incorporated and the batter is smooth, scraping down the bottom of the bowl as necessary to incorporate all the dry bits.
Divide the batter equally between the prepared pans. Bake for 30-32 minutes or until a toothpick inserted comes out clean. Allow to cool completely on a wire rack.
For the frosting
To make the frosting, place half of the chopped strawberries in the bowl of a food processor or blender and puree until completely smooth. Set aside.
Combine the egg whites and sugar in the bowl of your stand mixer and set it over a pot of simmering water (ie make a double boiler with it) so that the bottom of the mixer bowl doesn't doesn't touch the water, just hovers over it. Heat, whisking frequently, until the egg mixture reaches 160F. Transfer the mixer bowl back to the stand mixer and beat with a whisk attachment on medium-high speed until stiff peaks form and the mixture is room temperature, about 8 minutes.
Reduce the speed to medium and add the butter, two tablespoons at a time, only adding the next pieces of butter when the prior pieces have been fully incorporated. If the frosting looks thin, soupy, or curdled, turn mixer speed back up to medium high and beat for 3-5 minutes more (or longer). Blend in the strawberry puree and mix until completely incorporated. Scrape down the sides of the bowl and fold in the remaining strawberry pieces.
To assemble
Place one of the cake layers on a cake board or serving platter. Spread a third of the strawberry frosting on top of it in an even layer. Top with a second cake layer and then another third of the strawberry frosting. Repeat once more with the remaining cake layer and smooth the sides as desired to give it a "naked cake" look. Place the strawberries around the edges of the cake to garnish, as desired.
The BEST strawberry desserts: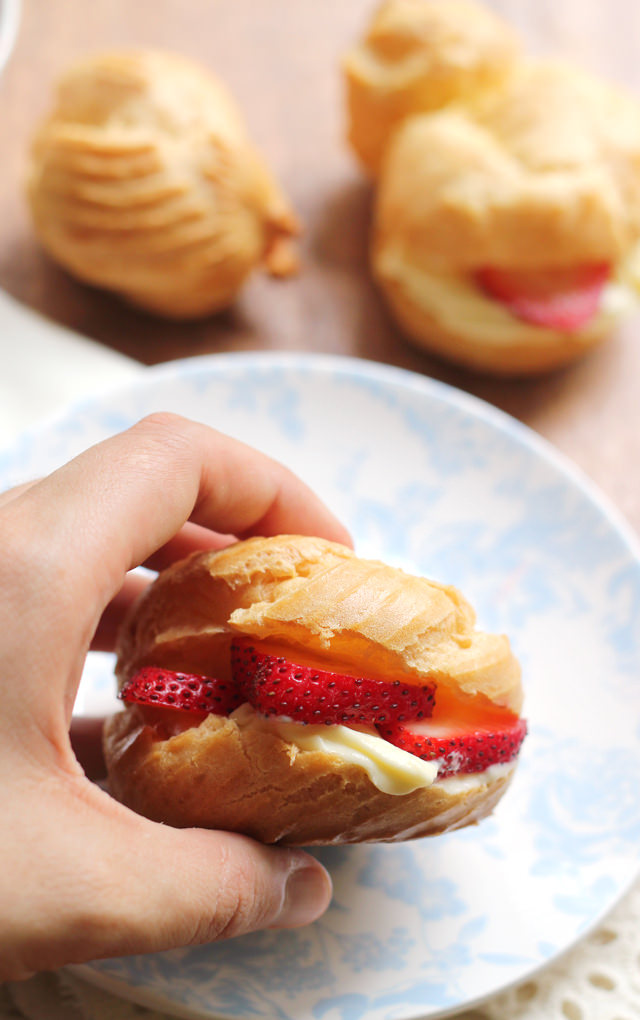 Strawberry Shortcake Cream Puffs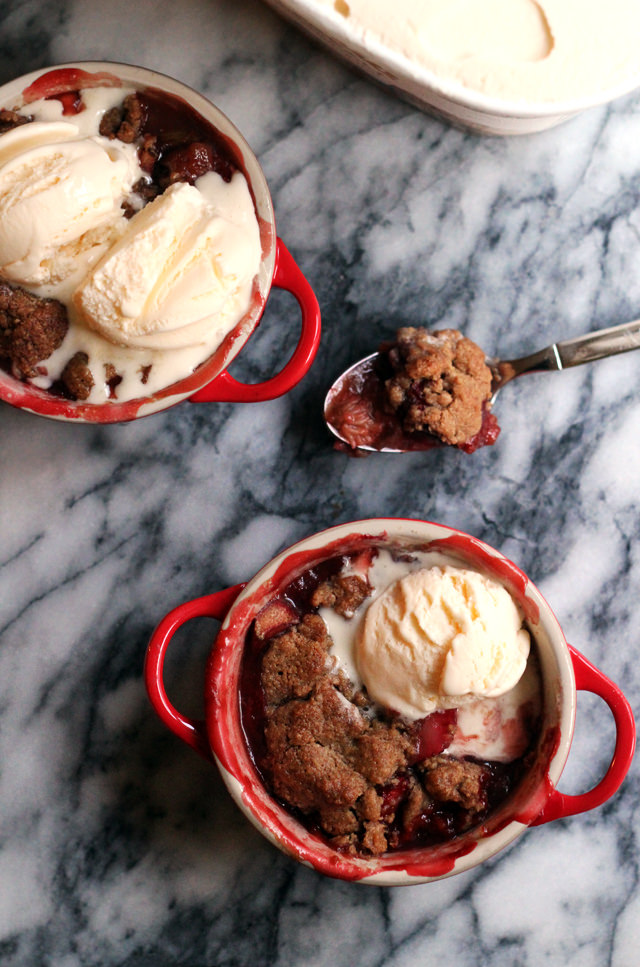 Strawberry Rhubarb Crumble with Almond Butter Cookie Crust