A sweet and savory caramelized cherry tomato, potato, and goat cheese tarte tatin.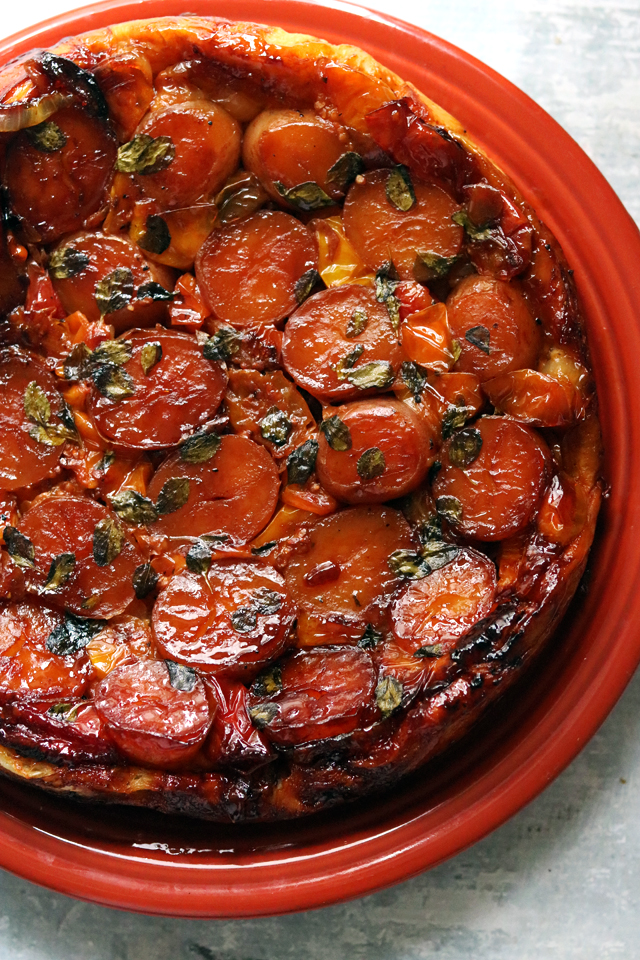 Ottolenghi calls this a "surprise" tatin and I'm not exactly sure what he meant by that.
"Surprise" because it's savory?
"Surprise" because it's so impossibly delicious that you can't even imagine how much so until you taste it?
"Surprise" to your self-restraint if you're able to not eat it all in one sitting?
For us, it was definitely the latter two. As I've been cooking my way through Plenty, if I'm being completely honest (and when am I not), most of the recipe have been good, a handful have been really not, and a handful have been truly extraordinary. It hasn't been so difficult to guess at which we'll love and which we won't, but there have been a few surprises in the mix.
Going into it, I really didn't know what to expect from this tatin, in part because the recipe name was really not descriptive at all ("surprise tatin" doesn't exactly give anything away) but also because I've never had a tatin before – sweet or savory!
Well this may have been my first, but it won't be my last.
A tatin is a French pastry that is kind of a fancified version of the upside down cake. Basically, you start with a bottom layer of caramel, top it with fruit or vegetables, and then pop a puffy pastry lid over the top. Bake it until the produce is impossibly tender and the puff pastry lid is cooked through. Then, flip it over so that your caramelized layer is now on the top. As I've said earlier, most tatins are made with fruit like apples or peaches, but this recipe takes a sweet and savory approach with a mixture of baby potatoes, cherry tomatoes, and caramelized onions. There's also a layer of hard goat cheese in there for good measure.
In the end, it is sweet, savory, and absolutely sumptuous. Good luck stopping at just one slice.
Caramelized Cherry Tomato, Potato, and Goat Cheese Tarte Tatin
A sweet and savory caramelized cherry tomato, potato, and goat cheese tarte tatin.
Ingredients
1½ cups cherry tomatoes
2 tbsp olive oil, plus more for drizzling
salt and black pepper, to taste
1 lb small new potatoes
1 large onion, thinly sliced
3 tbsp sugar
2 tsp butter
3 oregano sprigs
5 oz hard goat cheese, thinly sliced
1 puff pastry sheet, rolled thin
Instructions
Heat oven to 300F.
Cut the tomatoes in half and place them cut-side up on a parchment-lined baking sheet. Drizzle with olive oil and season with salt and black pepper. Place in the oven and roast for 45 minutes.
Meanwhile, bring a pot of salted water to a boil. Once boiling, add the potatoes and cook for 25 minutes. Drain and cool slightly. Once cool enough to touch, trim a thin slice off the top and bottom of each potato and then cut into 1-inch thick slices.
Heat 2 tbsp of the olive oil in a medium skillet. Saute the onion for 10 minutes. Season with salt and black pepper.
Grease a 9-inch cake or springform pan. Line with parchment paper. Set aside.
In a small pan, cook the sugar and butter together on high heat, stirring constantly, until amber. Pour into the prepared pan, tilting it around to spread it in an even layer on the bottom of the pan. Pick the oregano leaves from the sprigs and scatter over the caramel.
Lay the potato slices on top of the caramel, cut-side down, in an even layer. Press the onion and tomatoes in-between the potato gaps. Season with salt and black pepper. Spread the goat cheese slices over the potato mixture. Cut a puff pastry disc that is 1-inch bigger than the pan. Lay the puff pastry over the filling and tuck the edges into the pan and around the potatoes.
Heat oven to 400F. Place the cake pan on a parchment-lined baking sheet to catch any of the juices. Bake for 25 minutes. Reduce the oven heat to 350F. Bake for an additional 15 minutes, or until the puff pastry is cooked through. Remove from the oven. Let sit for 2 minutes, then invert onto a serving plate. Serve hot or warm.