You may never fill your rugelach with jam again once you try these cinnamon brickle rugelach, which are stuffed with salted caramel and a layer of nutty cinnamon brickle crumble.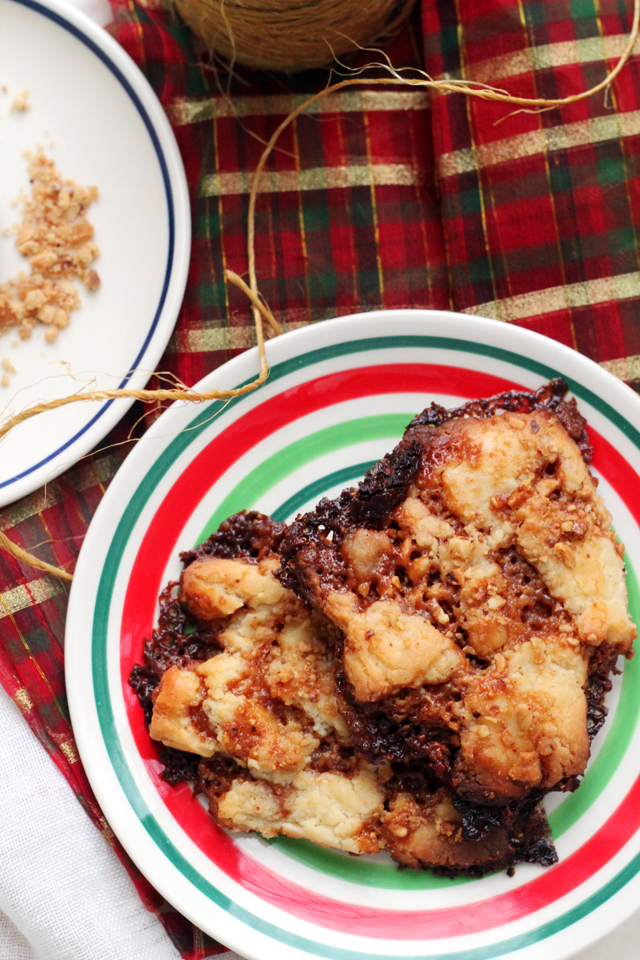 In case you've ever wondered what kind of hostess I am, let me inform you:
the hair disheveled,
covered in flour,
still rolling cookies five minutes after her guests were supposed to arrive,
praying that they're all an hour late kind.
And it's only gotten worse since Miss Remy arrived on the scene.
Much worse.
When it comes to hosting our families, this generally isn't a problem because they are always an hour(+++) late.
With our friends, though, it's a whole other story. The ones who have kids understand that "Come at 3!" really means "Come at 4 unless you want to see me in my underwear!" and the ones who don't, well….they have to live with the consequences of their punctuality.
Add into the mix my unwavering intent on making a cookie recipe (for the first time, might I add) that is actually THREE recipes in one….and you unleash a whole new kind of hostessing crazy.
However, here I am to tell you that not only did I make it to the other side, but I would do it all again if it meant getting to eat this cinnamon brickle rugelach for all of eternity.
They are, in fact, that good.
You may not be familiar with rugelach if you're not Jewish or don't live in New York City, but don't let that stop you from trying these! In their most basic form, rugelach are rolled up cookies made with a cream cheese-based dough and stuffed with pretty much any kind of jam (raspberry or fig being the most popular) or, if you're lucky, chocolate ganache. They've always been a cookie favorite of mine but are now even more so because the combination of salted caramel with ground up cinnamon nut brickle amidst layers of cookie is one not to be missed.
While three recipes may seem like a lot for one kind of messy-looking cookie, let me assure you that your time will be well spent because two of the three subrecipes actually make enough for TWO batches of cookies.
OR one batch of cookies and enough caramel and cinnamon brickle for you to drizzle/sprinkle over your ice cream/oatmeal/yogurt/fingers from now until early spring, depending on your level of gluttony and/or how closely you adhere to your new year's resolutions. I am not here to judge, but to give you options in life. So, bake away and have a happy holidays!

Cinnamon Brickle Rugelach
You may never fill your rugelach with jam again once you try these cinnamon brickle rugelach, which are stuffed with salted caramel and a layer of nutty cinnamon brickle crumble.
Ingredients
For the caramel
4 cups heavy cream
3 cups sugar
¾ cup light corn syrup
1 tbsp sea salt flakes
½ tsp vanilla extract
For the brickle
2 tbsp unsalted butter
1 cup sugar
1¾ cup mixed roasted, salted nuts
pinch of cinnamon
For the cookie dough
8 oz butter, room temperature
8 oz cream cheese, room temperature
⅓ cup + 1 tbsp sugar
1 tsp vanilla extract
2 cups flour
1 tsp kosher salt
1 tsp sea salt flakes
2 large egg whites, lightly beaten
Instructions
For the caramel sauce
Heat the cream in a medium pot until it is just about to boil. Lower the heat to allow it to stay warm.
In a 6-quart pot, combine 1½ cups of the sugar and the corn syrup. Melt over medium-high heat, stirring occasionally with a wooden spoon allowing the sugar to melt and the syrup to come to a boil. Once it starts boiling, stop stirring and continue to cook until the sugar becomes a rich amber color, about 6-8 minutes. Lower the heat to very low and, in three steps, stir in the remaining sugar allowing each addition to dissolve before adding the next.
Raise the heat and allow to heat up so that small bubbles start to foam around the sides of the pot. Then, in three steps, add the warm cream allowing it to simmer for a minute or so after each addition before adding the next. Stir to keep from boiling over. Cook until the caramel forms a thick syrup that coats the back of the spoon. Remove from the heat and stir in the salt and vanilla. Allow to cool completely.
For the brickle
Line a half sheet pan with either a Silpat or a greased sheet of parchment paper. Set aside.
In a 3-quart pan, melt the butter over medium heat. Stir in the sugar until it looks like wet sand, then add the nuts and cinnamon. Continue to stir, allowing the sugar to melt and coat the nuts. Turn off the heat, stir a couple of times and then pour onto the Silpat or parchment. Try to spread into an even layer. Allow to harden at room temperature. Once hardened and cooled, coarsely chop it and then pulse it in the food processor until it forms a coarse meal.
For the cookies
In the bowl of a stand mixer fitted with the paddle attachment, cream the butter on medium speed for 5-10 seconds. Add in the cream cheese and mix to combine for 10-15 seconds on medium speed. Add in the sugar and beat until light and fluffy, about 3 minutes on medium-high speed. Scrape the sides of the bowl and add in the vanilla, mixing until incorporated. Scrape the sides of the bowl again.
In a separate bowl, whisk together the flour and salts. Add to the stand mixer bowl and mix on low speed until the dough just starts to come together, about 30 seconds. Remove the dough from the stand mixer and use a bench scraper to bring it together by hand.
Set out two sheets of plastic wrap on a work surface. Divide the dough in half and place each on its own piece of plastic wrap. Pat each into a rectangle, wrap tightly, and refrigerate until chilled (at least 2 hours, but can sit up to a week).
When ready to make the cookies, place a sheet of parchment paper on your work surface and dust lightly with flour. Unwrap one dough half and place on top.
Using a rolling pin, roll the dough into a rectangle, leaving a 1-inch border from the edge of the parchment adding more flour as necessary to keep from sticking. Repeat with the second dough half. Stack both sheets of dough on top of each other and refrigerate until chilled, about 30 minutes.
Heat oven to 350F. Line a few half sheet pans with parchment paper and lightly coat with nonstick cooking spray.
Invert the sheets of dough onto the work surface and peel off the top sheet of parchment paper. For each sheet of dough, spread about ½ cup of caramel sauce in a thin, even layer across the surface. Sprinkle approximately ½ cup of brickle per sheet. Trim the edges. Using a dough cutter, divide the sheet in half lengthwise into two long strips. Working with one strip at a time, cut out triangles with each base being about 1.5 inches wide and each tip ½-inch wide. Make 11 to 12 triangles per strip.
Using an offset spatula, separate away a triangle from the rest of the dough. Starting from the base, roll it up as you would a crescent roll. Place tip-side up on a prepared baking sheet and repeat with the remaining triangles, spacing them 2 inches apart on the pan.
Brush the tops with egg white and sprinkle with remaining 1 cup of brickle.
Bake one pan at a time for 15 minutes. Rotate the pan and bake for an additional 8-10 minutes, or until the tops are golden brown and the caramel has oozed out on the sides. Let cool so the caramel solidifies around the rugelach. Repeat with remaining pans.
Notes
Recipe barely adapted from Cookie Love