A super simple south Indian-ish summer squash recipe that is full of savory, spicy, tangy, and sour flavors.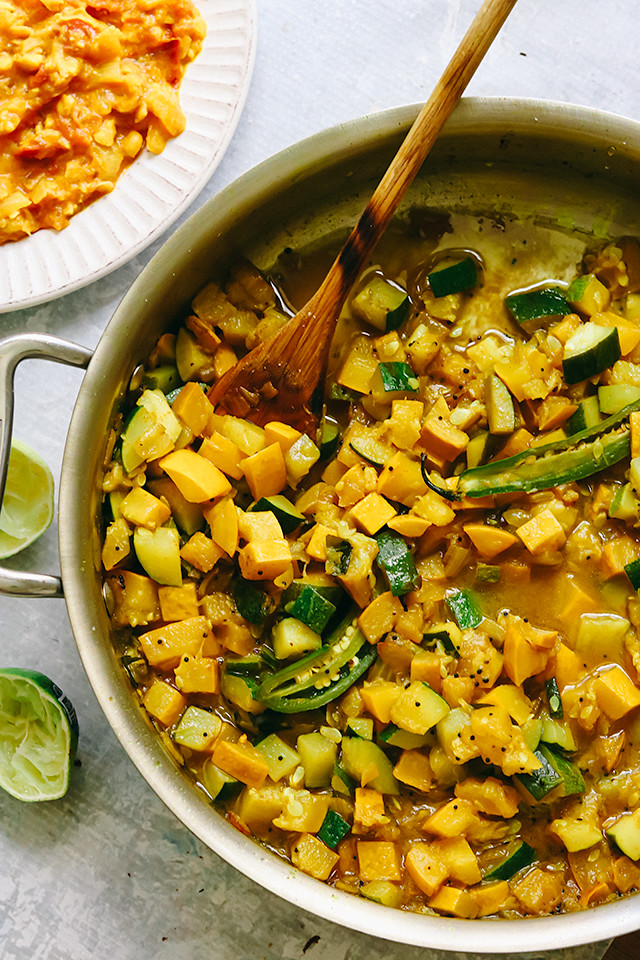 The thing about compiling squash recipes for the zucchini-pocalypse that comes around every summer is that you really can never have too many in your corner.
Squash is just so versatile! And cheap.
It's impossible not to buy pounds of it at a time. Just try. I dare you.
I swear, as soon as I find a recipe that I think is The One, at least five more pop into my life that I *need* to try.
Bonus points if they're mind-blowingly simple and also different enough from the other fifty I've already tried that season so that my husband doesn't say "We're eating that AGAIN?!"
Thankfully, I just keep buying cookbooks so the recipe inspiration just keeps on coming.
This squash recipe is from a newer acquisition – the book Indian-ish – that is filled with Indian-American fusion recipes. It's based on a dish the author's mother makes to use up both summer and winter squash. The recipe calls for both types of squash but I just used a mix of summer squash and zucchini to keep it more seasonal. It gets a whole lot of flavor from a mix of mustard seeds, curry leaves, turmeric, and coriander, and heat from serrano peppers that are simmered along with the squash. The whole dish takes about twenty minutes from start to finish and it is the perfect side to just about any Indian main meal. I served it with chole (a  traditional Indian chickpea and tomato stew), also from the same cookbook and while that was good, it was the veggies that really stole the show.
South Indian-ish Summer Squash
A super simple south Indian-ish summer squash recipe that is full of savory, spicy, tangy, and sour flavors.
Ingredients
2 tbsp olive oil
1 tsp black mustard seeds
10 fresh curry leaves
1 tsp ground turmeric
¼ tsp asafetida (optional)
1 onion, diced
4 medium or 2 large summer squash, diced into ½-inch pieces
2 serrano chiles, halved lengthwise
1 tbsp ground coriander
1 tsp kosher salt, plus more to taste
2 tbsp fresh lime juice
½ tsp kashmiri chili powder
Instructions
Heat the oil in a large skillet over high heat. Once it begins to shimmer, add in the mustard seeds. Once they begin to pop, remove the pan from the heat briefly and stir in the curry leaves. They should immediately crisp up.
Return the pan to medium heat and add in the turmeric and asafetida. Stir to combine. Add in the onion and cook until translucent, about 5 minutes. Add in the squash, serrano peppers, and coriander. Stir to combine. Spread the vegetables in an even layer in the pan. Cover and cook until the squash is tender, about 8-10 minutes.
Stir in the salt, lime juice, and chili powder. Season to taste with lime juice, chili powder, and salt before serving.