Fettuccine is tossed with a creamy garlic parmesan sauce and lemony salmon piccata in this pasta dish that everyone in the family will love.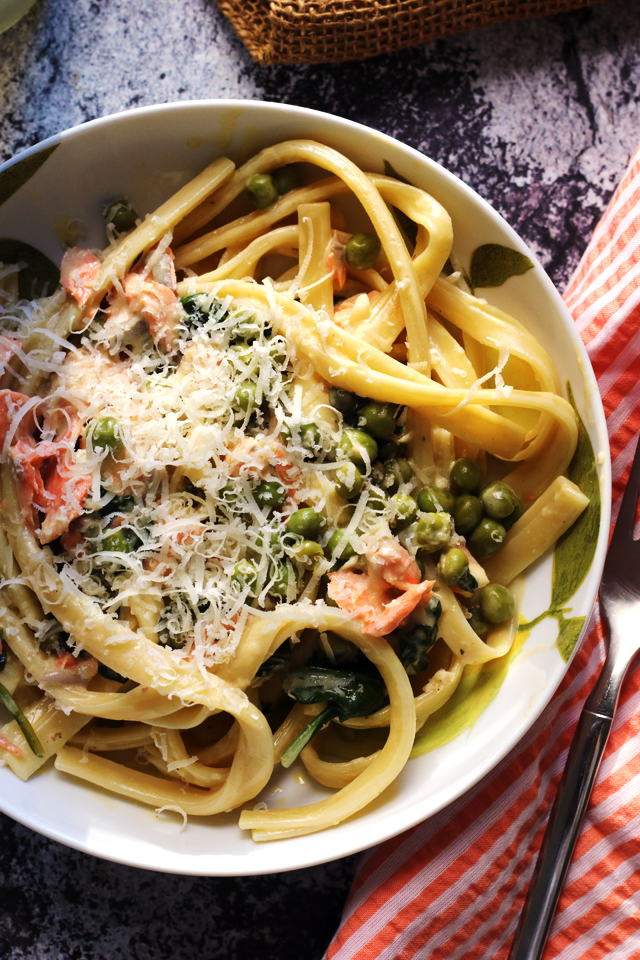 There's nothing quite like having your child catch the flu to throw a wrench in your best-laid blog plans.
I've honestly been paranoid about one of us catching it all season, especially after seeing so many flu disasters in the hospital. I realize I end up seeing the worst of the worst cases, but it is so bad this year!!
Luckily we seem to have caught it early. Basically, Remy threw up Saturday night and the following morning I had Mike checking her temperature hourly so that as soon as she hit 101 he could take her to urgent care for a flu swab.
Ding ding ding! Influenza A positive.
So far she seems to be handling it pretty well with the few doses of Tamiflu we've actually been able to get into her (that stuff tastes disgusting and every dose is an all out battle of the wills that we, unfortunately, usually do not win) and near constant nursing whenever I'm around.
I think my mom is actually more freaked out than I am. She keeps calling and saying, "BUT HAVE YOU LISTENED TO HER BREATHING?!"
And I'm like, YES! I'm a doctor! I LISTENED TO HER BREATHING.
I mean….I just can't with her sometimes.
All that to say, we've been a little bit lax with our healthy eating intentions around here lately, leading to more meals that resemble this creamy salmon piccata pasta.
Honestly, not complaining.
I have always been a sucker for a good cream-based pasta sauce and what I love about this one is that it starts out as a lemony white wine sauce and a touch of cream is added at the last minute just to give it a little bit of oomph. So it's creamy, yes, but not overpoweringly so.
It does require a little bit more stovetop real estate than your typical weeknight pasta, what with having to cook the salmon and the sauce and the noodles but in my opinion, it is definitely worth that extra effort. And coming from a girl with a tiny New York apartment-sized kitchen, you know I mean it when I say that!
Creamy Garlic Parmesan Salmon Piccata Fettuccine
Fettuccine is tossed with a creamy garlic parmesan sauce and lemony salmon piccata in this pasta dish that everyone in the family will love.
Ingredients
4 salmon fillets
salt and black pepper, to taste
¼ cup flour
2 tbsp unsalted butter, divided
1 tbsp olive oil
6 cloves garlic, minced
⅔ cup white wine
2 cups vegetable broth
1½ tbsp cornstarch
4 tbsp fresh lemon juice
10 oz frozen peas
1 cup heavy cream
2 tbsp drained capers
½ cup grated parmesan cheese, plus more for serving
1 lb fettuccine
Instructions
Season the salmon on both sides with salt and black pepper. Dredge in the flour, shaking off any excess.
Melt 1 tablespoon of the butter and 1 tbsp olive oil in a large nonstick skillet. Add the salmon to the pan and cook for 4 minutes on each sides or to desired degree of doneness. Set aside.
Wipe out the pan. Melt the remaining tablespoon of the butter in the pan and then add the garlic, sauteing until fragrant, about 1 minute. Add the wine, scraping the bottom of the pan to release any brown bits. Simmer until the wine is almost evaporated, then stir in the broth and lemon juice. Bring to a boil and let bubble for 1 minute.
In a separate small bowl, mix the cornstarch with ¼ cup of the sauce. Pour back into the pan and return to a boil. Simmer until slightly thickened, about 2-3 minutes. Add in the peas and cook until warmed through. Stir in the cream. Remove from the heat and stir in the capers and parmesan cheese. Set aside.
Using a fork, break the salmon up into bite-sized pieces.
Bring a large pot of salted water to a boil and cook the fettuccine according to package directions. Drain and return the noodles to the pot. Toss with the cream sauce and the salmon. Serve warm, garnished with grated parmesan cheese.
More of my favorite fettuccine recipes: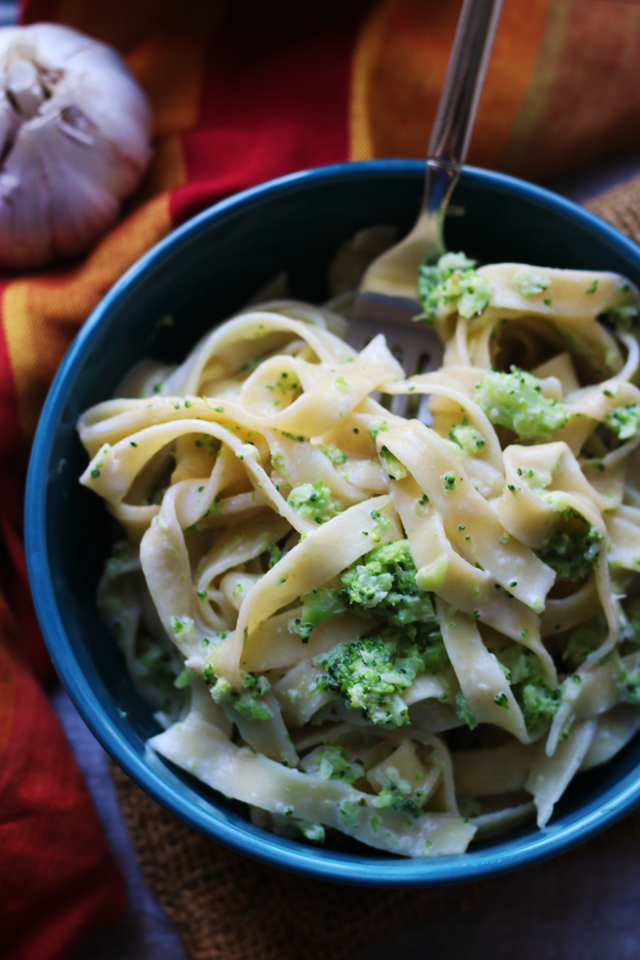 Roasted Garlic Fettuccine Alfredo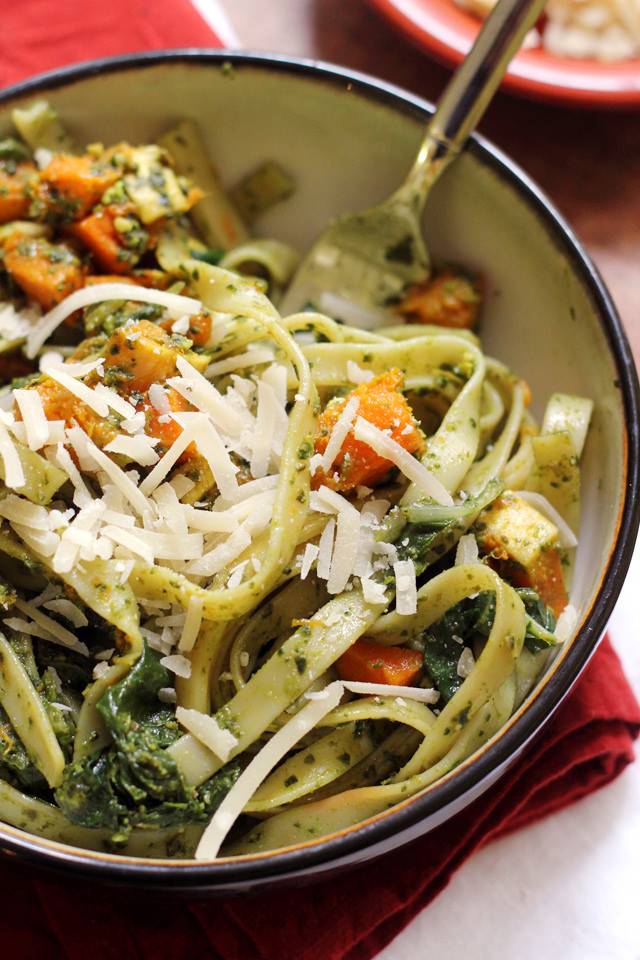 Fettuccine with Swiss Chard, Pistachio Pesto, and Butternut Squash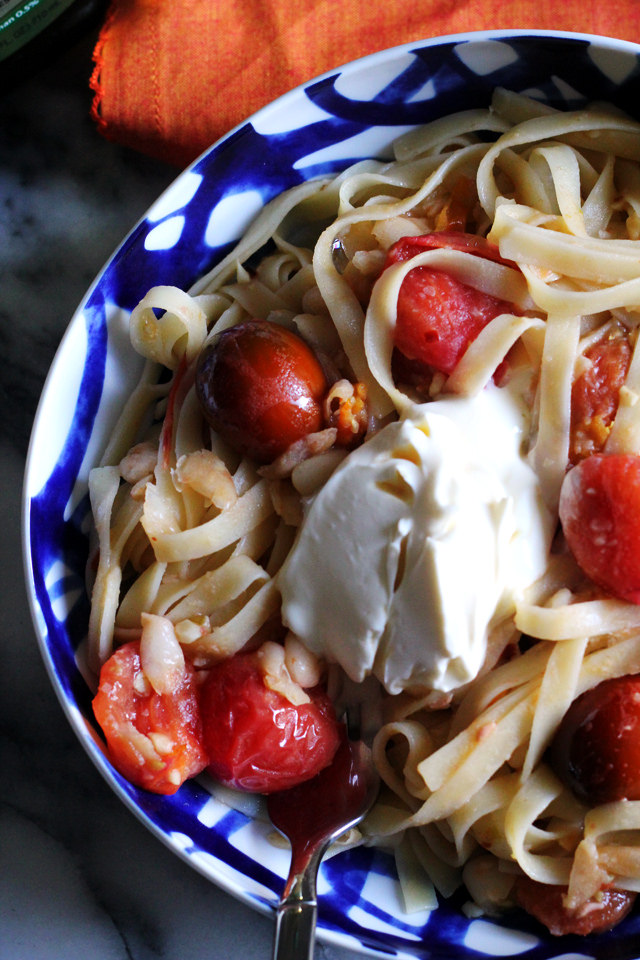 Garlicky Fettuccine with Tomatoes, White Beans, and Mascarpone