A fresh and light Thai-inspired spicy rice noodle salad with grapefruit and peanuts.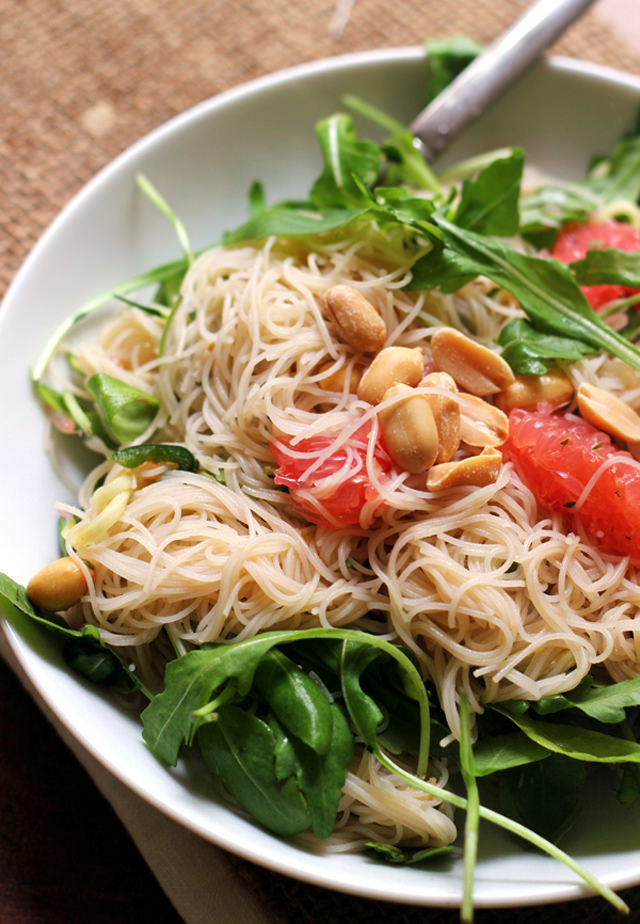 I'm hitting the refresh button.
You won't even believe how many fried things I ate yesterday (hint: ALL OF THEM), and I didn't even go to a Superbowl party!!
Instead of watching grown, sweaty men jump on each other, I went to my friend Ashley's house, and we had a major Dumpling-palooza.
Over 100 dumplings, 3 flavors – just me, Ashley, her husband, and her three year old.
I might be experiencing symptoms of a minor food coma, but I have no regrets, though I probably can't look at a vat of hot oil for at least a week to ten days.
(Unless we're talking fried ice cream, in which case how quickly can you get here??)
During the winter, I always find it so hard to pick myself up from a night of indulgence and start over again. There aren't rows and rows of fresh, vibrant produce at the farmer's market, offering me redemption in exchange for a night in my refrigerator. There is no local kale giving me sidelong glances from the supermarket produce aisle. There are certainly no clear, sunny blue skies shining down on me with promise of a new day.
And shockingly the sacks of potatoes and the brown/beige/grey piles of slush-snow just aren't cutting it lately.
Given these dire circumstances, I've had no choice but to break out my secret weapon: the Florida Grapefruit.
It's sweet! It's bitter! It's tangy! And it will make you feel like a million bucks. That's a promise.
Because of it's unique soil and subtropical climate, Florida produces the sweetest and juiciest grapefruits in.the.world. I, for one, can't get enough of them and it doesn't hurt that they also contain over 100% of the daily recommended amount of vitamin C. It's basically a win/win for my taste buds and my immune system.
Normally I just snack on them al fresco (i.e, as is) but lately, I've been looking for ways to incorporate them into every meal of the day, and that's where this noodle salad comes in. In it, barely cooked rice noodles are tossed with grapefruits, peanuts, zucchini, and arugula and dressed in an herbal soy-based sauce.
Each bite feels like a breath of fresh, nutty, grapefruit-infused air. Just what we needed.
Rice Noodle Salad with Grapefruit and Peanuts
A fresh and light Thai-inspired spicy rice noodle salad with grapefruit and peanuts.
Ingredients
1 jalapeno, seeded and minced
1 clove garlic, minced
2 tbsp packed brown sugar
¼ cup freshly squeezed lime juice
2 tbsp soy sauce
8 oz rice vermicelli
1 tbsp minced ginger
1 large grapefruit, peeled, sectioned, and chopped
1 medium zucchini, cut into spaghetti-like strands
½ cup chopped roasted salted peanuts
3 scallions, minced
⅓ cup minced mint leaves
⅓ cup minced cilantro leaves
5 oz arugula
Instructions
In a medium bowl, whisk together the jalapeno, garlic, brown sugar, lime juice, and soy sauce. Season to taste.
In a large bowl, soak the rice noodles in hot water for 10 to 20 minutes, or until soft. Bring a large pot of salted water to a boil.
In a second large bowl, mix together the ginger, grapefruit, half of the peanuts, the zucchini, scallions, mint, and cilantro.
Drain the noodles and add them to the pot of boiling water. Cook until the water returns to a boil and then drain and rinse with cold water. Drain again.
Toss the noodles with the grapefruit mixture, arugula, and sauce. Divide the salad among the serving bowls and serve garnished with peanuts.
Notes
Recipe adapted from
How to Cook Everything Vegetarian: Simple Meatless Recipes for Great Food
 More noodles!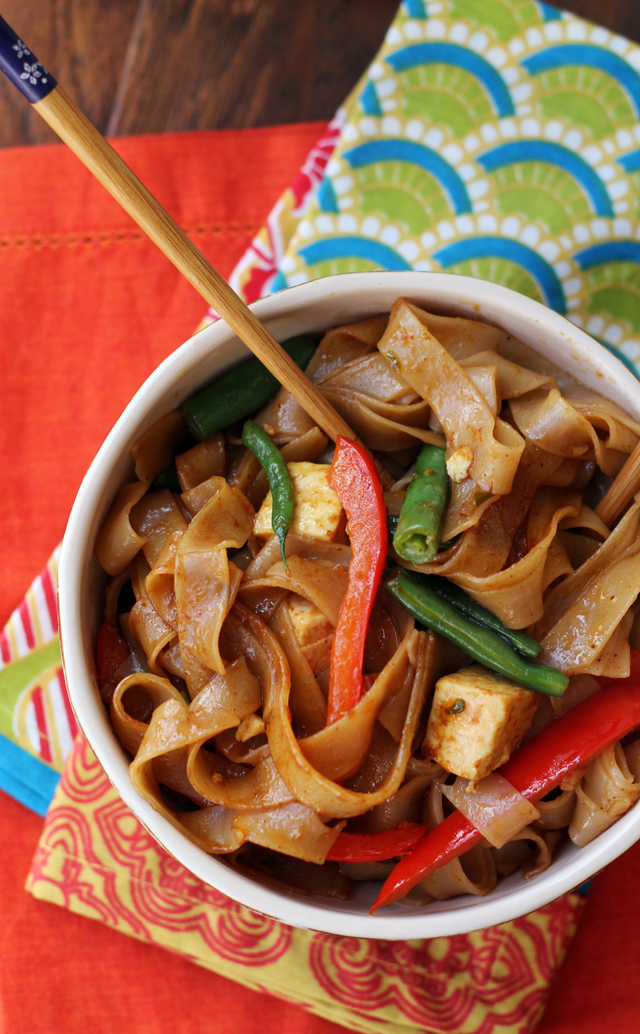 Drunken Noodles with Tofu and Peppers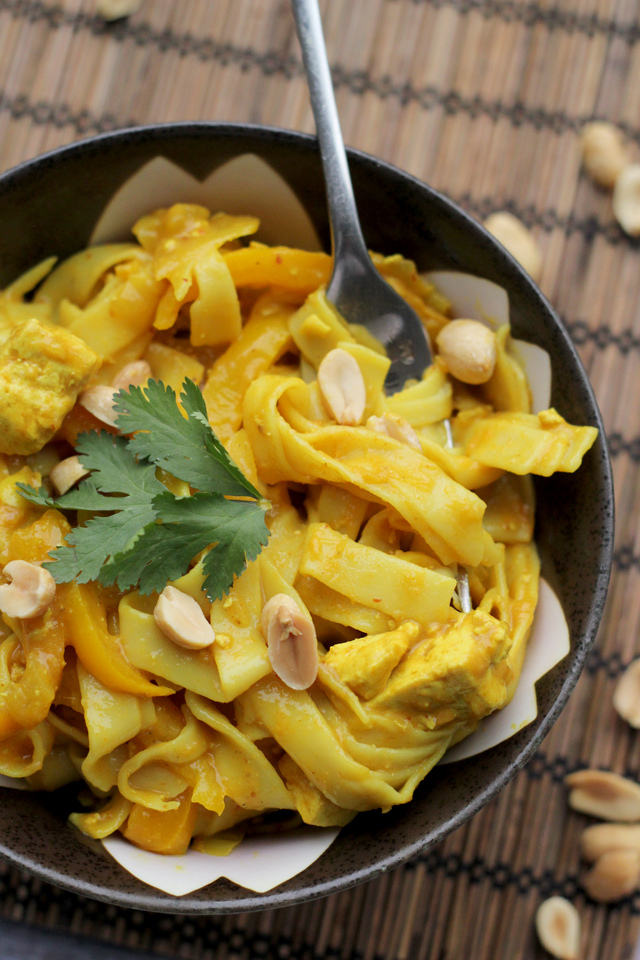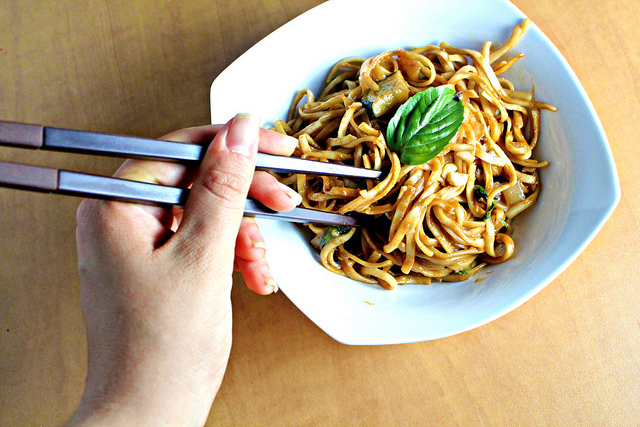 From Around the Web:
Crunchy Asian Ramen Noodle Salad from Gimme Some Oven
Asian Noodle Salad with Peanut Dressing from Well Plated
Vegetarian Korean Japchae Noodles from Steamy Kitchen
Red Curry Noodle Bowls from With Food + Love
Ginger Scallion Zucchini Noodle Bowl from Inspiralized
I was selected for this opportunity as a member of Clever Girls and the content and opinions expressed here are all my own.