Crispy sweet potato oven fries are seasoned with a spicy jalapeno seasoning and garnished with roasted jalapeno slices.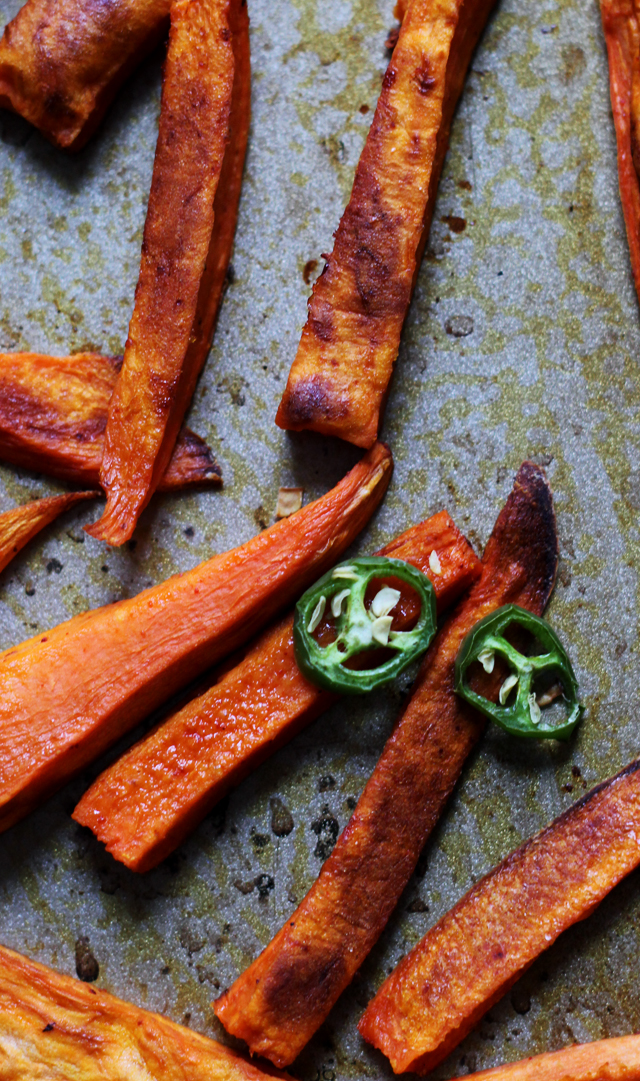 This is one of those "so simple you're either going to slap me or hug me for writing a whole post about it" recipes.
It's a toss, bake, flip, bake, eat situation with just enough downtime to shower, fold your laundry, get distracted by the cookbook you thought you were putting away but hmmm maybe not, and check the oven five to ten times because ARE THEY DONE YET.
Patience is not my virtue when it comes to sweet potato fries. And I make no apologies for that.
To be honest, the majority of my homemade sweet potato fries to date have turned out more like roasted sweet potato sticks than fries. Still good, but not always what I'm going for.
Apparently sweet potatoes don't play by the same rules as regular potatoes, so you can't just throw them on a pan with a smattering of oil and a dash of salt and call it a day. Those orange gems are as high maintenance as spuds can get, and they won't just give it up for any old baking pan.
According to Cook's Illustrated the key here is to preheat and pre-oil your pan before baking. This starts the crisping process from the second those taters hit the pan. They won't even see it coming.
Because I can't leave well enough alone, I seasoned these with a mix of smoked sea salt and jalapeno chili powder. It's a sweet smoky spicy flavor explosion. Oh, and then during the last 10 minutes of baking, jalapeno slices are actually roasted on top of the fries so that their juices sink into them. You'll be inclined to lick them off the pan, but I advise you to wait until it cools.
Really. Wait.
Spicy Jalapeno Sweet Potato Fries
Crispy sweet potato oven fries are seasoned with a spicy jalapeno seasoning and garnished with roasted jalapeno slices.
Ingredients
1 tsp + 1 tbsp peanut oil
2 lb sweet potatoes, peeled
1 tbsp cornstarch
½ tsp smoked sea salt
1 tsp jalapeno or chipotle chili powder
1-2 jalapenos, sliced into thin rings
Instructions
Heat oven to 400F. Place ½ tsp of peanut oil on each of two baking pans. Use a paper towel to spread an even layer of the oil on the pans. Place both baking pans in the oven.
Cut each sweet potato into thin wedges. Toss in a large bowl with the oil, cornstarch, salt, and chili powder. Remove a baking sheet from the oven and place half the sweet potatoes on the sheet, cut side down. Spread them out so that they form a single layer and are not touching. Return the baking sheet to the oven and repeat with the remaining baking sheet and sweet potatoes.
Bake until the side of the sweet potatoes that is directly touching the pan is crusty and golden brown, 15 to 20 minutes. Remove the baking sheets from the oven and turn the sweet potatoes with a thin spatula. Top with the jalapeno slices. Bake until the second side of the sweet potatoes is crusty and brown, 10-15 minutes. Transfer the sweet potatoes to a platter and serve immediately.
Nutrition Information
Serving size:
¼ of recipe
 More fries!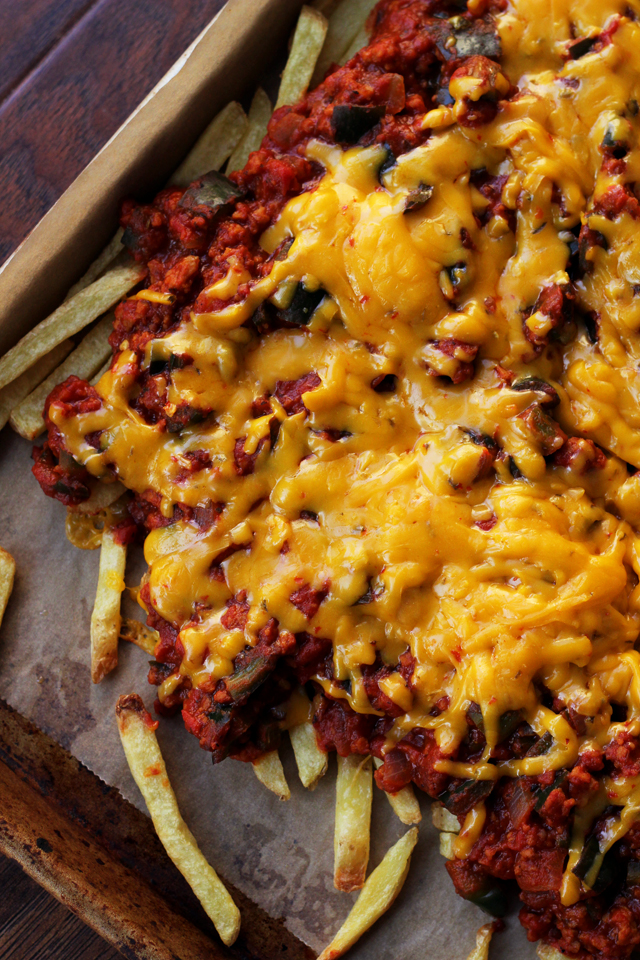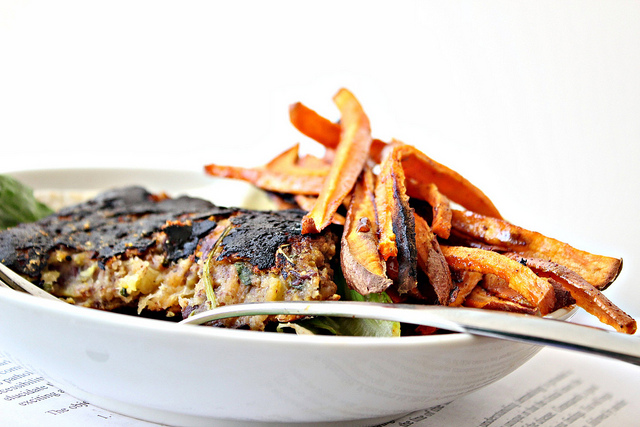 Black Bean and Plantain Burgers with Honey Lime Chipotle Sweet Potato Fries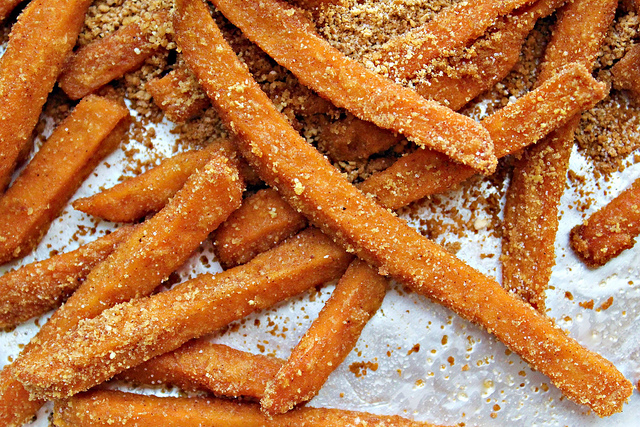 From Around the Web:
Buffalo Sweet Potato Fries from A Kitchen Addiction
Herb Salted Garlic Parmesan French Fries from How Sweet Eats
Eggplant Fries with Honey and Sea Salt from Sippity Sup
Baked Garlic Sweet Potato Fries from Damn Delicious
Spiced Parsnip Fries with Roasted Garlic Yogurt from A Cozy Kitchen