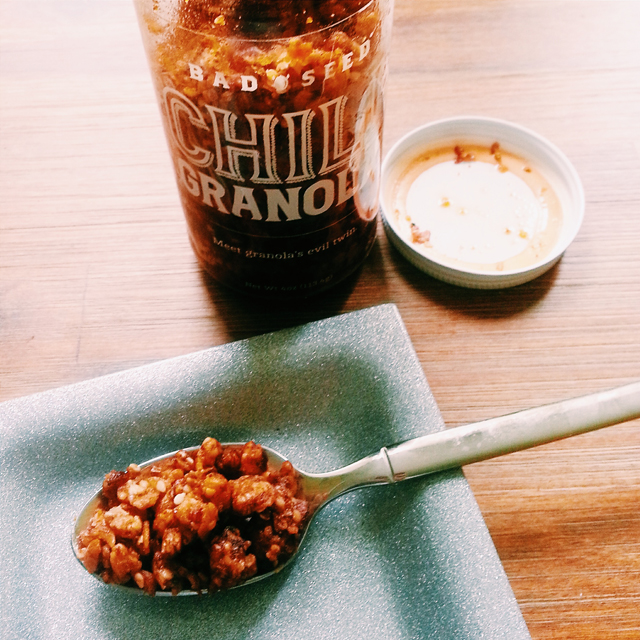 1. Today is the one year anniversary of Wednesday Coffee Talk!! Are you guys totally bored/sick of me yet??
2. Have you guys ever heard of CHILI GRANOLA?! Well, I'm obsessed. It's spicy with just a hint of sweet and it's GRANOLA so that means I can eat it all day and it's, like, zero calories. That's totally how it works, right?
3. Plus the whole savory granola thing is kind of blowing my mind right now. THINK OF THE POSSIBILITIES.
4. How are you guys doing with your Oscar movie watching?? We are almost done. Only Gone Girl, Still Alice, The Judge, and Wild left!! Our favorites so far are definitely American Sniper, Selma, and The Theory of Everything, but to be honest…we totally think last year's movies were better.
5. I had to give a department-wide talk about my research yesterday and I pretty much have still not recovered. Who is going to come to NYC and do tequila shots with me??
6. February is seriously FLYING BY. I'm already starting to work on recipes for MARCH. If there is anything specific you guys want me to make, leave it in the comments!
7. Is anyone else seriously dreading having to do their taxes this year? UGH. Between getting married and the blog becoming an LLC it is really just not going to be the most fun thing ever. Not gonna lie.
8. I've gotten about three 1099s. Out of TWENTY (<–exaggeration, but not by much). And I'm surrounded by receipts. Completely disorganized and incomprehensible receipts.
9. Please send help. And alcohol.
10. And then come to NYC to drink with me.