Conversation heart cakes made from a decadent black velvet cake and covered in classic vanilla cream cheese frosting – perfect for Valentine's Day!
Disclosure: This post was sponsored by HP. As always, my thoughts and opinions are my own.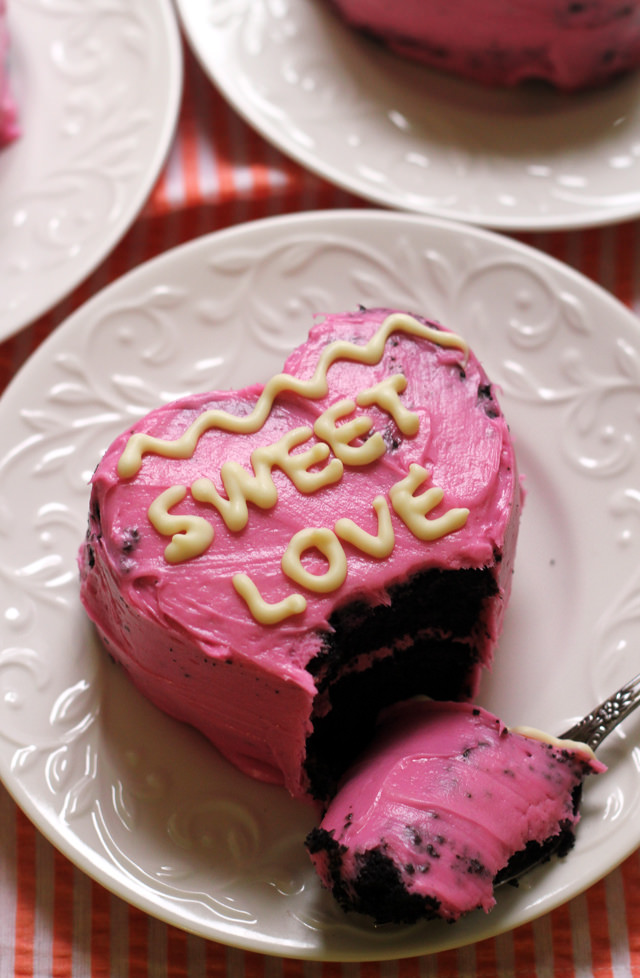 The.Boy and I have a very serious Valentine's Day pact.
Unbreakable,
Non-Negotiable,
No Excuses Pact…
…to not do a damn thing on Valentine's Day.
It's pretty fabulous.
To be honest, I just don't find overcrowded, overly expensive prix fixe menus romantic and thankfully neither does he.
I would like the record to state, however, that I will never say no to good chocolate. Never ever.
Hint hint.
Instead, we try to make time for a date night the week before or the week after when it's less crazy and less stressful, and then on the day of?
We just…chill.
This may seem anti-climactic to some, but for us it's just perfect. We eat a good (homemade) dinner, curl up on the couch for some cuddles and a movie.
And there is cake. Always, cake.
If you know me, then you know that I'm a bit of a red velvet junkie, as cliche as that may be. Sure it's totally stereotypical on every level to eat red velvet on Valentine's Day, but there's something about that hint of chocolate, slightly tangy, ultra sweet and super red southern classic that I can't get enough of.
Back in the day, the red food coloring was actually crucial to attain the cake's signature flavor: because you had to use so much of it to get that vibrant shade of firehouse red, it inevitably added a slightly artificial taste to the mix. These days, with the advent of food gels, which require you to only use a tiny amount to get some BIG color, this is less of a "thing". In fact, you could make a "velvet cake" that is just about any color. Even black.
It may not seem very Valentine's appropriate, but when I saw this recipe for black velvet conversation heart cakes in Baked Occasions: Desserts for Leisure Activities, Holidays, and Informal Celebrations
, they instantly stole my heart. An infinitely more delicious take on those chalky candies that I'm sure we all ate (begrudgingly) in elementary school at the class V-Day party, these are rich, delicious, and all kinds of cute. Plus, the messages on them can be personalized for that special someone. Bet your convenience store candy hearts can't do that.
If there's one thing I'm not, it's an expert froster, so I hope you'll excuse my slightly messy frosting job and give these a chance! A bit unconventional, but I used my Sprout by HP for the message writing part. I said it before and I'll say it again – this is SO MUCH MORE than "just a computer"!!
Here's how I did it: I found some images of candy hearts on the internet and then projected these onto mat part of the computer. Then, I put each cake on the mat so that the projection displayed on the top of the cake. Finally, using melted white chocolate and a very thin pastry tip, I used the projection to trace what I wanted to write directly onto the cake! For someone who does not have a steady icing hand, this was awesome and made it so much easier. I could see being able to use the Sprout in this way for all sorts of decorated baked goods, such cookies, cupcakes, etc.  There is no limit to what you can do with it!
Conversation Heart Cakes
Conversation heart cakes made from a decadent black velvet cake and covered in classic vanilla cream cheese frosting - perfect for Valentine's Day!
Yield:
6 double layer cakes
Ingredients
For the black velvet cake
2 tbsp unsweetened cocoa powder
2 tbsp unsweetened Dutch cocoa powder
¼ cup boiling water
1 tbsp black food gel (optional)
2½ cups cake flour
1 tsp kosher salt
3 oz unsalted butter, softened
1 tbsp + 1½ tsp vegetable shortening
1⅔ cup sugar
3 large eggs
1 cup buttermilk
1 tsp vanilla extract
1 tbsp cider vinegar
1 tsp baking soda
For the vanilla cream cheese frosting
3 cups confectioner's sugar
8 oz unsalted butter, softened
1 lb cream cheese, softened
1 tbsp + 1 tsp vanilla extract
12 tsp kosher salt
food dye or gel (optional)
For assembly
4 oz white chocolate, chopped
Instructions
Heat oven to 325F. Grease an 18x13-inch rimmed baking sheet and line with parchment paper. Set aside.
In a medium bowl, whisk together the two cocoa powders, water, and food gel. In a second bowl, whisk together the flour and salt.
In the bowl of a stand mixer fitted with the paddle attachment, cream together the butter and shortening until smooth, about 5 minutes. Add in the sugar and beat on medium speed until light and fluffy, about 5 minutes. Add in the eggs, one at a time, making sure each is fully incorporated before adding the next one. Scrape down the sides of the bowl.
Whisk the buttermilk and vanilla into the cocoa mixture.
Add the flour mixture to the stand mixer in three additions, alternating with the cocoa buttermilk mixture. Scrape down the bowl and beat again for 10 seconds. In a small bowl, whisk together the baking soda and vinegar. Add to the batter and mix until just combined.
Pour the batter into the prepared pan. Bake, rotating the pan after 10 minutes, until a tester inserted in the center comes out clean, about 20-30 minutes.
Let cool completely in the pan. Place in the freezer for at least 45 minutes. Line a second baking sheet with parchment paper. Using a 4-inch heart shaped cookie cutter, cut out 12 cake hearts. Place hearts on the clean parchment paper. Put in the freezer while you make the frosting.
For the frosting, in the bowl of a stand mixer fitted with the paddle attachment, beat together the butter and cream cheese until smooth. Mix in the confectioner's sugar, vanilla, and salt until smooth. Add the food dye to the frosting, if using and beat until completely incorporated. Let chill for 5 minutes in the refrigerator.
To make the cakes, spread a thin layer of frosting over half the hearts. Top with another heart, bottom side up. Using a small offset spatula, cover each cake with a thin layer of frosting for the crumb coat. Transfer all of the cakes to a baking sheet and let set in the freezer for 5-10 minutes.
Remove the cakes from the freezer and frost generously, using the spatula to accent the heart shape. Refrigerate for at least 5 minutes to set.
Put the white chocolate in a microwave-safe bowl and heat for 10 seconds at a time, stirring after each interval, until melted. Scrape the warm white chocolate into a pastry bag fitted with the smallest plain round tip.
Remove the cakes from the refrigerator and write messages on the cakes. Refrigerate once more to set, for at least 5 minutes. Allow to come to room temperature before serving.
Notes
Recipe from
Baked Occasions: Desserts for Leisure Activities, Holidays, and Informal Celebrations
 More Valentine's Day Recipes: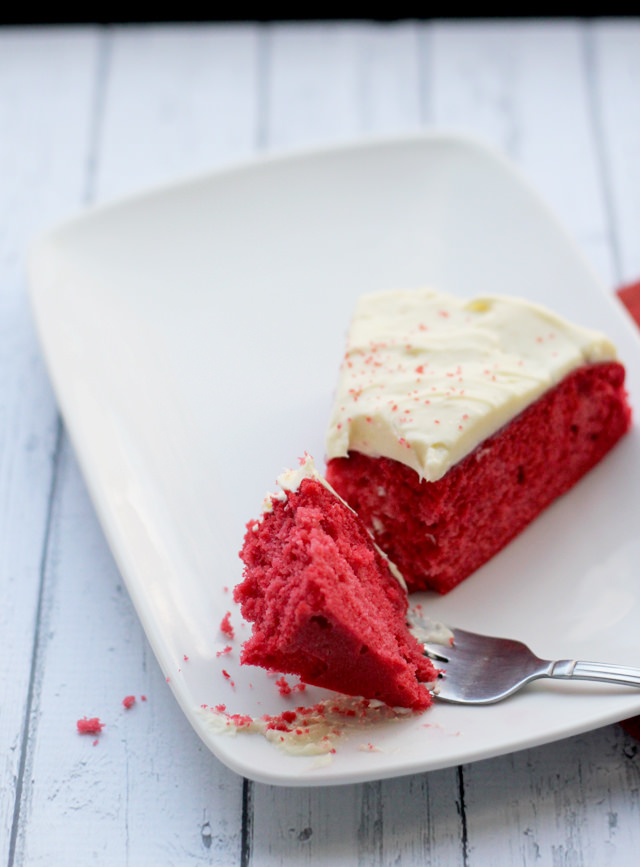 Red Velvet Cake with White Chocolate Cream Cheese Frosting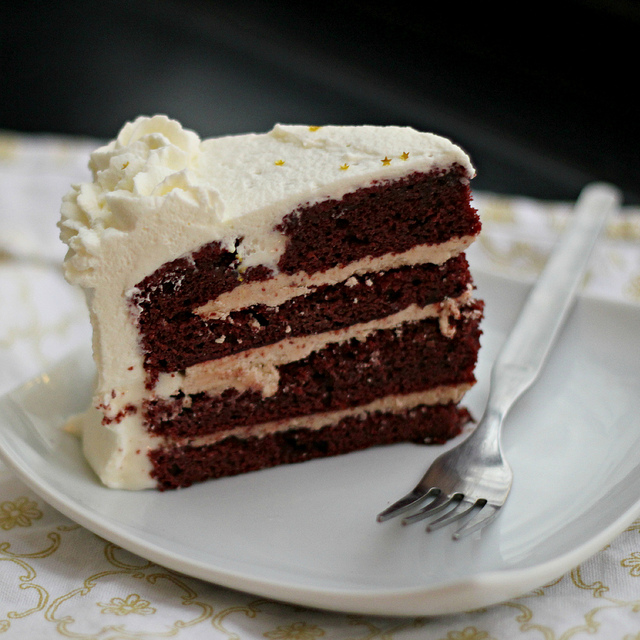 Red Velvet and Cinnamon Layer Cake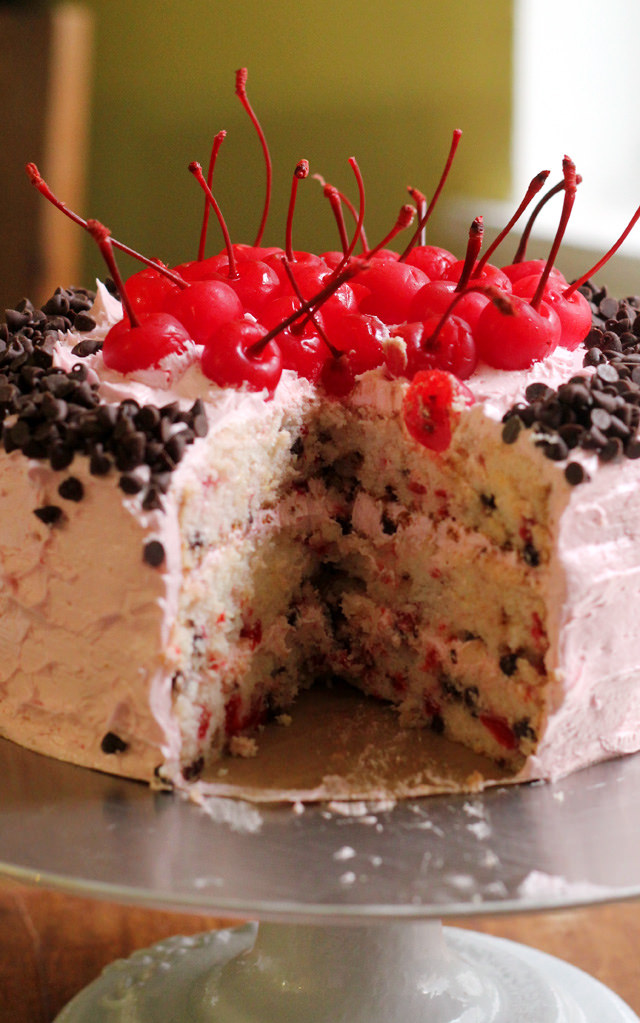 From Around the Web:
Chocolate Valentine's Cupcakes from Confections of a Foodie Bride
Triple Chocolate Mini Bundt Cakes from Hip Foodie Mom
Cutie Pie Pops from The Gunny Sack
Cupid's Strawberry Float from Frugal Coupon Living
Lazy Strawberry Cinnamon Rolls from Grandbaby Cakes