Spiced sweet potato and black bean tacos are hearty and super easy to prepare. Great for a vegetarian taco dinner!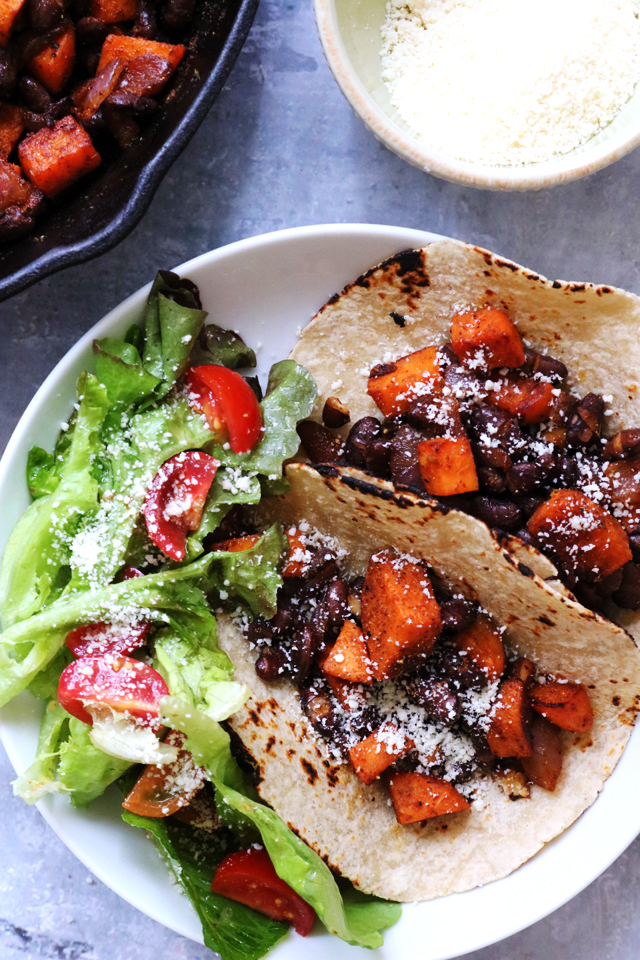 Tacos for Taco Tuesday!!!!!!!!!!!!!!!!
Excuse the over excitement, but it's so rare that my life intentions line up in this way.
Usually I'm a day late for all the things. I mean, Taco Tuesday comes once a week so you would think I could get it together more frequently.
Apparently I can't.
Let's not worry about that, and just live in this once-in-a-lifetime glorious moment.
And you honestly couldn't even imagine easier tacos than these!
They're almost pantry tacos, if you're the kind of person who considers sweet potatoes a pantry staple.
Clearly, I do.
The sweet potato and black bean combo is pretty much as old as time, so while these are not exactly revolutionary from that perspective, I think of them as a reminder that so much of the time SIMPLE == GOOD.
No need to make a five course meal on a weeknight. Just hand me one of these tacos and I'm good.
Another thing that I think is pretty awesome about these is the way the sweet potatoes are cooked.
They're par-cooked in the microwave and then sauteed in a skillet so that they get that crispy taco-spice crust.
I've tried to cook sweet potatoes in a skillet an infinite number of times prior to this without the par-cooking step and it has always been a fail. They never get cooked through enough before the outsides start to burn.
Usually I end up just roasting the potatoes, but the preheating the oven step can be such a buzzkill, especially in my ancient oven that honestly takes a half hour to come to temperature. Who has that kind of foresight?!
Not I.
Top with a sprinkling of crumbled cotija, sliced avocados if your'e lucky enough to not be allergic to them (le sigh), and pickled onions if you've got a batch always in your fridge (ME ME ME!).
Serve with a little simple salad on the side.
Taco Tuesday, HERE WE COME.
Sweet Potato and Black Bean Tacos
Spiced sweet potato and black bean tacos are hearty and super easy to prepare. Great for a vegetarian taco dinner!
Ingredients
For the taco spice mix
1 tsp chili powder
1 tsp cumin
1 tsp paprika
1 tsp ground coriander
2 tsp salt
½ tsp black pepper
For the tacos
12 oz sweet potatoes, peeled and cubed
1 tbsp olive oil
2 shallots, diced
14 oz canned black beans, drained and rinsed
8 taco-sized corn tortillas
4 oz cotija, crumbled
avocado and sour cream, to garnish as desired
Instructions
To make the taco spice mix, combine the chili powder, cumin, paprika, coriander, salt, and black pepper in a small bowl. Set aside.
To make the tacos, place the sweet potato cubes in a microwave-safe bowl. Top with a damp paper towel and microwave on high until tender, about 4-6 minutes.
Heat the olive oil in a large skillet over medium-high heat. Add the sweet potatoes and shallots. Saute until tender, about 3-4 minutes. Add the spice mix and the beans. Continue to cook, stirring to combine, until everything is heated through.
Heat the tortillas according to package directions.
Divide the filling among the tortillas and top with crumbled cotija cheese. Serve with avocado slices and sour cream on the side to garnish.