Coconut Cake with Silk Meringue Buttercream is light, fluffy and perfect for a spring dessert! Not overly sweet like many of its counterparts, each bite of this version tastes like paradise.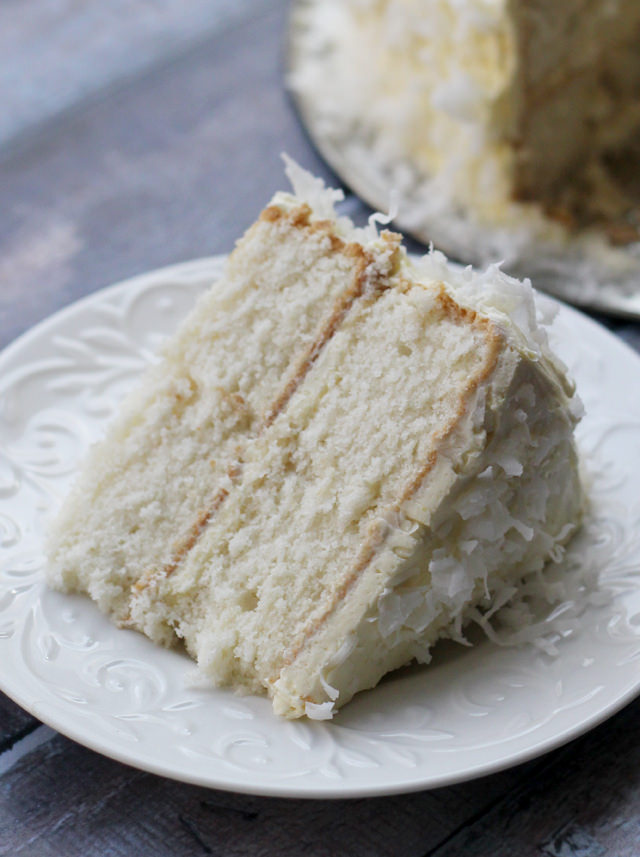 Unsurprisingly, the girl who cannot make "30 minute meals" in thirty minutes is also inept at 7 minute frosting.
You know, the foolproof, "frosting-for-dummies" frosting that everyone and their three year old cousin can make?
Yeah. That one.
I'm just not that into it.
Or it's just not that into me. (Probably the latter. But don't tell my baking ego.)
Let's just say the few (twenty) times that I've attempted it, I've ended up with a liquidy not frosting-like mess and had to frantically run to the store for heavy cream so that I could make whipped cream, which is basically the best friend a girl can ask for in a frosting emergency.
Yes, I count buttercreams, whipped creams, and icings among my besties. Don't judge.
Anyways, this frosting alone has kept me away from coconut cake baking all these years because I was convinced you just couldn't have one without the other.
Oh how wrong I was.
Leave it to Rose Levy Beranbaum, author of The Cake Bible, to set me straight.
She claims that 7 minute frosting is "too sweet" for her (ironic, being that she lives and breathes in shades of sugar).
I don't really know what this "too sweet" nonsense is, but if it precludes me from having to fail at another 7 minute frosting, I am down.
Instead, Rose uses a silk meringue buttercream to frost her coconut masterpiece, which is basically a mash-up of an Italian meringue buttercream with coconut custard. It is rich, subtly sweet and melts on your tongue, perfectly complimenting the fluffy coconutty cake layers it sandwiches.
And yes, I do grasp how ludicrous it is that a triple component frosting comes more naturally to me than one with four ingredients.
So it is, people. So it is.
I highly recommend this cake for your Easter or spring celebration festivities. The cake itself is light and fluffy like a good coconut-infused angel cake should be, and while the frosting is a little bit of work, it is pretty simple once you break it down. Plus the finished product tastes like paradise. So there's that.
Coconut Cake with Silk Meringue Buttercream
Coconut cake is light, fluffy and perfect for a spring dessert! Normally frosting with a seriously sweet marshmallow frosting, this recipe trades in that version for a buttery, silky meringue buttercream.
Yield:
1 9-inch double layer cake
Ingredients
For the cake
6 large egg whites, room temperature
1⅓ cups canned coconut milk
1½ tsp vanilla
1½ tsp coconut extract
4 cups cake flour
2 cups sugar
5 tsp baking powder
1 tsp salt
16 tbsp (2 sticks) unsalted butter, room temperature
For the creme anglaise
½ cup sugar
5 large egg yolks, room temperature
½ cup canned coconut milk
1 tsp vanilla extract
1 tsp coconut extract
For the Italian meringue
2 large egg whites, room temperature
⅓ cup plus 2 tbsp sugar, divided
2 tbsp water
¼ tsp cream of tartar
For the silk meringue buttercream
4 sticks butter, room temperature
Recipe for creme anglaise
Recipe for Italian meringue
3 cups sweetened dried coconut
Instructions
Preheat the oven to 350. Line the bottoms of two 9x2-inch round cake pans with parchment paper. Spray with baking spray.
For the cake, in a medium bowl, whisk together the egg whites, coconut milk, vanilla, and coconut extract until combined. Set aside.
In the bowl of a stand mixer fitted with the paddle attachment, combine the cake flour, sugar, baking powder, and salt. Mix on low for 30 seconds. Add in the butter. Mix on low until the dry ingredients are combined with the butter, and then mix on medium for a minute.
Starting on medium-low speed, mix in the egg white mixture in three parts, beating for 30 seconds after each addition. Scrape the batter into the prepared pans and smooth the surfaces.
Bake the cakes for 30-40 minutes, or until a toothpick inserted comes out clean. Let the cakes cool in the pan for 10 minutes and then invert them onto parchment-lined cooling racks. Let cool completely.
For the frosting, first make the creme anglaise. First combine the sugar and yolks in a medium heavy saucepan. In a separate saucepan, bring the coconut milk to a boil. Slowly pour it into the yolk mixture, whisking constantly. Stirring continuously, bring the mixture almost to a boil over low heat, about 170F. Pour through a fine-meshed strainer into a medium bowl and push it through the strainer as needed. Cool, stirring occasionally. Stir in the vanilla and coconut extra.
If storing in the fridge before using, cover with plastic wrap so that it doesn't form a skin.
For the Italian meringue, place the egg whites in the bowl of a very clean stand mixer fitted with the whisk attachment.
In a heavy saucepan, stir together ⅓ cup of sugar and the water. Heat on medium-high, stirring until the sugar dissolves and the mixture comes to a simmer. Reduce the heat to low and stop stirring.
Beat the egg whites on medium speed until foamy. Add the cream of tarter. Raise the speed to medium-high and beat until soft peaks form. Beat in the remaining 2 tbsp sugar and beat until stiff peaks form.
Cook the sugar until it reaches 248F. Transfer to a glass cup or bowl immediately.
Add the syrup to the egg whites immediately. Pour in a bit of the sugar syrup and beat on high for 5 seconds. Add the remaining syrup in three additions, microwaving as necessary in between to keep the sugar liquid. Lower the speed to medium and beat for 2 minutes. Transfer the meringue to a bowl.
In the bowl of the stand mixer, now beat the butter with the whisk for 30 seconds on medium speed. Gradually mix in the creme anglaise until smooth. Add in the Italian meringue and beat until incorporated and fluffy.
When the cakes are cool, place one layer face down on a serving plate. Spread a little over a cup of frosting on top. Add the second layer. Frost the tops and the sides with buttercream. Pat the coconut onto the cake so that it sticks to the sides. Sprinkle the top with coconut as well.
Notes
Recipe from
Rose's Heavenly Cakes