A hearty vegetarian roasted poblano and white bean chili that is richly flavorful, subtly spicy, and perfect served with a warm slice of cornbread.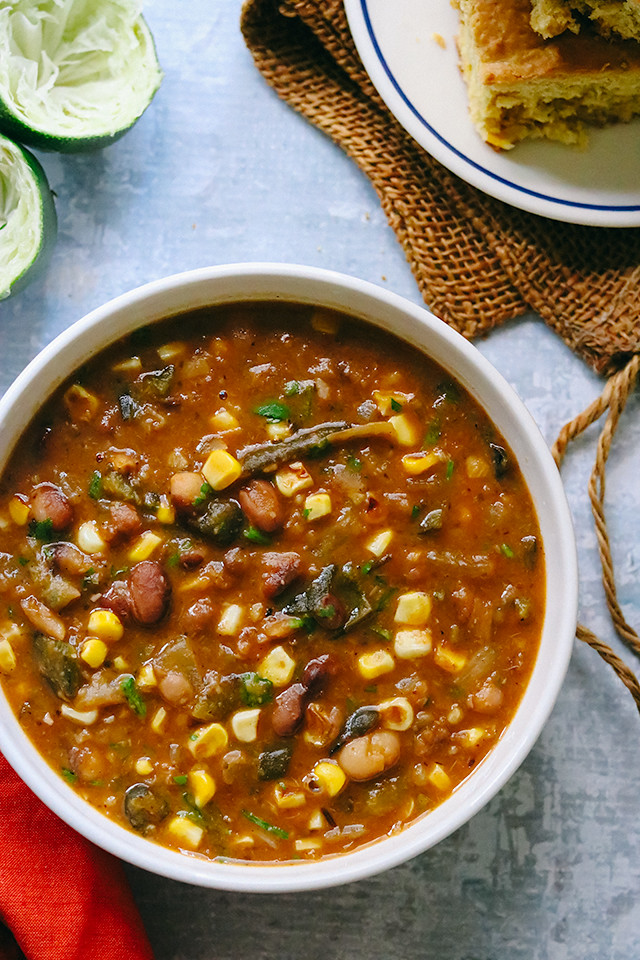 You know, in case you need something that tastes like a warm hug today.
Which is me, like, ALWAYS.
I made this during the dog days of the NY Pause (aka shelter-in-place) and some days knowing I could eat this for lunch or dinner or sneak a spoonful at a moment's notice was the only thing to get me through the day.
Who needs wine when you have a really good vegetarian chili in the fridge, am I right???
In all seriousness, this chili is so on point flavor-wise.
It's filled with umami bombs in the form of smoky roasted poblano and anaheim peppers, sweet juicy corn kernels, a thick velvety broth, and alllll the beans. I recommend cooking your own legumes from scratch because it really does make this that much tastier, but if canned is all you have, don't worry it will still be delicious.
Making this from start to finish takes about an hour, what with all the pepper roasting and peeling and whatnot BUT it makes enough to feed an army so if you put in a little legwork on the weekend, the payoff is pretty fabulous. Bonus that it gets better as it sits, so it truly is the gift that keeps on giving.
We ate it with hunks of fresh cornbread and I have no regrets.
Vegetarian Roasted Poblano and White Bean Chili
A hearty vegetarian roasted poblano and white bean chili that is richly flavorful, subtly spicy, and perfect served with a warm slice of cornbread.
Ingredients
5 poblano chiles, halved lengthwise, stemmed and seeded
3 Anaheim chiles, halved lengthwise, stemmed and seeded
3 tbsp vegetable oil
3 ears corn, kernels cut from cobs and cobs reserved
2 onions, cut into large pieces
2 jalapeno chiles, stemmed, seeded, and chopped
2 (15 oz) cans cannellini beans, rinsed
4 cups vegetable broth
6 garlic cloves, minced
1 tbsp tomato paste
1 tbsp ground cumin
1½ tsp ground coriander
salt and black pepper, to taste
1 (15 oz) can pinto beans
4 scallions, green parts sliced thin
¼ cup minced fresh cilantro
1 tbsp lime juice
Instructions
Heat broiler over high heat. Toss the poblano and Anaheim peppers with 1 tbsp oil and place skin side up on a foil-lined baking sheet. Broil until the peppers start to blacken, about 10 minutes, rotating the pan halfway through. Transfer the peppers to a large bowl and cover with plastic wrap immediately. Allow to steam for 10-15 minutes, then remove the skins. Chop into ½-inch pieces and then set aside.
Meanwhile, toss the corn kernels with 1 tbsp oil. Spread on a foil-lined baking sheet in an even layer and broil until browned, 5-10 minutes. Set aside.
In the bowl of a food processor, pulse together the onions and jalapenos until finely chopped. Transfer to a bowl. In the same food processor bowl, add 1 cup of the cannellini beans, 1 cup vegetable broth, and ½ cup of the roasted chiles. Process until smooth.
Heat the remaining tbsp of oil in a large Dutch oven over medium heat. Add the onion-jalapeno mixture and cook until softened and tender, about 5-7 minutes. Stir in the garlic, tomato paste, cumin, coriander, and ½ tsp salt. Cook for 2 minutes, stirring constantly. Stir in the remaining 3 cups of broth, scraping up any brown bits at the bottom of the pot. Stir in the pureed chile-bean mixture, the remaining roasted chiles, remaining beans, and the corn cobs. Bring to a boil, then reduce the heat to low and simmer for 40 minutes.
Remove the corn cobs from the pot. Stir in the broiled corn kernels and heat through, about 1 minute. Remove from the heat and stir in the scallions, cilantro, and lime juice. Season to taste with salt and black pepper. Serve warm.