Fresh sweet corn polenta is topped with a rich tomato eggplant sauce in this perfect end of summer meal.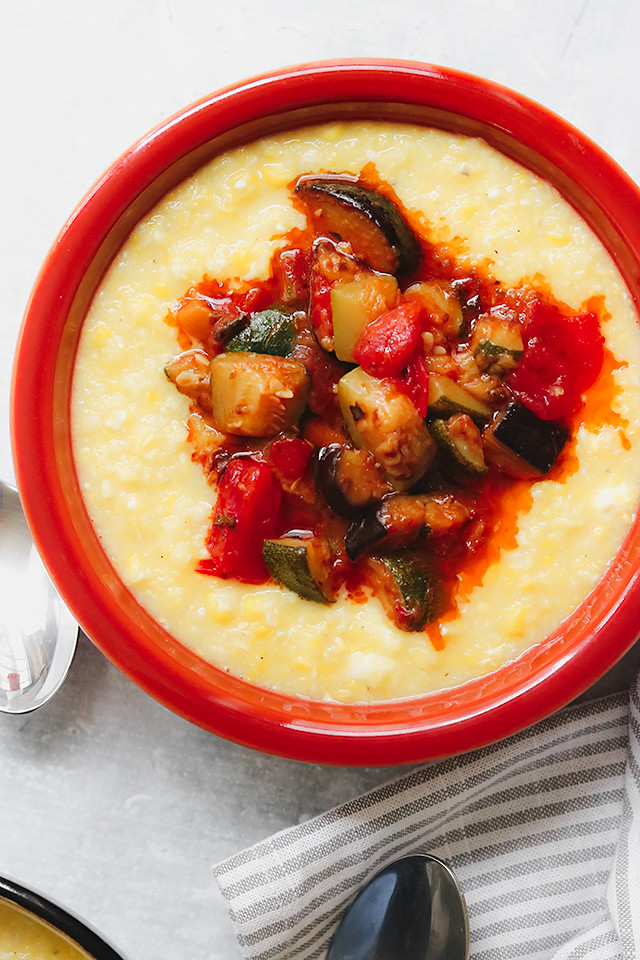 Yesterday was completely downcast and it took me until about halfway through the day to realize that it wasn't because of clouds, but because of smoke.
Yes, the smoke from the wildfires on the west coast has made it all the way here to NYC. Unreal.
They say the air quality is fine (good, even!!) but I'm not so sure. Remy had a (mild) resurgence of her runny nose yesterday and my breathing felt a little funny. It's either coincidence (or coronavirus), or the smoke. The fact that it actually felt better when I was wearing a mask leads me to believe it's the latter.
This country is greatly in need of some comfort food (and maybe a slap or twelve), and I'm bringing it today in the form of sweet corn polenta.
What I can promise you is that this is unlike any polenta you've ever eaten. It's made entirely from fresh sweet corn that has been simmered until tender, then pureed in a food processor, and cooked down into a velvety sauce. It's then mixed with a fabulous amount of feta cheese so that it hits that perfect sweet-and-savory spot. The only caveat is that you really need to use the best sweet corn here. Nothing from the freezer, nothing that's flavorless. It has to be the best because there's nothing for it to hide behind.
As if that weren't enough, the polenta is then topped with a rich tomato eggplant sauce that adds the perfect umami contrast and turns this into a real dinner. I considered adding some beans to make it a little more hearty, but it ended up being absolutely perfect as is.
Sweet Corn Polenta with Eggplant Sauce
Fresh sweet corn polenta is topped with a rich tomato eggplant sauce in this perfect end of summer meal.
Ingredients
For the eggplant sauce
⅔ cup vegetable oil
1 medium eggplant, cut into ¾-inch dice
2 tsp tomato paste
¼ cup white wine
1 cup chopped tomatoes
6½ tbsp water
¼ tsp salt
¼ tsp sugar
1 tbsp chopped fresh oregano or 1 tsp dried oregano
For the sweet corn polenta
6 ears of corn
2¼ cups water
3 tbsp butter, diced
7 oz feta, crumbled
¼ tsp salt
black pepper, to taste
Instructions
For the eggplant sauce
Heat the oil in a large deep skillet over high heat, then lower to medium and fry the eggplant for about 15 minutes, or until browned. Drain off as much oil from the pan as you can and discard it.
Add the tomato paste to the pan and saute with the eggplant for 2 minutes. Add the wine and simmer for 1 minute, or until almost evaporated. Add in the chopped tomatoes, water, salt, sugar, and oregano. Simmer for 5 minutes. Season to taste with salt and black pepper, then set aside.
For the polenta
Shave the kernels off of each ear of corn. Place them in a medium saucepan and cover with the water. Simmer for 12 minutes on low heat. Use a slotted spoon to remove the kernels from the pan to the bowl of a food processor or blender, leaving the water behind in the pan. Process the corn until almost smooth, adding in some of the cooking liquid if needed so the processor can run.
Return the corn paste to the pan with the water and cook on low heat for 10-15 minutes, stirring frequently, until thickened. Fold in the butter, feta, salt, and black pepper. Let cook for another 2 minutes. Season to taste with salt and black pepper.
Divide the polenta among shallow serving bowls and top with spoonfuls of the warm eggplant sauce.