Pasta with caramelized zucchini is flavored with fresh basil and loads of parmesan cheese – it is the perfect way to use up fresh garden zucchini!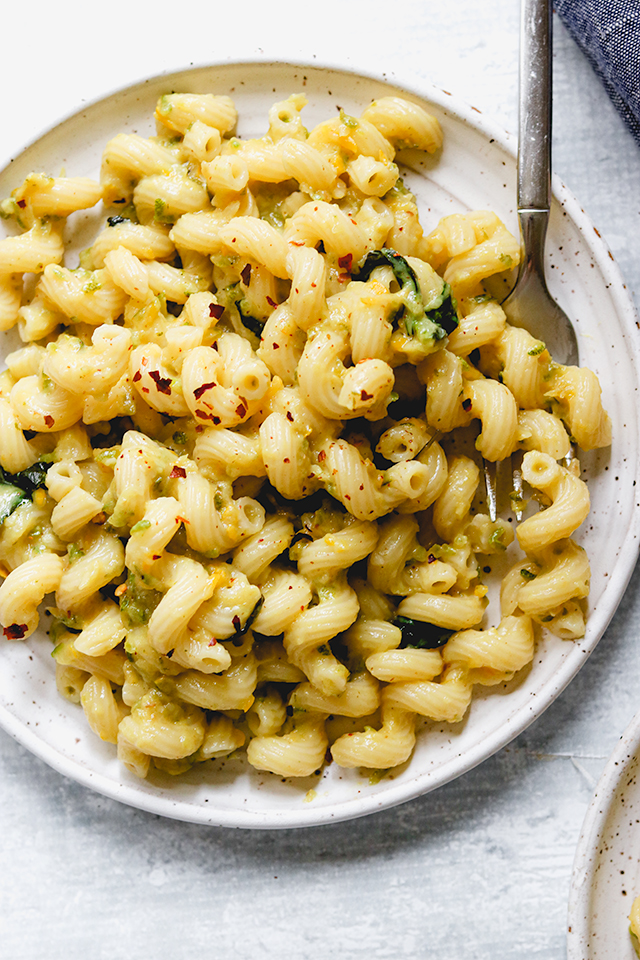 So far this summer we've eaten zucchini all the ways: frittered, caked, sauteed, stewed, simmered, roasted. We were tired, we thought we were totally done with it and ready to move on to other (better?) squashes.
But then the New York Times went and published this recipe for CARAMELIZED ZUCCHINI PASTA and omg we are NOT done. Far from it.
Zucchini that's shredded and cooked down a la caramelized onions until it's sweet sticky sultry melt-in-your-mouth perfection?
I have a feeling we're just getting started.
Personally I'm a little bit obsessed. Maybe you can tell?
This magical sauce starts from pretty humble beginnings: melt olive oil and butter in a pan, then add two pounds of shredded zucchini, eight crushed garlic cloves, and a handful of basil. 
Then you cook it down until you don't think it can cook down any more. (And then you cook it for another five minutes.) In that time it will deepen in color and flavor and become the absolute best version of itself – a little sweet, deeply savory, with a very rich flavor.
With the additions of parmesan cheese and a good amount of pasta cooking water, it becomes a silky smooth sauce that is perfect for curly or ridged pastas where it can get trapped in all the nooks and crannies.
My only regret is not making a double batch so that every night could be caramelized zucchini pasta night!
Pasta with Caramelized Zucchini
Pasta with caramelized zucchini is flavored with fresh basil and loads of parmesan cheese - it is the perfect way to use up fresh garden zucchini!
Ingredients
2 tbsp butter
2 tbsp olive oil
2 lb zucchini, coarsely grated
8 garlic cloves, peeled and smashed
½ cup basil leaves, stems reserved
salt and black pepper, to taste
1 lb cavatappi or other curly pasta
½ cup finely grated parmesan cheese
Instructions
Melt the butter and oil in a large cast iron skillet over medium-high heat. Add the zucchini, garlic, basil stems, and half of the basil leaves. Season with 1¼ tsp salt and add black pepper to taste. Cover and cook for 5-7 minutes, or until the zucchini has released its liquid. Uncover and cook for another 7-10 minutes, or until the liquid has started to cook off.
Continue to cook the zucchini for another 20-25 minutes, stirring occasionally, until it has reduced to about 1 cup in volume. If the zucchini starts sticking to the pan, add a few tbsp of water and use it to deglaze the skillet, scraping up any brown bits.
Bring a large pot of salted water to a boil and cook the pasta until al dente, according to package directions. Reserve 2 cups of pasta cooking water, and then drain the pasta.
Remove the basil stems from the zucchini. Add the pasta, 1 cup of pasta water, and the parmesan cheese to the pot with the zucchini. Lower the heat to medium and stir to combine until the zucchini sauce coats the pasta. Season to taste with salt and black pepper. Stir in the remaining basil and serve immediately.