Savor the last tastes of summer with this brown butter raspberry cornbread with cornbread crumble.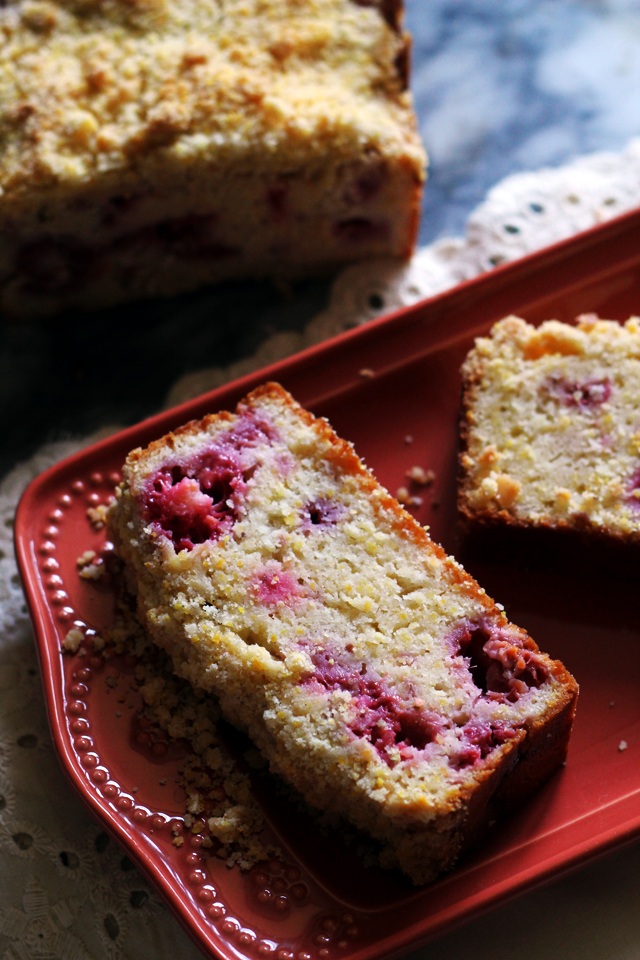 STOP THE (PUMPKIN) PRESSES!!!
No, seriously.
Put.
The.
Can.
Down.
There is still just a tiny hint of summer left,
and we are going to LIVE IT.
In cornbread form.
(aka the best possible form)
If there's one thing I tend to be very serious about when it comes to my summering, it's CORN and figuring out ways to eat it all the time.
In every meal. Every day. Every minute.
And this summer because of baby+school+sleep deprivation, I did not eat hardly enough of it.
Like, maybe once a day, if even that.
AND NOW IT'S GONE.
Sad. Too sad.
And while this recipe may not have fresh corn kernels in it, what it does have is loads of corn essence mixed with juicy bursts of raspberry and the sweet sweet heaven that is brown butter.
For wringing out the last bits of summering the way we know best.

Raspberry Cornbread with Cornbread Crumble
Savor the last tastes of summer with this brown butter raspberry cornbread with cornbread crumble.
Ingredients
For the cornbread
½ cup unsalted butter, plus more for greasing the pan
1 cup all purpose flour, plus more for greasing the pan
¼ cup cake flour
¾ cup sugar
1 tsp baking powder
½ cup cornmeal
½ tsp kosher salt
2 large eggs
1 cup buttermilk
1 tsp pure vanilla extract
2 cups raspberries
For the cornmeal crumble
⅓ cup flour
2 tbsp + 2 tsp cornmeal
3 tbsp + 1 tsp sugar
½ tsp lemon zest
½ tsp vanilla extract
¼ tsp kosher salt
2 tbsp + 2 tsp unsalted butter, softened
Instructions
First, make the crumble. In the bowl of a food processor, combine the flour, cornmeal, sugar, lemon zest, vanilla, and salt. Add the butter, breaking it into small clumps as you do. Pulse 5 times. Scrape down the sides of the bowl. Repeat two more times. Transfer to a bowl, cover, and refrigerate until ready to use.
Heat oven to 325F. Butter and flour the loaf pan to grease it, then put in the refrigerator to chill.
In a small pan, melt the butter and cook until amber colored over medium-low heat. Remove from the oven and pour into a small bowl. Allow to cool to room temperature.
In a large bowl, whisk together the flours, sugar, baking powder, and cornmeal. Set aside.
In a small bowl, whisk together the eggs, buttermilk, and vanilla. Pour the egg mixture into the bowl of dry ingredients and whisk until just combined. Fold in the raspberries and the cooled melted butter.
Pour the batter into the prepared loaf pan. Remove the crumble from the fridge and sprinkle it on top of the batter, squeezing it into some larger chunks as you do. Bake until cooked through and lightly golden, about 1 hour, rotating the pan halfway through.
Remove pan from the oven and let cool on a wire rack for 15 minutes. Run a knife around the edges of the loaf to loosen it from the pan. Let cool for at least another 30 minutes until slicing and serving.
Notes
Adapted from The Dahlia Bakery Cookbook