Dates provide most of the natural sweetness in this sticky apple ginger date cake that is smothered in a buttery caramel sauce.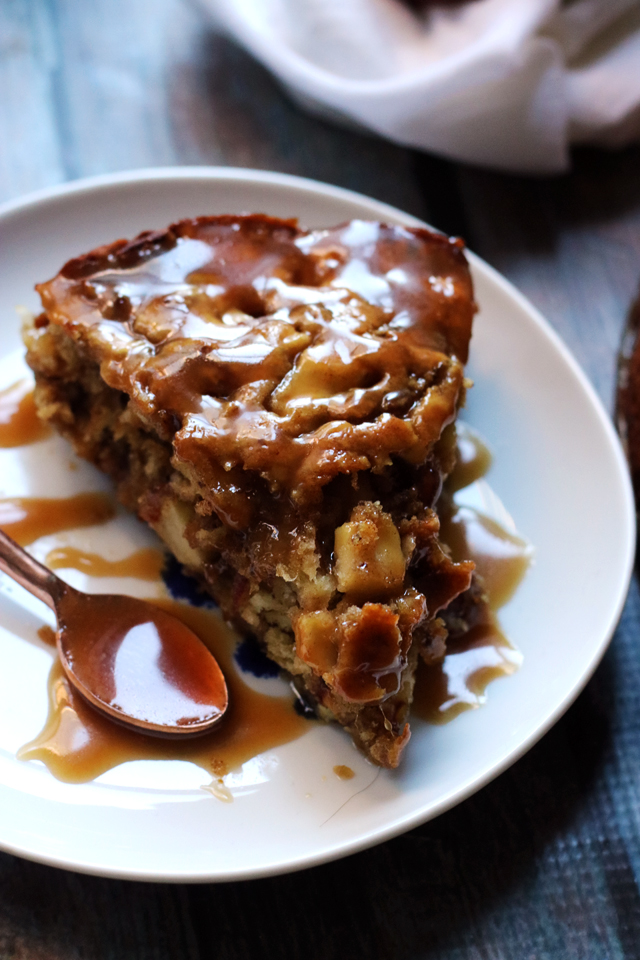 I am on an apple dessert RAMPAGE.
I mean, you obviously can't tell because I spend all my down time writing discharge summaries, only sleep 5-6 hours a night, and am too zombie-like to get my act together enough to actually post any of them.
Ssssssoooooorrrryyyyy!!!
So I'm bringing you my best of the best, greatest hits: the apple edition.
Not sorry.
We are actually still working our way through our fresh-from-the-orchard apples that we picked two weeks ago. One cake, one pie, and lots of apple snacks later, and I think we have 10 left? Something like that.
I think I'm going to make my favorite caramel apple cheesecake with the last few. I've actually never posted it because it's deplorably unattractive (and also because we eat it too fast for me to photograph it every time) but I've made it for the past three Thanksgivings, so you know it has to be up to snuff. Maybe this will be the year. Stay tuned.
This sticky caramel apple ginger date cake was actually the first thing I baked with our apples and it definitely set the tone for the season:
Delicious.
Caramel.
Sweet.
Tart.
Spiced.
(Did I mention caramel??)
In short: I'm obsessed.
Not only is this cake so soft and moist with melt-in-your-mouth apple bits in every bite, most of its sweetness comes from dates rather than refined sugar!
I had some serious doubts when I was making this and realized that the entire cake only had a third of a cup of sugar in it. That's how much I put in my coffee!! (Kidding.) Way not enough for cake. But the dates nailed it. They add the perfect amount of sweetness without being over the top.
The cake is also deeply spiced with fresh ginger. SIX WHOLE TABLESPOONS FULL. If you are not a fan of ginger, then I would probably advise against making it. Or you could try halving the ginger if you really want to. The flavor is intense, but in a good way (in my opinion). And whatever you do, do not try to substitute dried ginger for fresh. It absolutely will not work here and will make your cake taste gross. I promise.
The buttery caramel glaze is the icing on the cake, but also the best part. It seeps into all the crevices the apples leave behind and makes them taste like magic. The recipe makes quite a bit, so we had a ton extra. I mainly used it to drizzle over not-so-great ice cream to make it palatable, but I encourage you to have grand plans for your batch.
Sticky Caramel Apple Ginger Date Cake
Dates provide most of the natural sweetness in this sticky apple ginger date cake that is smothered in a buttery caramel sauce.
Ingredients
For the cake
10 tbsp unsalted butter, room temperature
10 oz dates, pitted and chopped
1 cup water
1 tsp baking soda
2 cups all purpose flour
1½ tsp baking powder
½ tsp kosher salt
⅓ cup sugar
2 large eggs
6 tbsp peeled, minced fresh ginger
2 sweet-tart apples, peeled, cored, and cut into ¼-inch dice
For the sauce
½ cup packed light brown sugar
6 tbsp unsalted butter
1 tsp kosher salt
½ cup heavy cream
Instructions
Heat oven to 350F. Grease a 9-inch springform pan with butter or baking spray. Set aside.
Bring the dates and water to a simmer in a small saucepan over medium heat. Once simmering, allow to cook for 1 minute or until dates soften. Remove from the heat and stir in the baking soda. Set aside to cool.
Meanwhile, whisk together the flour, baking powder and salt in a medium bowl. In the bowl of a stand mixer fitted with the paddle attachment, cream together the butter and sugar on medium speed until pale and fluffy, about 4 minutes. Beat in the eggs, one at a time, then add the ginger. Add the flour mixture and mix until just combined. Fold in the dates and the apples.
Pour the batter into the prepared pan and smooth with an offset spatula. Bake for 40-45 minutes or until a toothpick inserted in the center has just a few moist crumbs.
When the cake is in the last 10 minutes of baking, prepare the sauce. Combine the brown sugar, butter, and salt in a medium pan over medium heat. Cook until the sugar is dissolved, about 3 minutes. Stir in the heavy cream and bring to a simmer, then decrease the heat to low. Cook until the sauce has thickened, stirring frequently, about 5-7 minutes. Remove from the heat and set aside to cool slightly.
Once the cake is removed from the oven, allow it to cool for 15 minutes. Remove the sides of the pan and set the cake on a serving plate or baking rack. Poke holes all over the cake with a toothpick. Pour half of the sauce over the cake while it is still warm. Serve the cake still warm with the remaining caramel sauce on the side.
Notes
Recipe from
The New Sugar & Spice: A Recipe for Bolder Baking
More apple-y desserts!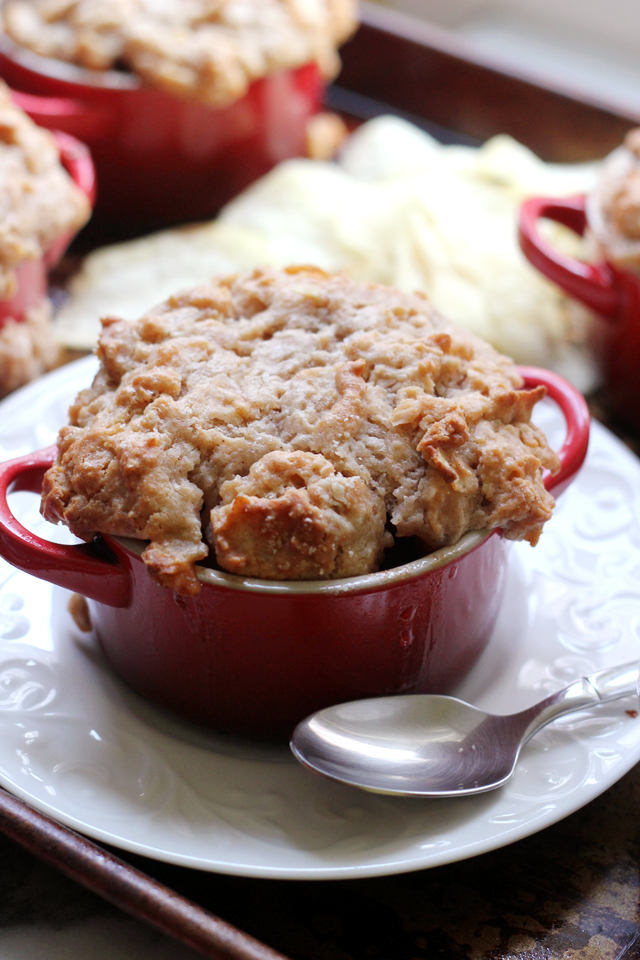 Mini Apple Cobblers with Sweet and Salty Biscuit Toppings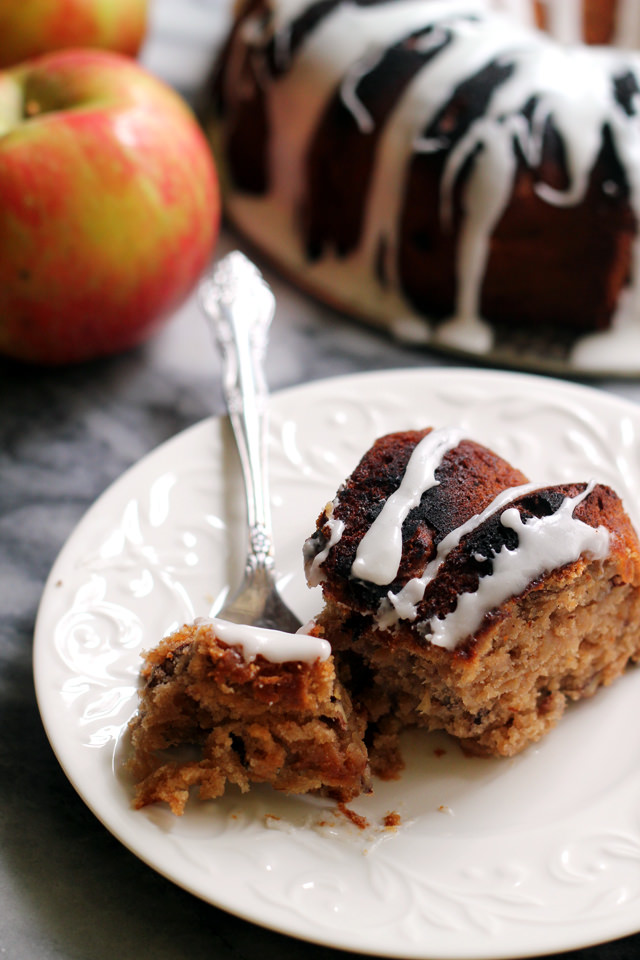 Double Apple Bundt Cake with Lemon Glaze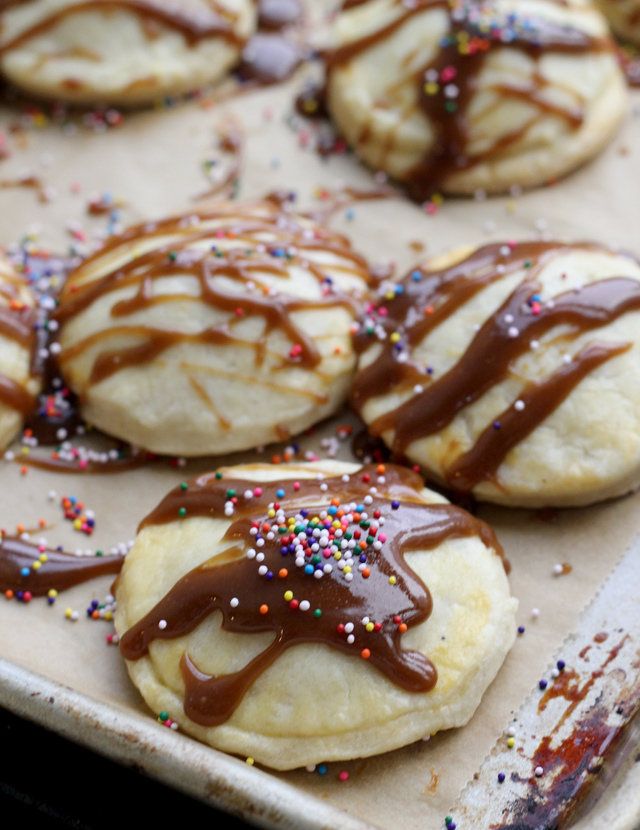 Mini Caramel Apple Pop Tarts with Brown Sugar Glaze