A spicy hot version of vegetarian mapo tofu served with spicy stir-fried swiss chard. Delicious over a bed of rice.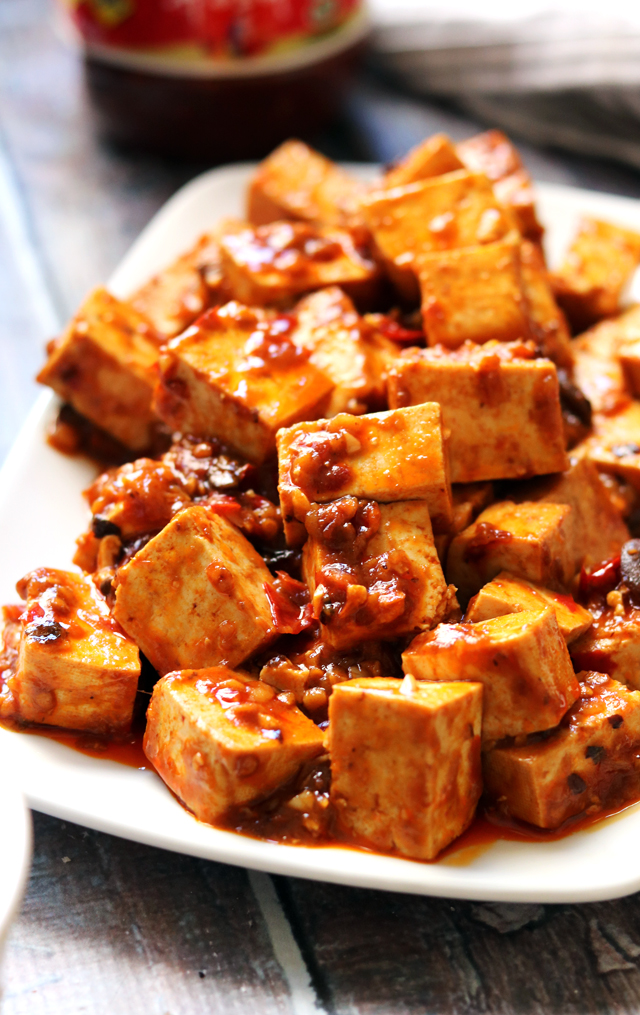 We've been living in this same apartment for coming on two years and I am still not satisfied with the Chinese takeout options in our neighborhood.
I know what you're thinking.
In New York City?!?! HOW IS THIS POSSIBLE. It's, like, where Chinese takeout was born.
Clearly it's a total #firstworldproblem, but still frustrating when my family insists on a Chinese takeout dinner once a month. We have tried pretty much every restaurant around us with my complaints always being the same – nothing is ever spicy enough!! Like, I can deal with the excess oil, the MSG, the greasiness but puhhlleaassee if you put five chili peppers next to an item on a menu, it had better pack some heat. Instead what I always end up with is a sweet gloopy container of fried tofu.
I mean, you've seen the way I cook here. That's just not my style.
Now, don't get me wrong, I'm sure if I went to Chinatown I could find something a little more authentic with less oily sweetness and more spice but that's just not feasible most of the time.
(I WISH. #dimsumeveryweekend would be amazing)
So, you know what they say….if you want something done right.
I was recently exposed to the Every Grain of Rice cookbook by Fuchsia Dunlop, which is one of the landmark Chinese cookbooks out there. While Dunlop is not Chinese herself, she has clearly done her homework. All of the recipes are fresh flavored and, while I certainly am not an authority on their authenticity, they definitely come with a good amount of spice. If you're looking to do a deeper dive into the realm of Chinese cooking, this is a cookbook I would invest in.
I've often seen mapo tofu on Chinese food menus, but it almost always contains ground pork so I've never been able to try it. I was very excited to see that Dunlop had a fully vegetarian version in her cookbook. In this recipe cubes of extra firm tofu are first boiled in lightly salted water to open up their pores and then stir fried in a spicy Sichuan chili bean-based sauce. Um, yeah. It was intense and so delicious. I omitted some of the Sichuan pepper from the original recipe and my mouth was still on fire. In a good way!
I paired it with a recipe for twice-cooked swiss chard, also from the cookbook, because they contained similar flavors and ingredients. Just wipe out your wok in-between cooking and boil the chard in the same water you use to boil the tofu to save time and dirty dishes. These recipes come together very quickly and, while they were a bit too spicy to be considered family friendly (at least for my family!) they made for great meal prep lunches for me for the week.
Um, yeah. Never ordering takeout again, that's for sure.
Fiery Vegetarian Mapo Tofu with Spicy Twice-Cooked Chard
A spicy hot version of vegetarian mapo tofu served with spicy stir-fried swiss chard. Delicious over a bed of rice.
Ingredients
For the tofu
1 lb extra firm tofu
4 scallions, green parts thinly sliced
4 tbsp grapeseed oil
2½ tbsp Sichuan chili bean paste
1 tbsp fermented black beans
1 tbsp minced ginger
1 tbsp minced garlic
½ cup vegetable broth
2 tsp potato flour (or cornstarch) mixed with 2 tbsp cold water
For the swiss chard
14 oz swiss chard
3 tbsp grapseed oil
1½ tbsp Sichuan chili bean paste
2 tsp minced garlic
2 tsp minced ginger
1½ tsp fermented black beans
½ cup vegetable broth
2 tbsp minced scallions
Instructions
For the tofu
Cut the tofu into 1-inch cubes. Bring a lightly salted pot of water to a boil. Remove from the heat and add the tofu to steep while you prepare the other ingredients.
Heat a large wok over high heat. Pour in the grapeseed oil and swirl it in the pot. Reduce the heat to medium and then add in the chili bean paste. Stir fry until the oil is fragrant, 1-2 minutes. Add in the black beans and stir fry for another few seconds until they are fragrant. Add in the ginger and garlic and saute for 1 minute.
Remove the tofu from the hot water with a slotted spoon and lay it in the wok. Stir it gently to mix it with the sauce. Add in the broth and season to taste with salt. Mix again gently.
Bring to a boil and then simmer for 3-4 minutes to allow the tofu to absorb the sauce. Stir in the scallions. Add the potato flour/water mixture and stir to combine. Allow to simmer until the sauce thickens to desired consistency. Pour onto a serving bowl and serve warm.
For the swiss chard
Cut the dark chard leaves from the stems. Slice the stems into ½-inch slices. Thinly slice the leaves. Bring a large pot of water to a boil. Add the chard stems and boil for 3 minutes. Add the chard leaves and boil for another minute. Drain and refresh with cold water. Squeeze the chard dry as much as possible.
Pour the oil into a large wok over medium heat. Swirl it around and then add the chili bean paste. Stir fry for 1-2 minutes, until fragrant. Add in the garlic, ginger, and black beans. Stir fry for another minute, until fragrant. add in the broth and bring to a boil. Add in the chard and stir until heated through. Stir in the scallions and serve warm.