A sweet and salty LAY'S potato chip-infused biscuit topping makes for a perfect crust in these classic mini apple cobblers that are great for entertaining.
Disclosure: This post has been sponsored by Frito-Lay. All thoughts and opinions are my own.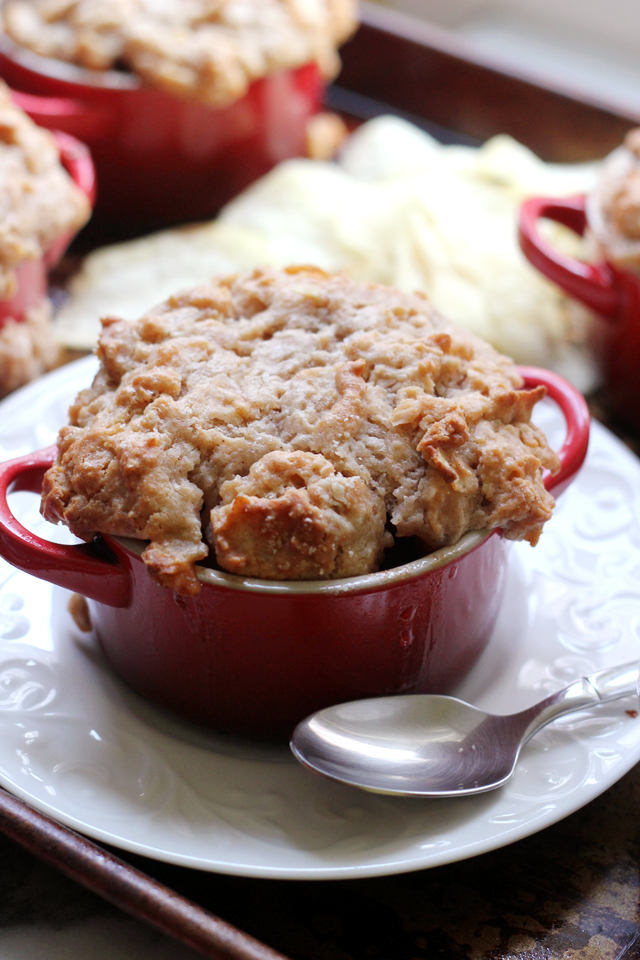 Does anything taste as good as warm apple pie?
TRICK QUESTION.
Because the answer is no. Not unless you've had warm apple pie topped with the ultimate in sweet, savory, flaky potato chip biscuit toppings.
Don't get me wrong, I'm as much a fan of pie crust as the next girl, but WHO HAS THE TIME?!
First there's the mixing, then the chilling, then the rolling, then the cursing because some of us are incapable of making pie crust that doesn't stick to every surface it touches no matter how floured it is.
Nuh, uh. Not happening. Not for this girl, at least.
Enter: the COBBLER, which is basically pie but with a thick dreamy biscuit topping that can be mixed together in one bowl with absolutely no stress and, in this case, is studded with crunchy salty LAY'S potato chip bits.
Ummm yeah, you can count me in for that.
And they're made in mini, single serving form, which, in my opinion, makes them all the more cute and delicious.
That's a fact.
(But, NOT TO FEAR! If you don't have 8-ounce ramekins to mini-fy these, you could totally also make them in a big 10-inch pie pan or 9×9-inch baking pan. Whew.)
Also, given that apple pie is pretty much The Most Treasured Pie nationwide, I'm pretty sure it would be akin to treason to not make these for the 4th of July.
Or any and all summer barbecue get-together.
Or on a random Tuesday, just because.
Just do it.
Mini Apple Cobbler with Sweet and Salty Biscuit Topping
A sweet and salty potato chip-infused biscuit topping makes for a perfect crust in these classic mini apple cobblers.
Ingredients
For the filling
6 Granny Smith apples, peeled, cored and thinly sliced
½ cup brown sugar
1 tsp cinnamon
For the biscuit topping
2½ cups flour
1¼ cups sugar
1 tsp cinnamon
¾ cup butter, grated or cut into small pieces
2 oz LAY'S potato chips, crumbled
1 cup milk
Instructions
Heat oven to 350F.
In a large bowl, toss together the Granny Smith apple slices, brown sugar, and cinnamon until well combined. Set aside.
For the biscuit topping, in a separate bowl, whisk together the flour, sugar, and cinnamon. Stir in the butter chunks until they are pea-sized and well distributed throughout the flour mixture. Stir in the potato chips. Add in the milk and stir until just combined.
Distribute the apple slices among 6 8-oz ramekins. Top with the biscuit batter.
Bake for 1 hour or until filling is bubbling and biscuit topping is just starting to brown. Let cool before serving.
Notes
An Eats Well With Others Original
Looking for more ways to make your summer more delicious? Check out the Frito-Lay Summer Hacks Pinterest board for more great summer recipes!