Hearty vegan black-eyed pea and cauliflower chili! Filled with southern flair and a hint of spice.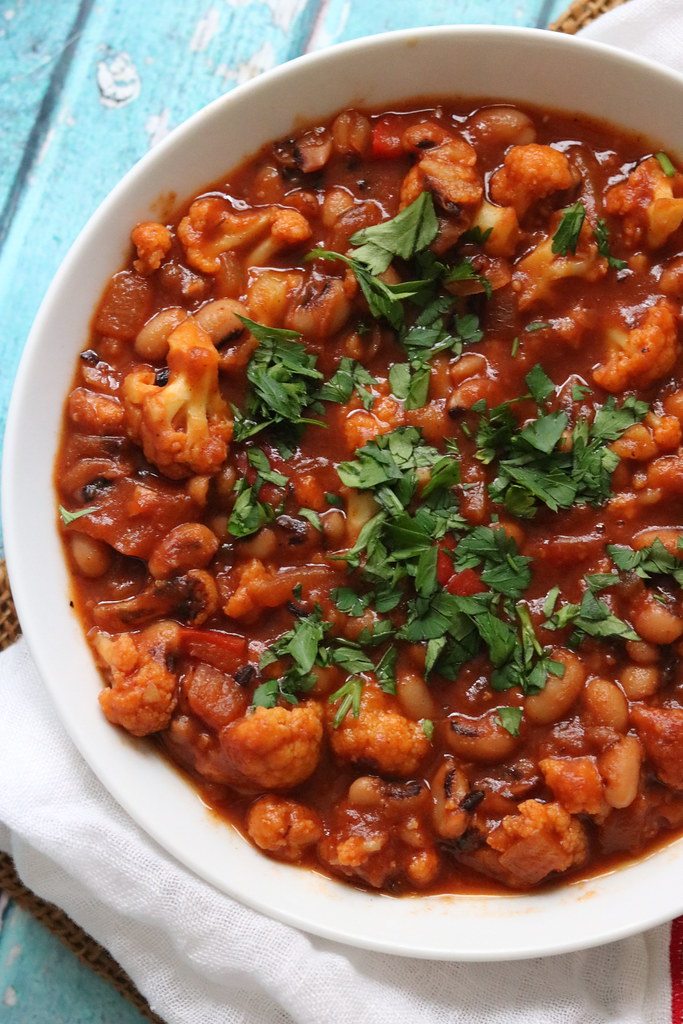 The night before a holiday is always kind of weird.
You still need to eat food, but you're in prep mode or just trying to preserve your energy for the next day's cooking frenzy. You most definitely cannot be bothered with making a complicated or time intensive meal.
At least, that's how I always feel!!
(Full disclosure: I feel that way every night.)
Well GOOD NEWS. This I -can't-believe-it's vegan black-eyed pea chili is super easy, super healthy, and hits all the comfort food soft spots in your belly.
The flavor is kind of bbq baked beans meets sloppy joes meats chili. In fact, you could totally eat it sloppy joe style!!! Messy, but fun.
It is also totally amenable to adaptation, so don't feel like you need to run to the store if you don't have all the ingredients.
No black-eyed peas? Use whatever bean you've got!
No red bell peppers? Any color pepper will do. Or use jarred roasted bell peppers to make it pantry-style.
The one thing I will say is that the cauliflower florets do help to add a nice textural element to the dish, so while you could swap those out for other veggies, you may lose that crunch depending on what you choose.
Eat this with cornbread, biscuits, or whatever fixins' your heart (and your pantry) can accommodate!
Vegan Black-Eyed Pea and Cauliflower Chili
Hearty vegan black-eyed pea and cauliflower chili! Filled with southern flair and a hint of spice.
Ingredients
2 tbsp olive oil
1 large onion, finely chopped
1 red bell pepper, seeded and diced
1 head cauliflower, chopped into half inch pieces
2 garlic cloves, minced
1 tbsp ground cumin
1 tsp chili powder
½ tsp ground cinnamon
¼ tsp cayenne pepper
½ tsp kosher salt
3 cups cooked black-eyed peas
14 oz can tomato sauce
1 cup water
¼ cup soy sauce
⅓ cup brown sugar
2 tbsp apple cider vinegar
Instructions
Heat the oil in a large heavy-bottomed pot or Dutch oven over medium-high heat. Saute the onions and bell pepper until tender, about 4-5 minutes. Add in the cauliflower and cook, stirring frequently, until lightly browned, about 8 minutes. Add in the garlic, cumin, chili powder, cinnamon, cayenne pepper, and salt. Saute for 3-4 more minutes.
Stir in the black-eyed peas, tomato sauce, water, soy sauce, brown sugar, and vinegar. Bring to a boil and then lower to a simmer. Simmer, uncovered, for 10-15 minutes. Season to taste and serve warm.