Homemade lofthouse style cookies that are soft and fluffy with a creamy vanilla frosting. Perfect to be consumed with a cup of tea, coffee, or a big glass of milk!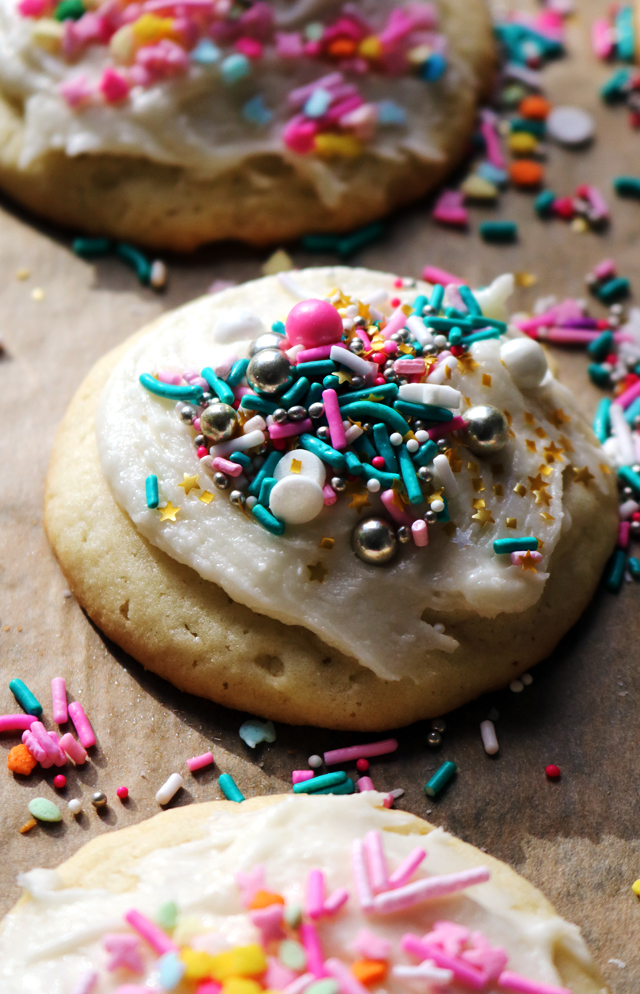 I am fully convinced spring may never be coming.
You should have seen the slush puddles I was forced to wade in yesterday!!!
So inappropriate.
Like, in January I could have handled this with all sorts of grace, but now I'm just cranky about it.
I just want to feel the sun on my face and not whiplash from the arctic winds pulling me in every direction.
Is that too much to ask for?
OKAY.
Enough weather complaints, we're here to talk cookies today!!!!!!!!!!!!!!!!!!!
And something about them feels so spring-like, don't you think??
Must be the pastel sprinkles.
These big fat vanilla cookies are copycats of the infamous lofthouse cookies.
I honestly don't think I've ever had them (not sure they're really a thing here in NYC?? Where would I find them??), but I can still almost picture how they should taste – soft, fluffy, cake-like vanilla cookies. Am I right??
They're also always covered in a thick layer of super sweet vanilla frosting dyed to match the current season or holiday. Red for Christmas, green for St. Patrick's Day, orange for Halloween……you get where I'm going with this.
In my grandest of best laid plans, I really wanted to dye the frosting every shade of pastel and then smother them in sprinkles to match, but then Remy woke up early from her nap and refused to go back to sleep.
Womp womp.
So instead we have ONE batch of very white vanilla frosting covered in every color of sprinkle I own. Remy "helped" by quality taste testing all of the different sprinkle varieties, so rest assured – ALL GOOD. I mean, I tried to enlist her to decorate instead, but she would not be swayed. Maybe by the next snow day she'll figure it out. You know, so long as it's NEXT YEAR and not three days from now.
Here's hoping.
Homemade Soft and Fluffy Frosted Lofthouse Style Cookies
Homemade lofthouse style cookies that are soft and fluffy with a creamy vanilla frosting. Perfect to be consumed with a cup of tea, coffee, or a big glass of milk!
Ingredients
For the frosting
3½ cups powdered sugar
¼ tsp kosher salt
scant ⅓ cup heavy cream
1 tsp vanilla extract
For the cookies
8 oz unsalted butter, room temperature
1 cup sugar
2 tsp baking powder
1¼ tsp kosher salt
2 large egg whites
2 tbsp heavy cream
1 tbsp vanilla extract
2⅔ cup cake flour
rainbow sprinkles (optional)
Instructions
To make the frosting, combine the powdered sugar, salt, cream, and vanilla in the bowl of a stand mixer fitted with a paddle attachment. Start mixing on low and then once all of the powdered sugar is moistened, increase to medium. Beat until fluffy and smooth, about 3 minutes. Transfer to a sandwich-sized ziploc bag getting as much of the frosting out of the bowl as possible. Seal the bag and set aside. Wipe any extra frosting from the bowl and beater with a paper towel.
To make the cookies, heat oven to 350F. Line two baking sheets with parchment paper. Combine the butter, sugar, baking powder, and salt in the same mixer bowl that you just used to make the frosting. Mix on low with the paddle attachment for a few seconds then increase speed to medium and beat until creamy, about 5 minutes.
Meanwhile, whisk together the egg whites, cream, and vanilla in glass measuring cup or bowl. Add to the butter mixture in four additions and then mix until smooth. Scrape down the sides of the bowl. Turn mixer back to low and slowly add in the cake flour, mixing just until it forms a soft dough. Stop the mixer and use a spatula to fold it from the bottom up once or twice, just to make sure it's well combined. Transfer the batter to a piping back fitted with a ½-inch plain tip (you can also just use a large ziploc bag with one of the edges snipped off!).
Pipe twelve 1¼-oz cookies onto each baking sheet, leaving about 2 inches between them. Bake for 15 minutes, or until puffed and just starting to become golden around the edges. Allow to cool completely, at least 20 minutes. Snip off a corner of the frosting bag and squeeze a tbsp of frosting onto each cookie. Spread with a knife or small offset spatula into an even layer. Top with sprinkles, if desired.
My favorite cookies for spring: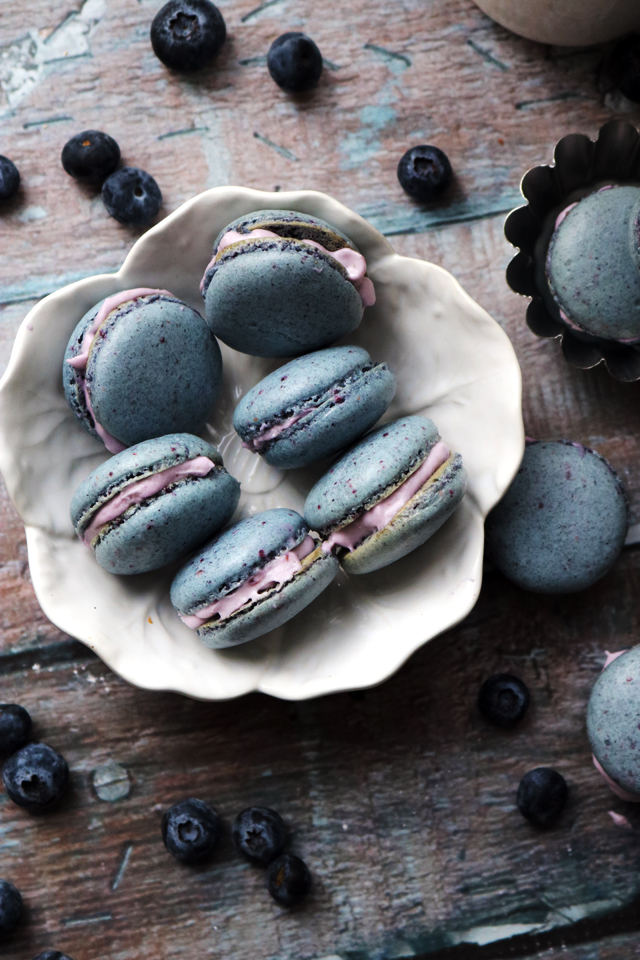 Blueberry Macarons with Blueberry Mascarpone Cream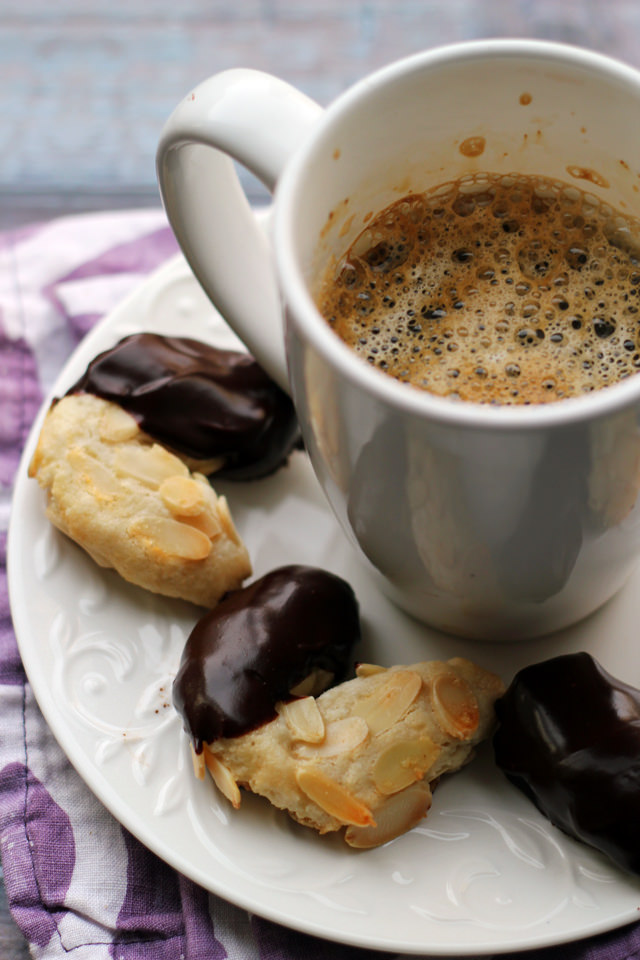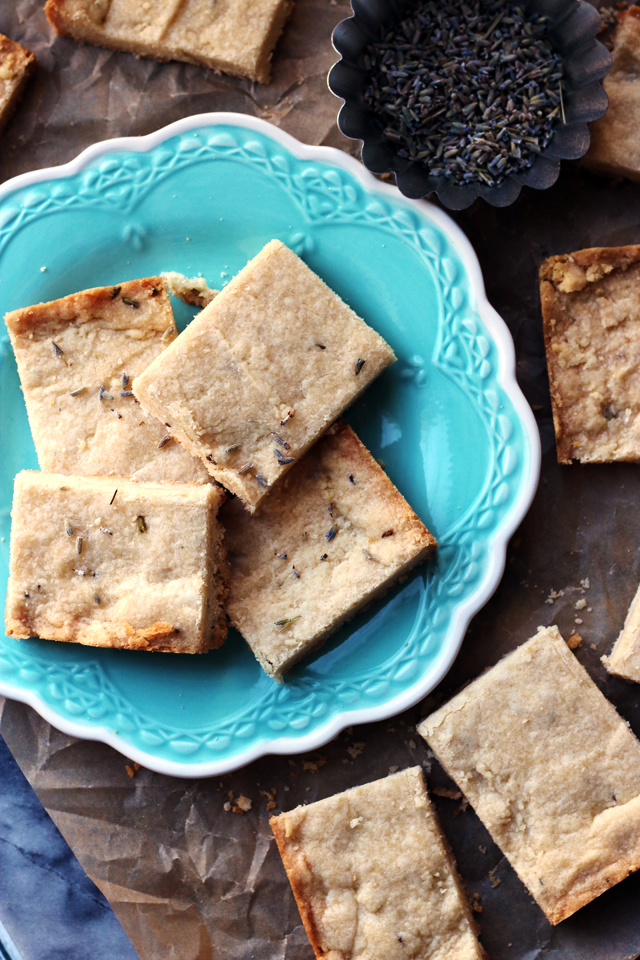 Lavender Vanilla Bean Shortbread