This fall-inspired pasta dish is filled with sweet, spicy, and buttery delicious flavor.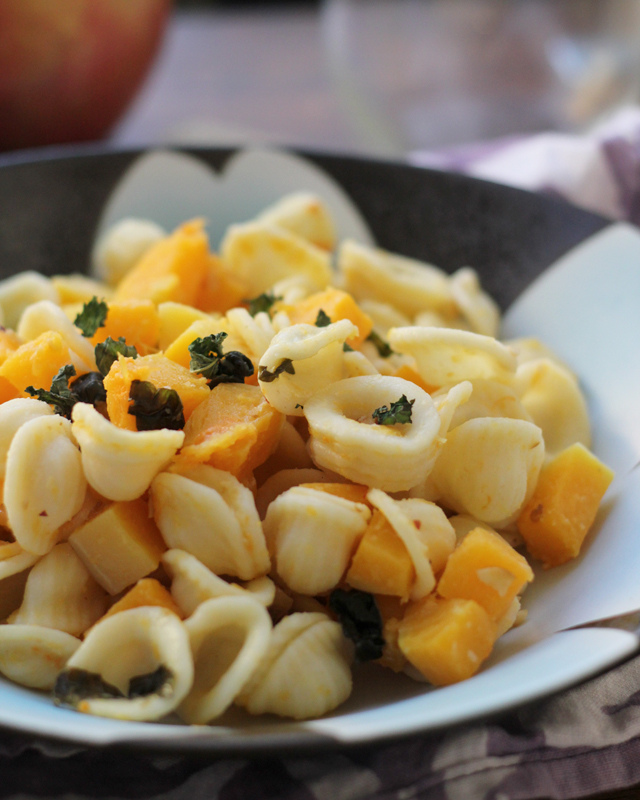 Road trips, especially those where one ends up stuck on the New Jersey Turnpike Extension for an hour with little to no forward movement and a very narrow window of time in which one must traverse the 100+ miles between New York City and Wilmington, Delaware, require caffeinated beverages with all the frills.
And that, my friends, is how I lost my pumpkin spice latte virginity this weekend.
With Pink Floyd and/or Led Zeppelin and/or Elton John blasting in the background (the.boy's road trip music of choice), I took that first naive, hopeful, expectant sip.
And it was good? Okay?
I don't know. It's probably my fault for building it up for this long. But the whole thing was a bit underwhelming. I think I'll just stick to eating my fall flavors from now on.
Case in point. This here pasta is the first dish I've made this fall featuring butternut squash, and it was a mouthful. Of awesome.
Caramelized roasted squash tossed with nutty hazelnuts, a hint of spice, and cute little pasta ears. All in a buttery sauce. Without the butter.
What?!
Yes. It's the real deal.
STAR Fine Foods sent me a bottle of their new Butter Flavored Olive Oil to try and it is perfect in dishes like this where you want that rich buttery flavor, but without all the saturated fat.  This olive oil, which still contains all the health benefits of consuming regular olive oil, is kind of a win/win situation in that sense. And since we know we'll all be eating our weight in pumpkin baked goods soon, it's perhaps best if we save our butter allowance for those situations and leave our dinner sauces in the hands of the healthier fat.
Disclosure: While I received a bottle of STAR Fine Foods Butter Flavored Olive Oil for free, I was not given any sort of monetary compensation, and my thoughts and opinions on the product, as always, are my own.
Two years ago…Pasta with Creamy Avocado Sauce, Johnny Appleseed Bars
Three years ago…Murgh Korma
Four years ago…Sachertorte, Coco-Peanut Butter Noodle Salad
Orecchiette with Squash, Chiles and Hazelnuts
This fall-inspired pasta dish is filled with sweet, spicy, and buttery delicious flavor.
Ingredients
¼ cup hazelnuts
1 lb orecchiette
salt, to taste
2 tbsp olive oil
1 medium butternut squash, peeled and cut into ½" pieces
2 garlic cloves, thinly sliced
½ tsp red pepper flakes, divided
¼ cup unsalted butter or 4 tbsp butter-flavored olive oil
1 tbsp lemon juice
¼ cup grated parmesan cheese
4 tbsp torn fresh mint
black pepper, to taste
Instructions
Preheat the oven to 350. Spread the hazelnuts out on a baking sheet and let roast for about 5 minutes, tossing halfway. Let cool. Chop coarsely and set aside.
Set up the pasta water to boil and cook according to package directions, reserving a cup of water.
Toss the butternut squash with 2 tbsp olive oil, ¼ tsp red pepper flakes, and salt and pepper to taste. place on a parchment-lined baking sheet and roast for 30 minutes, or until tender.
Heat the butter or butter-flavored olive oil in a small pan over medium heat. Add in the garlic and saute until just turning brown. Add in ½ cup cooking water. Stir and reduce until it forms a glossy sauce.
Toss together the pasta, squash, and sauce in a large bowl. Stir in the lemon juice, parmesan, half of the mint and the remaining red pepper flakes. Season to taste with salt and pepper.
Serve topped with the hazelnuts and remaining mint.
Nutrition Information
Serving size:
⅙th of recipe