This brown sugar cheesecake is studded with caramelized brown butter apples and topped with a maple cinnamon apple compote.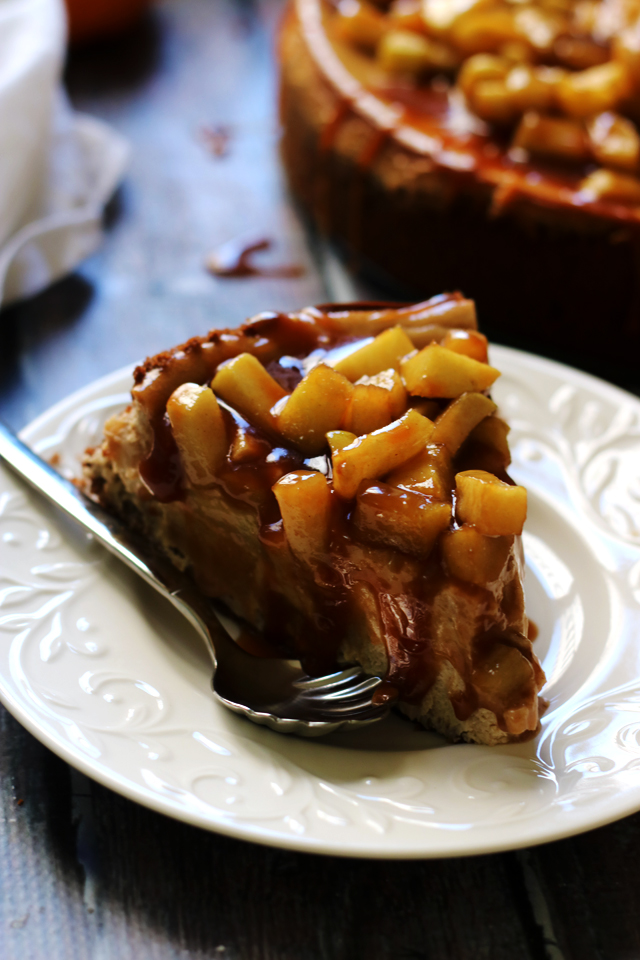 You guys, I'm realizing I gave birth to a COMPLETE STRANGER.
Like, I thought I had a kid who was utterly devoted to me, didn't want anyone else if I was around, cried whenever I left the room even when it was just to have five seconds of bathroom privacy (heck, ESPECIALLY when I wanted to have five seconds of bathroom privacy).
Apparently, I have been misled.
As it turns out I actually have a child who went to daycare for the first time and could not care less when I dropped her off.
Waved. Said "see you later". And went back to playing.
And then after I left, she turned to Mike and said "Bye, bye daddy". As if to be like, hey, what are you still doing here, you're embarrassing me!!
No tears. Not even a look back!!
My real question is how do I get her to have this same attitude the next time I want to take a shower.
Thoughts?
On a completely unrelated note, I really hope you have not finalized your Thanksgiving menus yet because this cheesecake NEEDS to be on it!!
Pumpkin gets all the glory at this time of year, but there's definitely something to be said for apple desserts. Yeah, apple pie is obviously a Thanksgiving classic but maybe you don't feel like rolling out another pie crust or maybe you're just looking for something a little off the beaten path.
Either/or, this cheesecake is for you.
It's graced our Thanksgiving table for the past few years and while making it is definitely a multi-step process, I've never had any regrets about devoting a little extra time and energy to putting it together.
The cheesecake itself gets a deep sultry flavor from predominantly using brown sugar rather than white to sweeten it and caramelized apple slices are layered into the batter so you get a little taste of one in every bite.
The maple cinnamon apple compote is my personal solution to a slightly imperfect cracked cheesecake top. You might not be as persnickety about things like that as I am, in which case feel free to omit it. The cheesecake will be just as much of a crowd-pleaser without it.
Brown Sugar Apple Cheesecake with Maple Cinnamon Apple Compote
This brown sugar cheesecake is studded with caramelized brown butter apples and topped with a maple cinnamon apple compote.
Ingredients
For the crust
30 gingersnaps
2 tbsp light brown sugar
½ tsp ground cinnamon
4 tbsp butter, melted
For the apple filling
½ stick unsalted butter
3 large honeycrisp or pink lady apples, peeled, cored, and cut into eighths
2 tbsp packed brown sugar
For the cream cheese filling
1½ lb cream cheese, room temperature
¾ cup packed brown sugar
6 tbsp sugar
3 tbsp apple cider
2 tsp vanilla extract
2 tsp ground cinnamon
3 large eggs
¾ cup sour cream
⅓ cup heavy cream
For the apple topping
2 honeycrisp or pink lady apples, peeled, cored, and cut into ½-inch cubes
2 tbsp butter
3 tbsp maple syrup
¼ tsp cinnamon
salt, to taste
Instructions
For the crust
Grease the bottom and sides of a 10-inch springform pan. Set aside.
Place the gingersnaps in the bowl of a food processor and pulse until they are broken down into crumbs. Add in the sugar and cinnamon. Pulse just to combine. Pour in the melted butter and pulse again until the crumbs are moistened. Pour into the springform pan and press into the bottom and up the sides in an even layer. Place in the freezer to chill while oven preheats.
Heat oven to 350F. Wrap the bottom of the springform pain in aluminum foil. Place on a baking sheet and bake for 10 minutes, or until the crust is set and lightly browned. Allow to cool while you prepare the filling.
For the apple filling
Melt 2 tbsp of the butter in a large nonstick skillet over medium-high heat. Once melted, add half of the apple slices to the skillet. Cook until golden, turning once halfway through, about 3 minutes. Sprinkle with 1 tbsp of the sugar and cook until coated, turning once, for another minute. Scrape onto a plate, wipe out the skillet, and repeat with the remaining apples. Set aside to cool while you prepare the cream cheese filling.
For the filling
Place the cream cheese in the bowl of a stand mixer fitted with the paddle attachment. Beat on medium speed for 4 minutes, or until smooth. Scrape down the bowl and add the sugars. Beat for another 2 minutes. Beat in the cider, vanilla, and cinnamon. Add in the eggs, one at a time, beating for 1 minute after each addition. Beat in the sour cream and heavy cream, mixing until just smooth.
Pour a third of the batter into the prepared crust. Top with the apples, draining them with a slotted spoon before spooning them into the pan. Cover with the remaining batter.
Bake the cheesecake for 1 hour. Turn the oven off and stick a wooden spoon in the door to prop it open, leaving the cheesecake inside. Allow it to cool like this for another hour. Remove from the oven and place on a wire rack to cool completely. Refrigerate for at least 6 hours or overnight.
For the apple topping
Heat the butter, maple syrup, and cinnamon in a medium nonstick skillet over medium heat until the butter is melted. Add the apples to the pan along with a pinch of salt. Cook until apples are tender and maple sauce has thickened, about 5-7 minutes. Allow to cool completely.
When ready to serve the cheesecake, run a knife around the edges of the cheesecake pan to loosen it. Release the pan's latch and remove the sides. Top with the maple apple compote and serve immediately.
Notes
Adapted from
Baking: From My Home to Yours
More sweet ways to get your apple-a-day: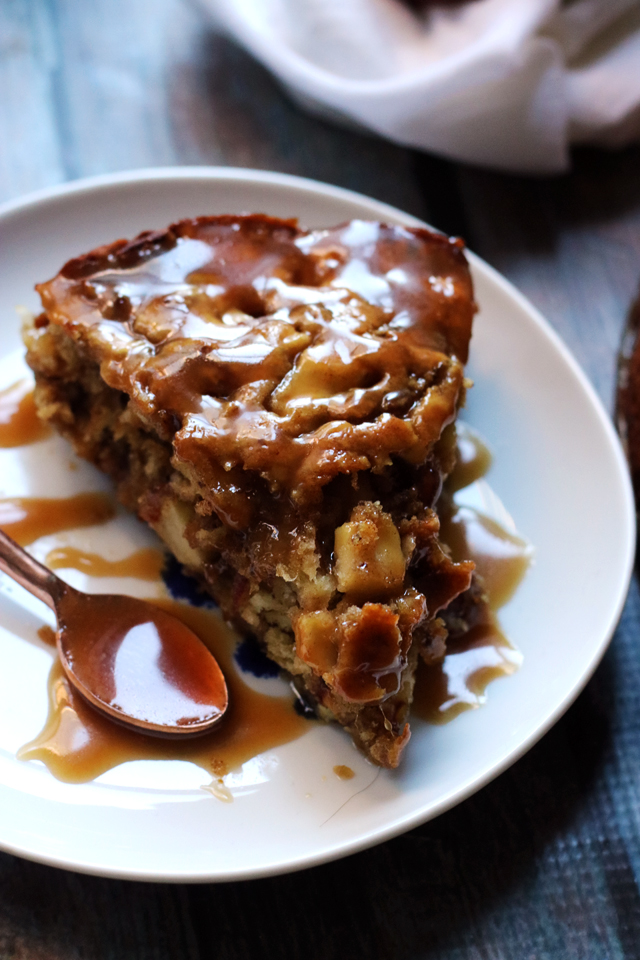 Sticky Caramel Apple Ginger Date Cake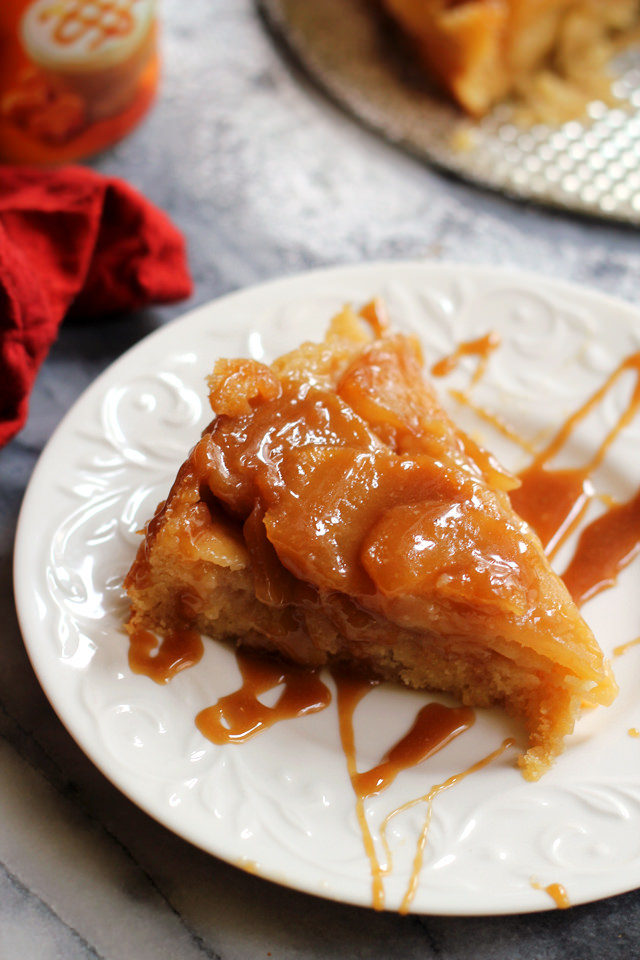 Caramel Apple Upside Down Cake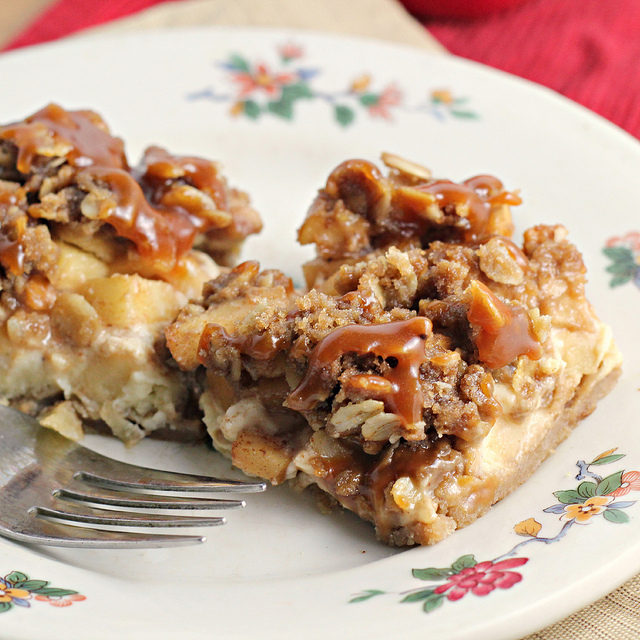 Salted Caramel Apple Cheesecake Bars