A toothsome Moroccan spiced chickpea and carrot ragout served over a light and pillowy couscous pilaf.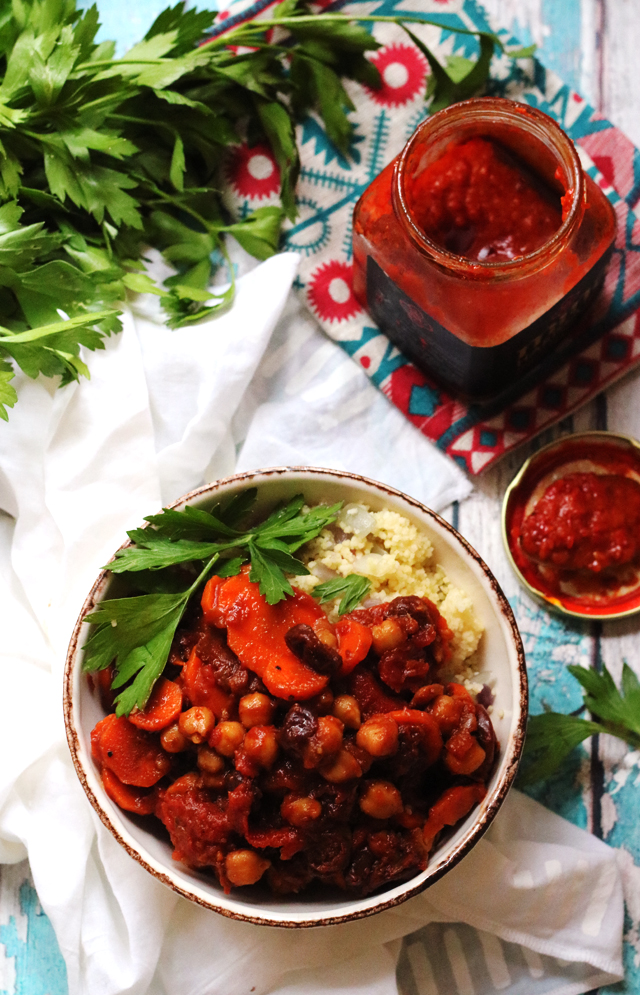 It only took all weekend, but I finally got Remy to concede that she's going to school "next week" (this week).
I would say there's about a 5% chance that she actually has any comprehension of what I'm talking about, but I've somehow convinced myself that the more I talk about it and desensitize her to the idea, the better she'll do tomorrow when we leave her in a new place surrounded by strangers for ten hours.
(There's no truth to that, is there?)
(Wait, don't tell me. Leave me to my blissful ignorance.)
Basically I'm just a hot mess about the whole situation and have envisioned every possible worst case scenario that could happen in the next 24 hours all while fully ignoring the extremely low likelihood of 95% of them.
Xanax could totally be my best friend right now, if only I had a prescription.
Alas, I'm too much of an anti-rule breaker to ask one of my co-residents to call me in a script for the good stuff.
BUT I hear that scenting your apartment with all the warm, rich, fall spices is basically just as good at releasing endorphins as benzos are. So have no fear! I've got this. No schedule IV controlled substances necessary.
This Moroccan chickpea stew is so easy to prepare and will have your apartment smelling like a Middle Eastern spice market in no time. It gets a subtle kick of heat from a few tablespoons of harissa and rich flavor from ras el hanout, a North African spice mix. I served it over a couscous pilaf but quinoa or rice would be just as good here, you'll just have to adjust the cooking time and instructions as necessary.

Moroccan Spiced Chickpea and Carrot Ragout with Couscous Pilaf
A toothsome Moroccan spiced chickpea and carrot ragout served over a light and pillowy couscous pilaf.
Ingredients
For the ragout
2 tbsp olive oil
1 onion, chopped, ½ cup reserved for the couscous
1 lb carrots, peeled and sliced
2 cups chickpeas
2 tbsp harissa
1 tbsp ras el hanout
6 oz dried cherries
28 oz whole peeled tomatoes
1.5 cups water
salt and black pepper, to taste
For the couscous
1 tbsp olive oil
10 oz couscous
2 cups water
½ tsp salt
dash of olive oil
Instructions
For the ragout, heat the olive oil in a large heavy-bottomed pot over medium heat.
Set aside ½ cup of the chopped onions for the couscous. Place the remaining onion in the pot with the oil and saute for 3-4 minutes, or until tender. Stir in the carrots and cook for another 7-8 minutes, or until starting to soften.
Add the chickpeas, harissa, and ras el hanout to the pot. Cook for 1-2 minutes, then stir in the dried cherries.
Pulse the whole peeled tomatoes briefly in a food processor or blender and then add them to the pot along with the water. Bring to a boil and then lower to a simmer. Cook for 20 minutes. Season to taste with salt and black pepper.
For the couscous, heat 1 tbsp olive oil in a small saucepan over medium-high heat. Add the remaining ½ cup of onion and cook until golden, about 2-3 minutes. Add the couscous to the pan and cook, stirring frequently, until toasted about 3 minutes. Add the salt and water. Bring to a boil and then cover and remove from the heat. Allow to sit for 8-10 minutes.
Fluff the couscous with a fork and divide among 4 serving bowls. Top with the chickpea ragout and serve warm.
Notes
An Eats Well With Others Original
More cozy stews for fall: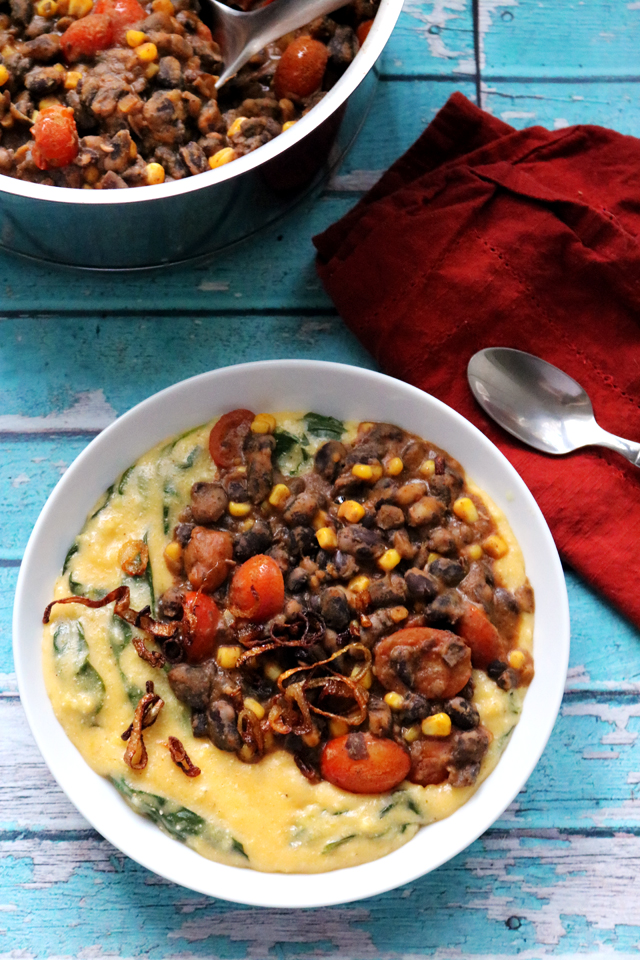 Braised Black Bean Stew with Cheesy Spinach Polenta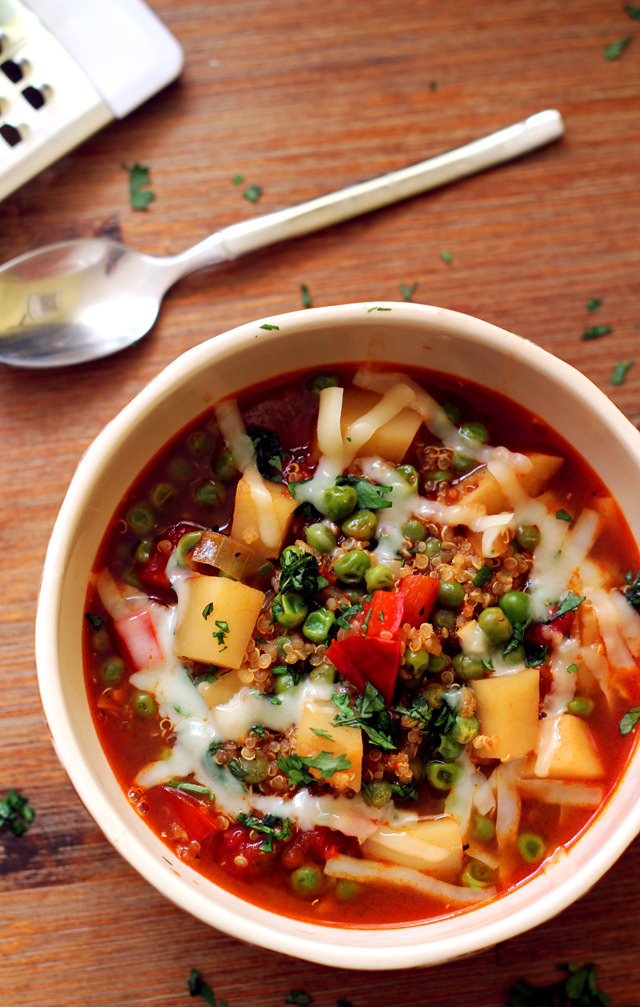 Healthy Quinoa and Vegetable Stew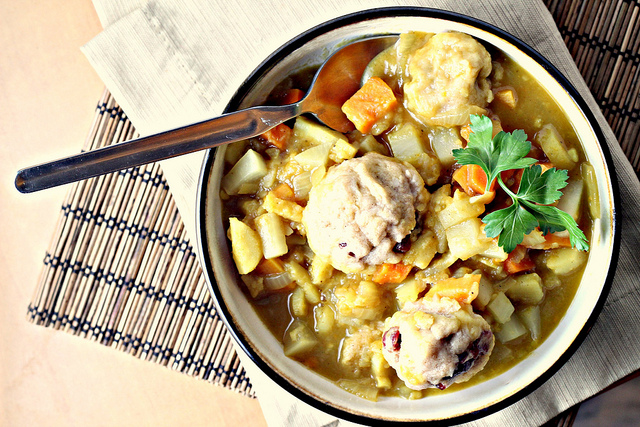 Curried Root Vegetable Stew with Dumplings