Spicy miso noodle soup with crisp roasted tofu, strips of kale, shoyu-marinated eggs, and Korean rice cakes instead of noodles.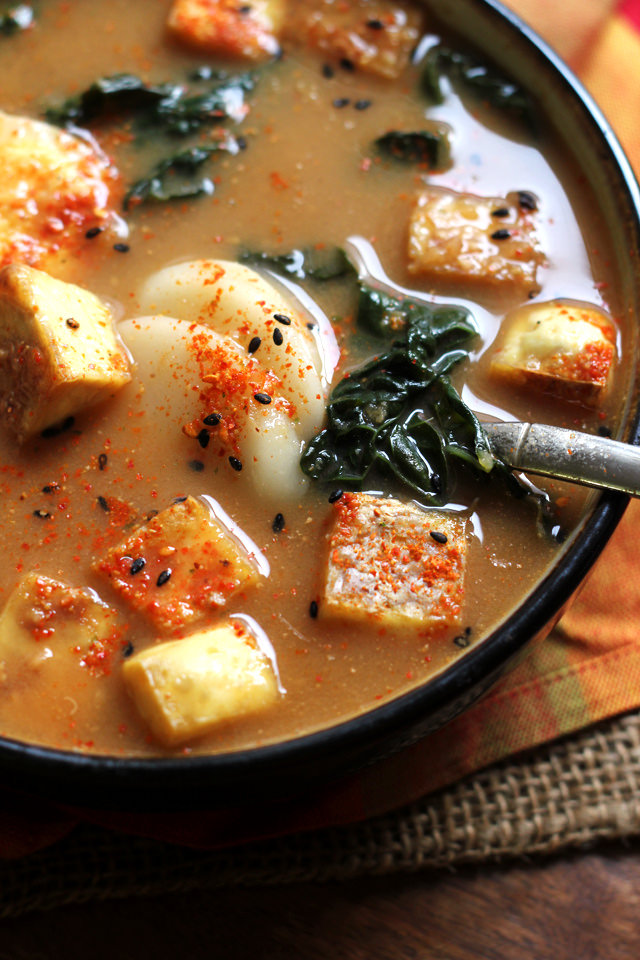 There are many unreasonable things about having to return home from Disney World in the middle of a northeast winter, but by far the worst is that the 37F temperatures that once felt like a tropical paradise are back to being akin to an Antarctic TUNDRA. So you come back under-dressed, overly tired, and downright irritable with a burning need for hand warmers, a cuppa something hot, and spring to happen, literally overnight.
I'm not sure I have it in me to cold-adapt all over again, but at least I've got to try.
So, SOUP. Specifically, spicy miso soup. It sets your body on fire from your taste buds all the way through to your bones, and it's my go-to order from the Japanese place across the street whenever I'm feeling the hint of a cold coming on or am just generally winter bluesy. Hits the spot every time.
The way they prepare it, it's not really a meal on its own, so I've bulked it up here with crispy tofu, strips of kale in lieu of seaweed, sweet and salty marinated eggs, and Korean rice cakes, which can be found in the freezer section of your local Asian grocer, though you can always substitute rice noodles if you can't find them.
With a big container of this in our fridge, we might just make it through these final winter days. One bowl at a time.

Spicy Miso Soup with Korean Rice Cakes
Spicy miso soup with crisp roasted tofu, strips of kale, shoyu-marinated eggs, and Korean rice cakes instead of noodles.
Ingredients
For the spicy miso paste
½ cup white miso paste
½ cup red miso paste
1 small onion, cut into chunks
3 large garlic cloves
2 tbsp minced ginger
3 tbsp mirin
1 tbsp toasted sesame oil
1 tbsp tahini
For the shoyu hard-boiled eggs
4 large eggs
3 tbsp soy sauce
2 tbsp dark brown sugar
1 tbsp water
For the soup
1 14 oz block extra firm tofu, drained and cubed
5 cups vegetable broth
5 cups water
1 lb Korean rice cakes
1 bunch lacinato kale, stems discarded and leaves thinly sliced
1 tbsp nanami togarashi or sriracha
Instructions
For the spicy miso paste, combine all of the ingredients in a blender or food processor and pulse until pureed, scraping down the sides of the bowl as needed. Set aside.
For the eggs, gently place the eggs in a small pot and fill so that the eggs are covered by 1 inch. Add a pinch of salt and bring the water to a bare simmer over medium-high heat, then immediately lower heat just so that the water stays at a bare simmer. As soon as the water starts to simmer like this, set at time for 4 minutes and 30 seconds. Once the time is up, move the eggs into a bowl of cold water and let them cool completely.
Stir together the soy sauce, dark brown sugar, and water in a small pot. Warm up just enough to melt the sugar and then set aside. Peel the eggs and then submerge them in this soy sauce mixture, allowing them to marinate for at least 30 minutes, turning them occasionally while marinating.
Heat oven to 425F. Spread the tofu cubes on a parchment-lined baking sheet and roast for 25 minutes. Remove from the oven and set aside.
In a large pot, bring the vegetable broth and water to a boil. Stir the miso paste into the liquid. Add the Korean rice cakes, kale, and tofu cubes. Allow the Korean rice cakes to cook in the broth until tender. Add more water as necessary if the rice cakes soak up too much of the broth. Serve topped with 1 egg and a sprinkling of nanami togarashi or sriracha.
 More soul-warming soup recipes: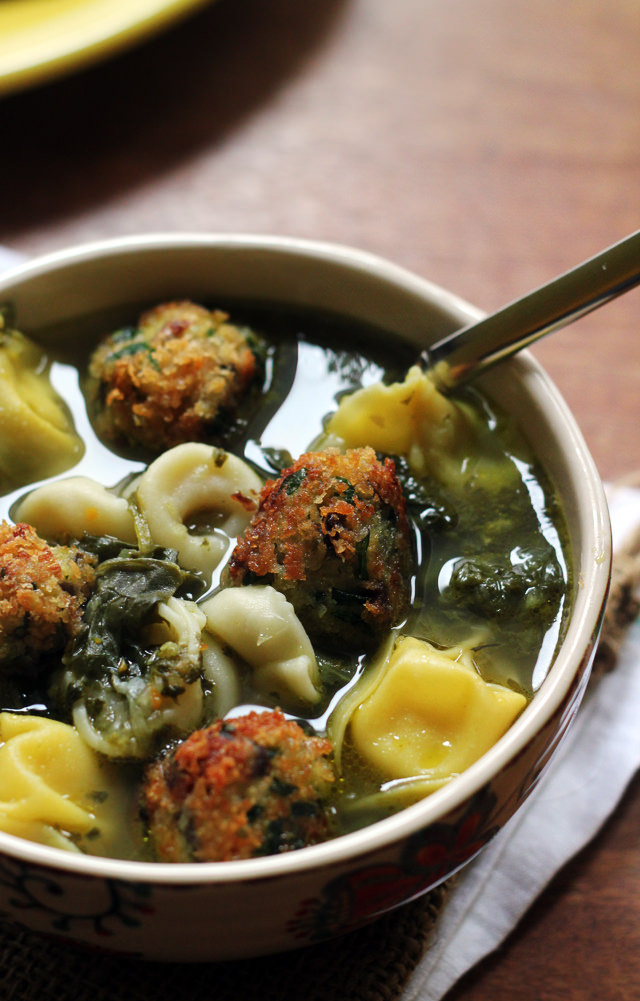 Italian Wedding Soup with Veggie Balls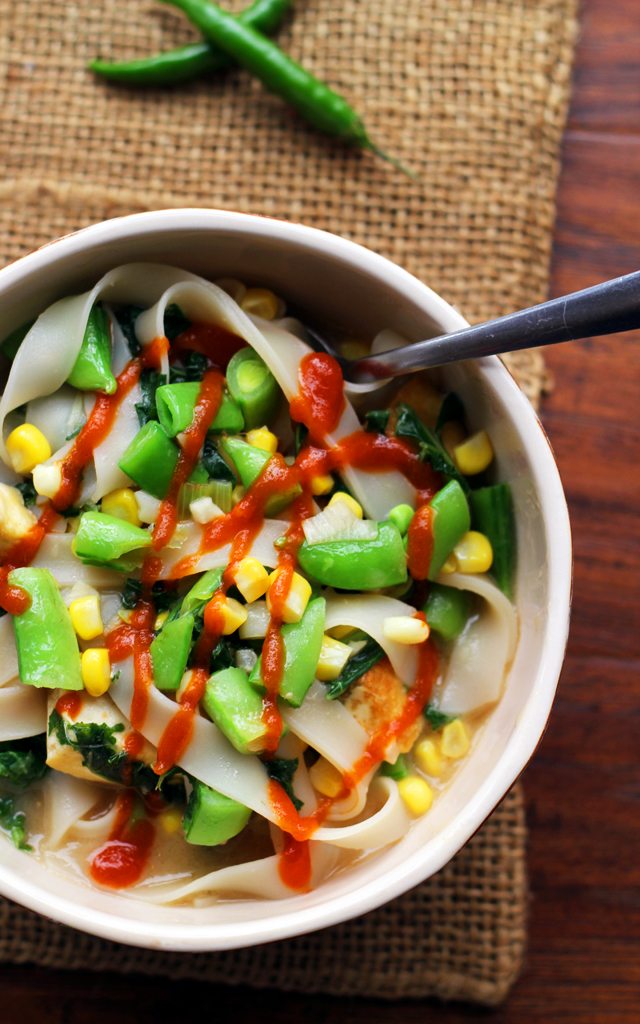 Miso Noodle Soup with Corn, Kale, and Snap Peas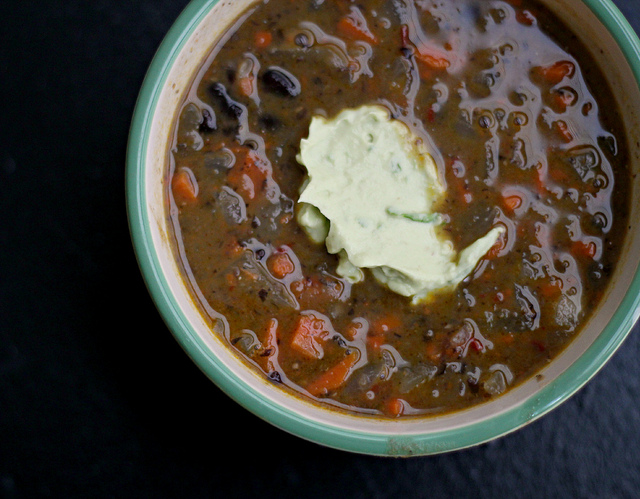 Chipotle Black Bean Soup with Avocado Cream
From Around the Web:
Creamy Potato Kale Soup from Pinch of Yum
Vegetarian Tortilla Soup from Cookie + Kate
Fragrant Spiced Indian Vegetable and Lentil Soup from From The Kitchen
Creamy Vegan Broccoli Potato Soup from Edible Perspective
Roasted Cauliflower and Onion Soup from The First Mess