Not-fried eggplant parmesan! Easier and healthier than it's more traditional counterpart, eggplants are roasted until tender then topped with a simple tomato sauce, cubes of sourdough bread, cherry tomatoes, and burrata and baked until toasty.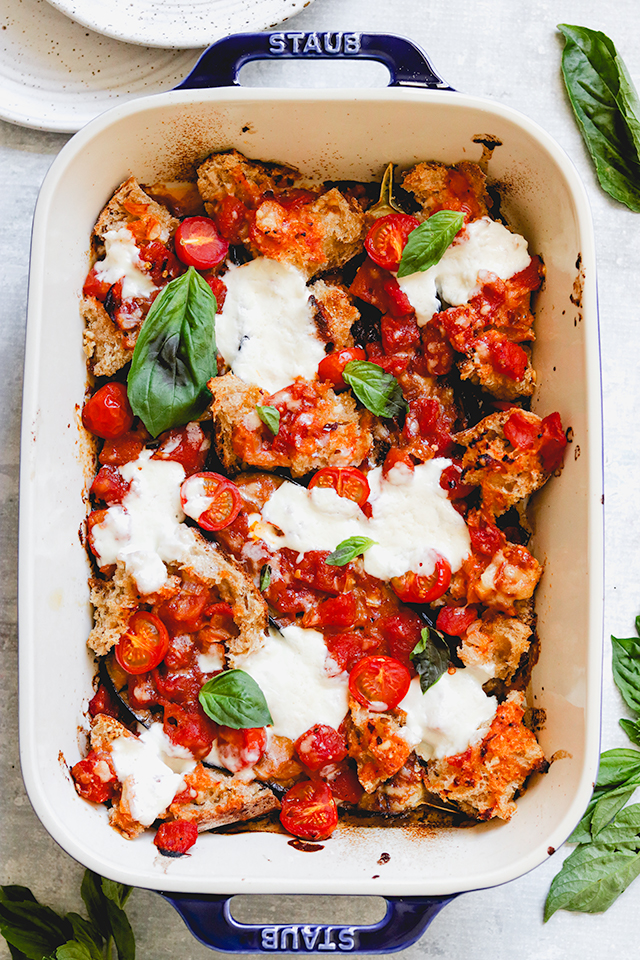 My relationship with eggplant parm is, well, it's complicated. 
It fluctuates somewhere between love, hate, disdain, worship, derision depending on my mood, the situation, the moon's alignment with the sun. Oddly similar to my relationship with my mother, hmmmmmmmmmm.
The real issue is this – eggplant parm is almost always THE vegetarian option at Italian restaurants. Like, THE ONLY ONE, other than pasta with plain tomato sauce (which I could probably make better myself). Similarly at weddings, baby showers, anniversary parties, pretty much any soiree where there's either a buffet or a set menu.
The lack of creativity infuriates me, especially when Italian cuisine (like, actual Italian cuisine, not the Americanized deep-fried cheese-laden menus we so often see) is so deeply rooted in vegetable love. Meat is usually an afterthought in most traditional Italian meals, with vegetables and legumes more often appearing front and center. So would it kill these restaurant chefs to dig a little deeper and come up with something a little more…inventive? I think not.
The other issue is that most restaurant eggplant parmesan is usually not even that great! It comes as a pool of oily eggplant mush smothered in cheap synthetic mozzarella that is sure to leave you with indigestion in a few hours. And maybe…that's not what I want every time I eat at an Italian restaurant?
My crusade against eggplant parm has taken many forms over the years, including a huge fight with my husband when planning our wedding rehearsal dinner about why it was NOT an acceptable vegetarian option, especially when the bride (ahem, moi) is a vegetarian herself. I think what I said was "TELL THEM TO DIG DEEP AND THINK OF SOMETHING BETTER OR WE'RE TAKING OUR BUSINESS ELSEWHERE". (Bridezilla much? Only about the food, I swear!)
That being said, I LIKE eggplant parm. I do!
As long as it's on my terms, meaning I'm choosing to eat it when I feel like it and not forced into it because it's the only thing available. I've also found that I prefer it a very specific way – that is, not smothered-in-oil mush. I want it to be fresh-flavored, with crunch and texture, topped with high quality completely indulgent cheese.
And most of the time, if you want something done right, to very precise specifications, you should probably just do it yourself.
So here we are.
This (not-fried) version of eggplant parmesan is time-consuming, but easy, with most of the steps being completely hands-off oven time. 
You start with roasting your eggplants in a moderate amount of oil. The size of the eggplants is really critical here. You don't want those behemoths that are usually lining the supermarket shelves, but rather the smaller, more petite options sometimes labeled as Italian or graffiti eggplants. These tend to be less bitter and will roast more evenly so that by the end of their stint in the oven they will pretty much melt in your mouth instead of having that not-cooked-enough rubbery texture. 
While the eggplants are roasting, you'll make a simple tomato sauce on the stovetop, which pretty much consists of sauteing onions and garlic, then simmering them with canned tomatoes for thirty minutes. 
Once those two steps are done, you'll assemble the eggplant parm in two baking pans. The eggplant halves are topped with tomato sauce, sourdough (or other crusty bread) cubes, cherry tomatoes, and burrata. It gets baked again so that the bread becomes crisp-on-the-outside, soft-on-the-inside croutons, the cherry tomatoes get all caramelized and lovely, and the burrata melts into creamy oblivion. 
It's eggplant parmesan at it's finest, and one that I wouldn't be mad about ordering off a restaurant menu, except that now I can make it at home, which is both dangerous and wonderful.
Not-Fried Eggplant Parmesan
Not-fried eggplant parm! Easier and healthier than it's more traditional counterpart, eggplants are roasted until tender then topped with a simple tomato sauce, cubes of sourdough bread, cherry tomatoes, and burrata and baked until toasty.
Ingredients
For the eggplant parm
4 tbsp olive oil, plus more for greasing
4 small (8-12 oz each) Italian eggplants
½ tsp kosher salt
freshly ground black pepper
1 recipe tomato sauce (recipe follows)
6 cups torn sourdough bread
2 cups cherry tomatoes, halved
½ tsp red pepper flakes
½ cup grated parmesan cheese
8 oz burrata
fresh basil leaves, torn
For the tomato sauce
1 tbsp olive oil
1 small onion, diced
3 garlic cloves, thinly sliced
28 oz can diced tomatoes
1 cup water
¼ tsp kosher salt
¼ tsp red pepper flakes
freshly ground black pepper
2-3 fresh basil leaves, torn
Instructions
For the eggplant parm
Heat oven to 425F. Grease a large baking pan with olive oil and set aside.
Cut the eggplants in half lengthwise, leaving the stems intact if possible. Score the cut side of the eggplant with diagonal crisscross lines. Sprinkle with the salt and black pepper. Brush with 2 tbsp of the olive oil. Place cut side-down on the prepared baking sheet. Roast for 20-25 minutes, or until soft.
Place the eggplant halves cut side up on 2 large baking dishes. Spread the tomato sauce on top of the eggplants and onto the bottom of the baking dishes. Divide the bread cubes between the two pans, placing them in-between the eggplants. Sprinkle with the halved cherry tomatoes and drizzle with the remaining olive oil. Sprinkle with red pepper flakes and parmesan cheese.
Decrease oven to 375F. Place the baking pans in the oven and bake for 30 minutes. Remove from the oven and top with pieces of the burrata cheese. Return the pans to the oven and bake for another 5-10 minutes, or until the burrata has melted and the bread is golden and toasty. Top with the basil and serve immediately.
For the tomato sauce
Heat a large skillet over medium heat. Add the olive oil. Once hot, add the onion and garlic. Saute for 8-10 minutes, or until golden. Add the tomatoes and water, then bring to a boil. Decrease the heat the heat to a simmer. Stir in the salt, red pepper flakes, black pepper, and basil. Simmer for about 25-30 minutes, stirring occasionally.