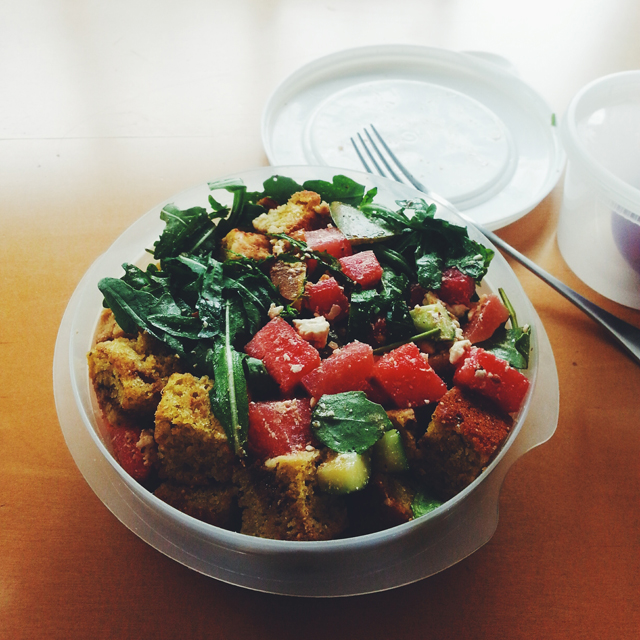 1. I'm putting myself on a salad-a-day challenge until the wedding. According to the Macy's Registry website, that is 109 days of greens. But I started yesterday, so 110 days of greens!
2. And reds and yellows and oranges and croutons. Who's with me?
3. OUR FIRST REGISTRY GIFTS CAME YESTERDAY! I am now the proud owner of two paprika Fiestaware place settings, one domed cake stand, and a set of Lodge cast iron skillets. The.Boy is already planning ways to convince me to get rid of my mismatched plate collection. To him, I say "HA".
4. This tote bag. I need.
5. Cappuccino potato chips. How many ways can I throw up in my mouth? WHY IS THIS EVEN A THING.
6. The prepackaged food world must have it out to get me because I was also minorly traumatized last week when I walked into the grocery store across the street from my apartment and discovered Candy Corn M&M's. On sale. Does anyone else but me realize that it is AUGUST. (<–don't answer that.)
7. When you use five egg whites to make a meringue-based frosting, it's like the universe is basically ordering you to make ice cream with the leftover yolks. Or at least that's how I'm interpreting it.
8. Get your ice cream bowls ready.
9. I have been reading The Goldfinch
 for FIVE MONTHS NOW. It's not that I don't REALLY LIKE IT because I do…it's just that books seem so much longer when you read them on your iPad.
10. What's up with that?