Brown sugar berry shortcakes that combine fresh summer berries with tender, flaky shortcakes and a luxuriously airy whipped cream.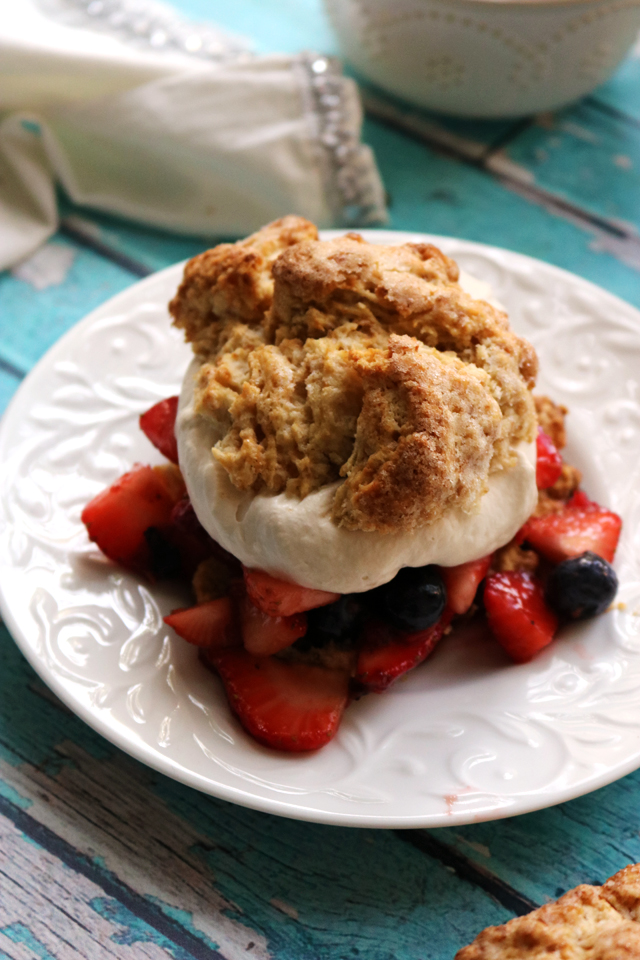 What are your 4th of July weekend plans?!?!
I'm mostly asking because my current plan is to lay on my couch in fetal position contemplating how on earth anyone actually trusts my medical judgment/knowledge enough to be someone's doctor come Monday.
And maybe that's not the best use of my last weekend of freedom?
But I just can't wrap my mind around anything else right now!! So I need you to distract me with your awesome fabulous weekend to-dos.
No pressure.
Kthanks.
I actually really lucked out with my schedule because most of my fellow residents are actually starting on Saturday (like, in two days. Hold me.) Not only do I get Christmas off (<– unheard of in your intern year, I'm still in shock) and Remy's birthday off…
…BUT I also start off on outpatient clinic so I get the next three weekends and the fourth of July off.
Totally delaying entering the real world as long as possible and not even ashamed of it.
Of course, to make up for it I then have a month straight in the ICU with no weekends off and random night shifts.
BUT LET'S FOCUS ON THE POSITIVE!
Like how in addition to being a fetal position couch potato, I also plan on spending the next three weekends smothering my child with kisses and doing ALL THE BAKING.
ALL OF IT.
No grains of flour or granules of sugar shall be left behind.
Starting with these brown sugar berry shortcakes!!
Although I will never turn down a piece of chocolate anything, when it comes down to it I am a fruity dessert girl through and through.
Eating pie is my true happy place, but I will also never turn down a good shortcake. I mean, it's basically like freeform pie but with a thicker crust and whipped cream on top. Ain't nothing bad about that.
These shortcakes take the concept of the classic strawberry shortcake but make it better by mixing brown sugar into the biscuits as well as the whipped cream for a more complex, deeper, darker flavor. The whipped cream is the perfect counterpart to the natural sweetness of the berries as it is not only light, but also a little bit tangy from the addition of sour cream.
And did I mention that because you use a mix of berries instead of just strawberries they are totally decked out in red, white, and blue!
So festive.
I can hardly stand it.
Brown Sugar Berry Shortcakes
Brown sugar berry shortcakes that combine fresh summer berries with tender, flaky shortcakes and a luxuriously airy whipped cream.
Ingredients
For the fruit
6 cups mixed berries
4-6 tbsp packed light brown sugar
For the shortcakes
2 cups all purpose flour
3 tbsp packed light brown sugar
1 tbsp baking powder
½ tsp kosher salt
8 tbsp unsalted butter, cut into ½-inch pieces and chilled plus 2 tbsp unsalted butter, melted
1 large egg
½ cup sour cream
2 tbsp sugar
For the brown sugar-cream topping
1 cup heavy cream
¼ cup sour cream
¼ cup packed light brown sugar
Instructions
To prepare the berries, hull and slice strawberries if using. Cut any large berries in half. Toss all the fruit together in a bowl. Transfer 2 cups of the berries into a large bowl along with the brown sugar. Crush using a potato masher. Fold in the remaining 4 cups of berries and let sit at room temperature to macerate for at least 30 minutes.
Meanwhile, prepare the shortcakes. Heat oven to 375F and line a baking sheet with parchment paper. In the bowl of a food processor, pulse together the flour, brown sugar, baking soda, and salt until combined. Add the chilled butter to the food processor and pulse again until the mixture resembles coarse sand, about 7 pulses. Pour the flour mixture into a large bowl.
In a separate small bowl, whisk together the egg and sour cream. Stir this into the flour mixture until large clumps form, then knead together with your hands until the dough comes together.
Divide the dough into 6 rounds. Brush the tops with the melted butter and sprinkle with the sugar. Bake until golden brown, about 25-30 minutes. Cool on baking pans for 10 minutes.
Once ready to serve, prepare the whipped cream. In the bowl of a stand mixer fitted with the whisk attachment, combine the heavy cream, sour cream, and brown sugar. Whip until stiff peaks form.
To serve, divide each shortcake in half, then top the biscuit bottoms with the fruit and the whipped cream. Top with the remaining biscuit half and serve immediately.