The perfect one-pot breakfast, these migas are full of crispy tortilla strips, nutritious vegetables, and creamy Manchego cheese.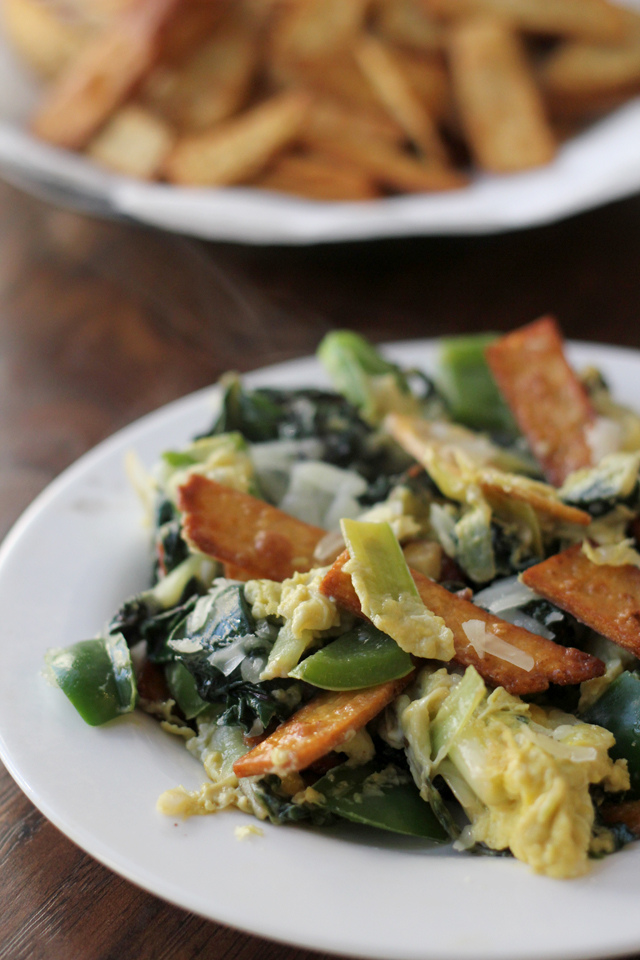 This post is part of The New Southwest Cookbook Spotlight sponsored by Hippocrene and hosted at girlichef.
—
Sometimes I crave scrambled eggs to the point where it feels totally possible that the world will end if I don't have them in the next five minutes.
So then it's like an episode of Top Chef gone way wrong as I try to race against the (imaginary) clock to fry them up and get them in my face before the universe implodes.
(I wish I could say that the image you now have in your head of me whirlwhinding around my apartment with a skillet flailing and egg yolk in my hair is a gross exaggeration. But no. That's real life.)
And then there are migas. Which are kind of like scrambled eggs on crack.
The kind of crack that has crispy tortilla strips, lots of veggies, the almighty (fluffy! scrambled!) egg, and a layer of (sigh) cheese all coming together in one pan.
Which is obviously the only kind of crack worth indulging in.
These migas in particular kind of shake it up more so than the traditional variety, which normally has tomatoes, jalapenos and onions as its mix-ins.
But that won't surprise you at all when you hear that the recipe comes from Meagan of Scarletta Bakes's FIRST COOKBOOK.  The title of which is: The New Southwest: Classic Flavors with a Modern Twist
. So, yeah. Shaking it up is kind of the point.
I've been reading Meagan's blog for a good long while now and I always love seeing the crazy spins she puts on traditional southwestern fare, which is already kind of a mash up of Mexican/Native American/Southern/Californian flavors. So I was absurdly excited when Heather asked me to be part of the Cookbook Spotlight she was putting together to celebrate Meagan's cookbook.
This first recipe that we're showcasing originally called for mushrooms in the migas mix but I knew there was no way I'd ever get The.Boy to eat them if that's what I used. He still didn't eat them with the swiss chard I used instead. (Joke's on me.) But I did. And I loved them.
The creamy eggs, the crispy tortilla strips, all that great veggie flavor. And cheese.
I feel another craving coming on. Things are about to get ugly. (But also very very delicious.)
(PS – the winner of my McCormick giveaway from last week is commenter #106 – Grace from A Southern Grace!)
One year ago…Vegetarian Bacon and Butternut Squash Pasta with Caramelized Onions and Kale
Four years ago…Chicken Marsala
Swiss Chard and Leek Migas
The perfect one-pot breakfast, these migas are full of crispy tortilla strips, nutritious vegetables, and creamy Manchego cheese.
Ingredients
4 5-inch corn tortillas
1¼ cups vegetable oil, divided
10 large eggs
¼ cup heavy cream
salt, to taste
freshly ground black pepper, to taste
1 bunch swiss chard, leaves torn into thin strips
1 green bell pepper, coarsely chopped
1 leek, ends removed, chopped
2 large garlic cloves, minced
1 cup shredded Manchego cheese
Instructions
To make the corn strips, cut the tortillas in half and then into thin strips. Heat 1 cup of vegetable oil in a large heavy-bottomed pot over medium-high heat. In batches, fry the tortilla strips for 1-2 minutes, or until browned and crispy, flipping them about halfway through. Remove to a paper towel-lined plate to cool.
Whisk the eggs and the heavy cream together in a large bowl. Season to taste with salt and pepper. Set aside.
Pour out the oil from the pan used for frying the tortilla strips. Add the remaining ¼ cup oil over medium heat. Saute the swiss chard until wilted, about 3 minutes. Add the leek and bell pepper and saute for another 2-3 minutes. Add the garlic and saute for 1 minute. Pour in the egg mixture and cook, stirring constantly, in a circular motion until the eggs begin to solidify. Stir in the fried tortilla strips. Continue cooking until eggs are cooked through.
Remove from heat, top with cheese, and serve.
Notes
Adapted from
The New Southwest
Nutrition Information
Serving size:
¼ of recipe