Sugar cookies get an edgy twist in these dark and chewy brown butter brown sugar cookies…you won't be able to have just one!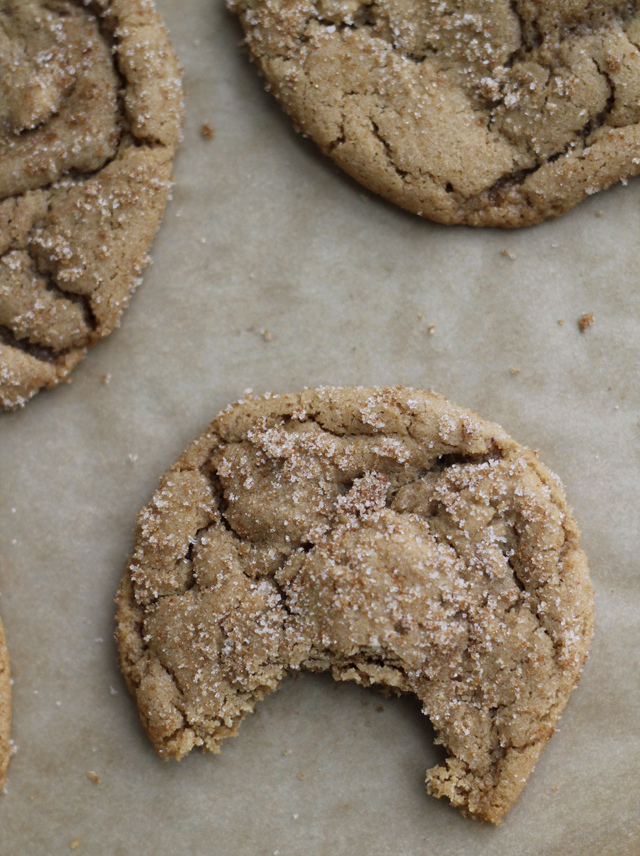 Sometimes, I'm probably psychic.
Hopefully not like two nights ago when I had this crazy vivid dream about the marathon (which is in, oh, two weeks) and it involved running through people's houses, riding a bicycle (which is a whole other recurring nightmare in and of itself), and misplacing my boyfriend.
(Just…..totally freaking out. No biggie.)
But probably just like on Wednesday when I made a big batch of these scrumdiddlyumptious deep dark chewy brown butter brown sugar cookies and hid a few of them for future secret consumption.
And then promptly submersed my cell phone in water.
I mean, it jumped.
I was just a helpless bystander.
Okay, I probably made things worse because I kept trying to turn it on just to see if it was salvageable which is, like, the opposite of what you are supposed to do with a wet phone because it fries all of its circuits.
But no one teaches you that in college. Or medical school. Even though it's probably the most critical of critical information.
Anyway, it seems like even an overnight in a bowl of rice isn't going to save it so let's all just thank our lucky stars that my mother knows what kind of a clumsy person I am and insisted on getting phone insurance for me.
And then let's also say a hallelujah because, these cookies. In times of cell phone stress situations, they are saviors.
Chewy brown butter brown sugar dreams.
Let the (now not) secret consumption proceed.
One year ago…Kabocha French Lentil Soup and Zucchini Fritters
Two years ago…Butternut Squash with Pepita Cilantro Vinaigrette, Speckled Green Bulgur with Red Potato Sauce
Three years ago…Crab Tater Tots on a Roasted Butternut Squash Salad with Cider Vinaigrette
Brown Sugar Cookies
Sugar cookies meet snickerdoodles in these dark and chewy brown butter brown sugar cookies...you won't be able to have just one!
Ingredients
14 tbsp unsalted butter
1¾ cup packed dark brown sugar
2¼ cups flour
½ tsp baking soda
¼ tsp baking powder
¾ tsp salt
1 egg plus 1 egg yolk
1½ tbsp vanilla
¼ cup sugar
¼ cup dark brown sugar
Instructions
Preheat oven to 350 and line two baking sheets with parchment paper.
Melt the butter in a skillet over medium heat. Allow to simmer until it starts to turn an amber color and smell nutty and fragrant. Remove from the heat to a separate bowl. Allow to cool for 15 minutes.
In the bowl of a stand mixer fitted with a paddle attachment, combine the browned butter and brown sugar until well-blended.
In a separate bowl, whisk together the flour, baking soda, baking powder, and salt. Set aside.
Add the egg and egg yolk to the butter/sugar mixture one at a time, scraping down the sides after each addition. Mix in the vanilla.
Mix the flour mix into the cookie dough, stirring until just combined.
In a small bowl, combine the sugar and brown sugar.
Scoop the cookie dough into balls using a 1½ tbsp cookie scoop (or just scoop it into rounded tbsps). Roll in the sugar mix and place on the prepared baking sheet. Repeat with remaining cookie dough, leaving 2 inches between each dough ball on the baking sheet.
Bake for 10-12 minutes or until starting to set around the edges. Allow to cool before serving.