The ultimate set it and forget it meal, this slow cooker black bean ragout is hearty and delicious, especially served over roasted sweet potatoes!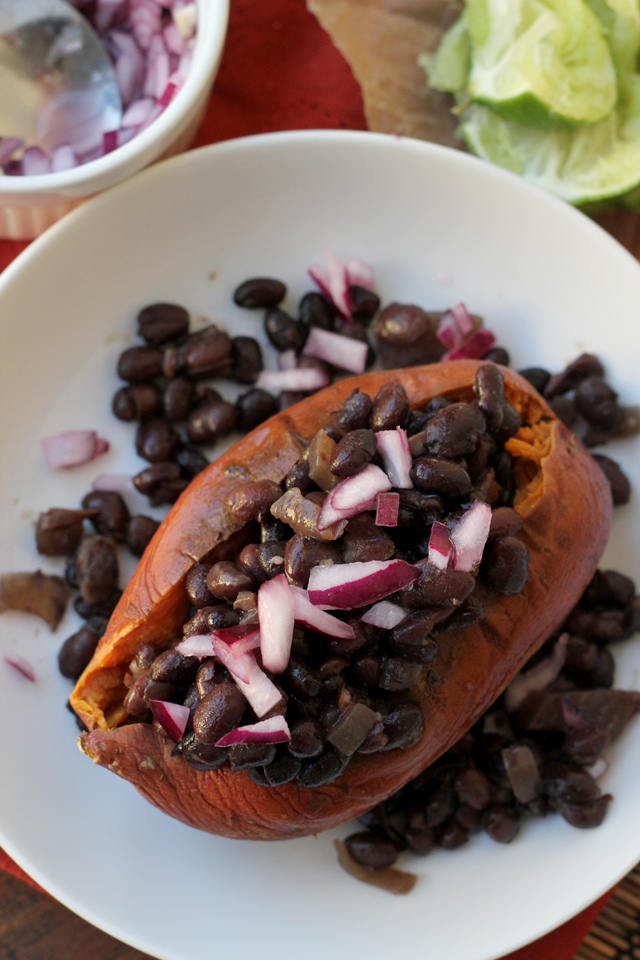 Once upon a time, four score and two apartments ago, I totally had a slow cooker in my life.
We were a little bit inseparable during my college days. "Besties", is the totally technical term that I think the kids these days would call it.
And then I had to ruin things when I up and went vegetarian. And gave it away to one of my old roommates.
Judas priest. Right here.
And now I'm back with my proverbial tail between my legs trying to, uh, unstab it in the back.
Wish me luck?
As it turns out, slow cookers are not all about the beef or the pork or the "cream ofs". They can totally be vessels for fresh flavored, delicious, veggie-full food just as much as the oven or the skillet or the saute pan. With the only difference being that you can spend five minutes in the morning prepping, walk away for the day, and then have dinner ready when you get home.
Somehow I forgot all of this until I borrowed my mother's crockpot to make this recipe. And I can't even begin to tell you how grateful I was to have it when I woke up on one particularly crazy morning of one particularly hectic day and realized we had nothing to have for dinner nor did I have any time to throw anything together.
And then BAM. Twenty minutes later I was out the door with dinner pretty much cooking itself.
Hearty lime-and-tomato-with-a-hint-of-spice infused black beans served atop roasted sweet potatoes. Classic. Healthy. Delicious.
Needless to say, I won't be returning my mother's crockpot anytime soon. And I think this is the beginning of a beautiful friendship.
This is my submission to this month's Recipe Redux, the theme of which was "The No-Casserole Crockpot". To see what everyone else whipped for this, check out these entries:
One year ago...Salted Caramel Apple Cheesecake Bars
Two years ago...Caramel Crumb Bars, Green Lentil Soup with Coconut Milk and Warm Spices
Three years ago...Apple, Sausage and Brie Pizza on a Pumpkin Pizza Dough Crust, Ohio Creamed Corn with Bacon
Four years ago...Funfetti Cupcakes with Marshmallow Frosting
Slow Cooker Black Bean Ragout on Roasted Sweet Potatoes
The ultimate set it and forget it meal, this slow cooker black bean ragout is hearty and delicious, especially served over roasted sweet potatoes!
Ingredients
For the bean ragout
1 large onion, finely chopped
3 garlic cloves, minced
1 tbsp ground cumin
½ tsp dried oregano
2 tsp smoked paprika
1 lb dried black beans, soaked overnight
1 dried chile
2 tbsp tomato paste
2 tsp salt
10 cups vegetable broth
1 tbsp lime juice
4-6 sweet potatoes
For the lime-pickled red onions
2 tbsp lime juice
¼ medium red onion, finely diced
salt
Instructions
Heat oven to 400. Pierce sweet potatoes all over with a fork. Place on a parchment-lined baking sheet and roast until tender, 45-60 minutes.
Put the onion, garlic, cumin, oregano, paprika, black beans, chile, tomato paste, salt, and vegetable broth in a 6 quart slow cooker. Cover and cook on high for 6 hours.
To make the lime-pickled red onions, toss the red onion with the lime juice and a pinch of salt and let sit for 15 minutes.
Cut a slit in the center of the sweet potatoes and fill with the black beans. Garnish with lime-pickled red onions and serve.
Notes
Adapted from
The Smitten Kitchen Cookbook
Nutrition Information
Serving size:
⅙th of recipe