A spring salad of fried halloumi, asparagus, zucchini, and roasted cherry tomatoes with basil oil.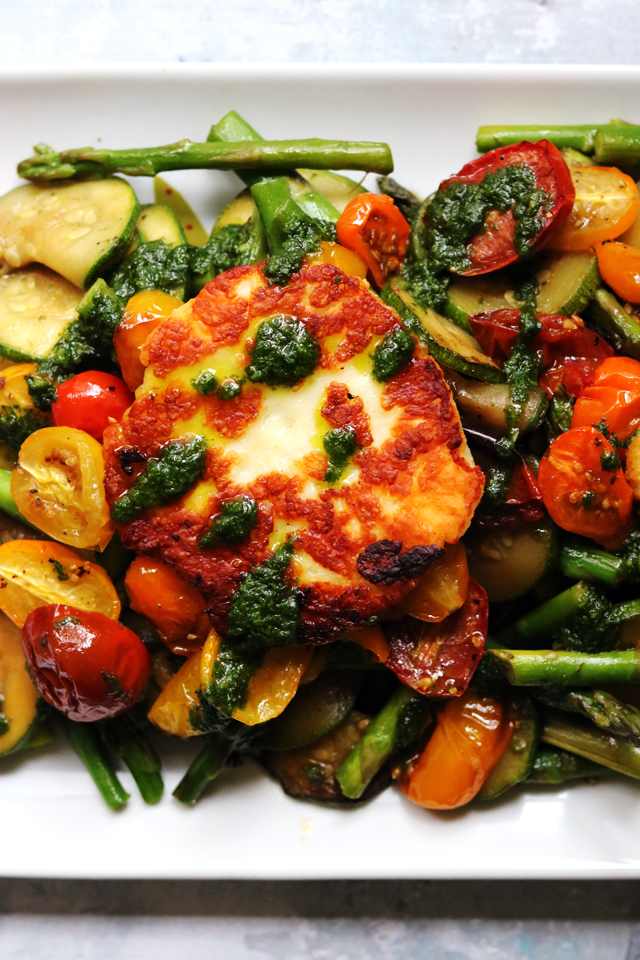 This three day weekend was super confusing for me on a number of levels, but mostly because I was working nights, didn't quite sleep enough, and have no sense of what day it is. And OF COURSE because I had off last night, I totally flipped my schedule back from nights to days. Just as I was getting used to it.
Sleeping at a time that my circadian rhythm intended felt so good in the moment, but tonight when I have 8 admissions to do…it's going to feel so bad.
Oh well.
This complete and utter lack of normalcy also has me eating, well, like crap. It's just so hard to eat vegetables when you've been up snacking all night to stay awake. (Trader Joe's chocolate covered espresso beans, how I love/hate you!!!).
Consider this salad my attempt to get myself back on track. It's actually a redo of an Ottolenghi recipe that I posted back in 2013. Way back then I was afraid of oil so I roasted both the vegetables and the halloumi in just a smidgen of the stuff and then used the bare minimum possible for the sauce to come together. It was okay, but this version, with still less oil than the original recipe calls for but a far more reasonable amount than what I used in the past, is delicious.
First, you start by roasting the tomatoes until caramelized, deeply sweet, and almost dried. While that's happening, the halloumi gets fried until crisp and brown in a non-stick skillet. Then you leave the halloumi drippings in the pan and use them to fry your asparagus and zucchini! It's genius, and totally oil-sparing. Really.
Finally, you throw the ingredients for the basil oil in a blender and whiz away. Toss everything together and you have a pretty fabulous vegetable-laden salad. It tastes super spring fresh, but also indulgent because HALLOUMI.
Perfect for whatever time of day (or night) your internal clock thinks it is.
Fried Halloumi, Asparagus, Zucchini, and Roasted Cherry Tomatoes with Basil Oil
A spring salad of fried halloumi, asparagus, zucchini, and roasted cherry tomatoes with basil oil.
Ingredients
For the vegetables
12 oz cherry tomatoes, halved
4 tbsp olive oil, divided
8 oz halloumi, cut into 4 slices
1 lb asparagus, trimmed and cut into 1-inch pieces
2 zucchini, cut into half moons
salt and black pepper, to taste
For the basil oil
5 tbsp olive oil
1 garlic clove
1 oz basil
salt and black pepper, to taste
Instructions
Heat oven to 350F. Toss the tomatoes with 2 tbsp olive oil. Season with salt and black pepper. Spread on a parchment-lined baking sheet. Roast for 30-40 minutes. Remove and allow to cool.
Meanwhile, heat the remaining 2 tbsp olive oil in a large non-stick skillet. Fry the halloumi for 3 minutes on each side or until golden. Remove from the skillet to a towel-lined plate.
Reheat the pan over medium-high heat and add in the zucchini and asparagus. Saute until the zucchini slightly browned, about 7-8 minutes. Season to taste with salt and black pepper. Set aside.
To make the basil oil, combine all of the ingredients in a blender until smooth.
Toss the vegetables with the basil oil and divide among 4 plates. Top each with a slice of halloumi. Serve warm or at room temperature.