This maple-glazed pecan and brown sugar cinnamon bun makes a show-stopping centerpiece for a holiday or weekend brunch.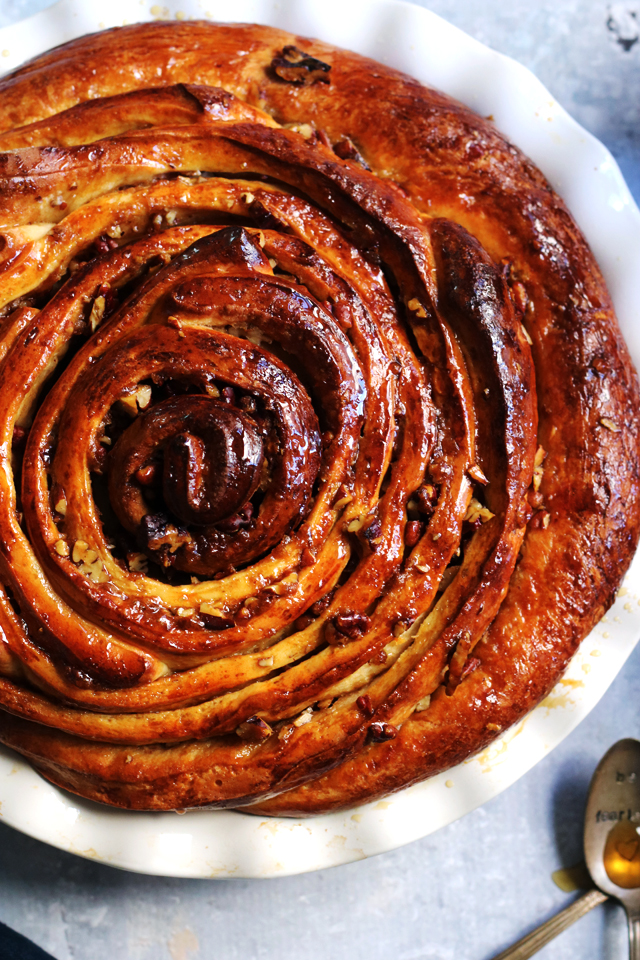 Look, we've had a trying past seven or so days what with the bomb packages and the shootings and the emergency phone alerts ordering us to SHELTER IN PLACE without any actual description of why or what or how to even do that.
Personally I can say that my nerves are at an all time high level of frayed. I've taken to frantically searching twitter for updates any time I hear a siren pass my apartment which, when you live less than twenty blocks from two of the biggest hospitals in Manhattan, is OFTEN and IMPRACTICAL. Yes, probably I should see a therapist for that, but instead I'm digging my hands deep into some enriched dough and I'm none too sorry about it.
Truly there's something about making things with yeast that's extremely calming and satisfying.
Like, layer cakes and pies make me feel pretty accomplished in the end but there's a whole road of stress you need to get through before that feeling hits.
Yeast doughs just feel good through and through. Even when they're ugly, they're pretty, in that rustic kind of way.
Also, it's been about a year since I've sticky bun'ed and that is far too long for anyone's good.
While last year's buns were outrageous and insane and completely EXTRA, this is like the more tame adult version that will satisfy your sweet craving without making you feel like you've eaten yourself into a food coma.
It starts out with an enriched dough that is soft and buttery and lightly sweetened.
That dough is topped with a layer of cinnamon-pecan-buttery goodness and then instead of cutting and rolling it into individual buns, it is rolled into ONE MASSIVE AS-BIG-AS-YOUR-FACE bun that is seriously easy to pull off while still being seriously impressive.
Plus like I said before, even when it's a hot mess, it's still pretty beautiful.
Bake until bronzed and then slather with a maple syrup glaze. It's impossible to go wrong and so easy to do right.
Those cinnamon pecan swirled layers, tho.
ALL THE FEELS.
Maple-Glazed Pecan and Brown Sugar Cinnamon Bun
This maple-glazed pecan and brown sugar cinnamon bun makes a show-stopping centerpiece for a holiday or weekend brunch.
Ingredients
1 cup pecans, chopped
⅓ cup dark brown sugar
½ tsp cinnamon
4 tbsp unsalted butter, melted
1 large egg, lightly beaten
2 tbsp maple syrup
For the sticky bun dough
1 cup milk
4 tbsp unsalted butter, chopped
2¼ tsp active dried yeast
3½ cups all purpose flour
½ cup sugar
1 large egg
Instructions
To make the sticky bun dough, combine the milk and butter in a small saucepan over low heat. Cook until the butter is completely melted and the milk is lukewarm, stirring occasionally. Pour into a measuring cup and stir in the yeast to activate it. Allow to sit for 5 minutes. If the mixture starts to become foamy, then the yeast is ready to use.
Place the flour, sugar, egg, and yeast-milk mixture into the bowl of a stand mixer fitted with the hook attachment. Mix on low speed until the dough starts to come together, about 5 minutes. Increase speed to medium-high and then mix for another 4-5 minutes, or until smooth. Transfer the dough to a greased bowl and cover with plastic wrap or a damp towel. Allow to rise in a warm place until doubled in size, about 1.5 hours.
While the dough is rising, stir together the pecans, sugar, and cinnamon in a small bowl. Set aside.
Once the dough is ready, roll it out on a lightly floured work surface to a 20x12-inch rectangle. Brush with the melted butter and sprinkle with the pecan mixture. Cut the dough into 6 equal strips. Roll one strip up tightly, then place on top of the end of another strip and roll again. Repeat with the remaining dough until all of the strips are used to create one large spiral. Place in a lightly greased 10-inch pie plate or springform pan. Cover with plastic wrap and allow it to rest in a warm place for 30 minutes.
Heat oven to 325F. Brush the bun with the lightly beaten egg and bake for 40-45 minutes, or until golden and cooked through. Allow to cool for 10 minutes, then brush with the maple syrup. Serve warm.