This lemon and almond streamliner cake combines a dense almond cake with bright and tangy lemon custard – it's simple but so delicious.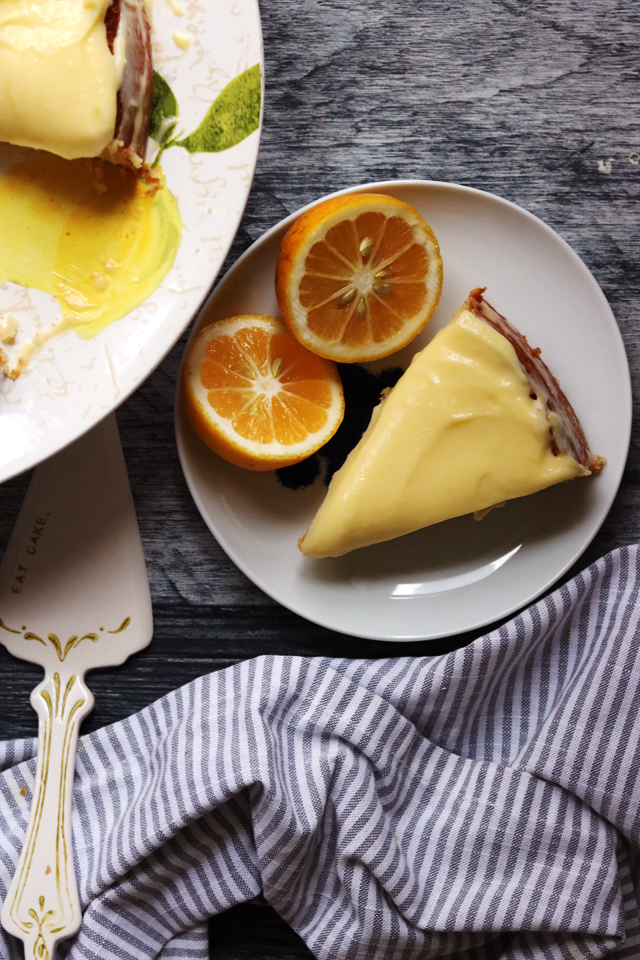 I come from a long lineage of lemon lovers (Remy, me, my mom), but pretty much everyone else in the family (my husband, my in-laws, my brother) act like I've committed some sort of heretical injustice when I present them with a lemony dessert.
It makes for a bit of a power struggle at times. My brother will generally not even try whatever I've made, but more often than not my husband will eat it and (secretly) like it. At least, that's the only explanation I have for how this cake disappeared over the course of the week when I only had one slice.
To be fair, even calling this a lemon cake is a misnomer.
It's an ALMOND CAKE!!! And a glorious one at that.
The batter is rich with almond paste making the crumb deliciously dense, but also light, and completely addictive.
It is then topped with a light and creamy lemon custard that is a cross between lemon curd and whipped cream. The tartness offsets the sweetness of the cake so that each bite tastes as once refreshing and decadent
The cake and custard can be made and assembled in one day (if you start early and don't have a toddler "helping") but I found it easier to make the custard the night before so that it had ample time to cool in the fridge. The cake is super easy to prepare and the batter comes together in less than ten minutes.
Plus I kind of loved that the frosting job is a no-frills, messy-beautiful-rustic situation.
Lemon and Almond Streamliner Cake
This lemon and almond streamliner cake combines a dense almond cake with bright and tangy lemon custard - it's simple but so delicious.
Ingredients
For the custard
Grated zest of 2 meyer lemons
¾ cup whole milk
½ cup sugar
4 egg yolks
½ teaspoon fine sea salt
2 tablespoons cornstarch
½ cup meyer lemon juice (from approximately 3 lemons)
½ cup (4 ounces) unsalted butter, cut into small cubes
For the cake
1¼ cups cake flour
1½ teaspoons baking powder
½ teaspoon sea salt
6 oz almond paste, ?at room temperature
10 tablespoons unsalted butter, room temperature
⅔ cup sugar
3 tablespoons canola oil
2 teaspoons pure vanilla extract
3 large eggs, room temperature
⅔ cup buttermilk, room temperature
Instructions
For the custard
Combine the lemon zest, milk, and ¼ cup sugar in a medium saucepan. Heat over medium-low heat until just hot and the sugar has dissolved. Meanwhile, in a heatproof bowl whisk together the egg yolks, remaining ¼ cup of sugar, and salt until well combined. Mix the cornstarch into the egg yolk mixture and then the lemon juice.
Slowly whisk a third of the hot milk mixture into the yolk mixture, whisking constantly. Pour the yolk mixture into the saucepan with the rest of the milk mixture. Return to medium-low heat and, whisking constantly, cook until it begins to thicken and bubble. Once it is bubbling, cook it for an additional minute then remove from the heat and pour through a fine-mesh sieve into a clean bowl. Whisk in the butter until melted. Cover with plastic wrap and refrigerate until cool, about 2 hours.
For the cake
Heat oven to 350F.
In a large bowl, whisk together the cake flour, baking powder, and sea salt. Set aside.
In the bowl of a stand mixer fitted with the paddle attachment, combine the almond paste, butter, sugar, canola oil, and vanilla. Mix on low speed until blended but then increase speed to high and cream until light and fluffy, about 5-7 minutes. Add in the eggs one at a time, beating well after each addition.
Turn the mixer speed down to low and add the flour mixture in three additions, alternating with the buttermilk. Stop just before the last of the flour has been incorporated and mix the remaining flour in by hand with a rubber spatula.
Pour the batter into a greased, parchment-lined 9-inch cake pan and spread it evenly. Place in the oven and bake for 42-45 minutes, or until a toothpick inserted in the center comes out barely clean.
Cool the cake in the pan on a wire rack for 30 minutes. Invert onto a piece of parchment paper and then invert again so that it is right side up. Allow it to cool completely on the parchment paper.
Place the cake right side up on a serving plate. Spread a thin layer of the lemon custard on the sides to seal it, then place the rest of the custard on top of the cake. Allow to set in the refrigerator for 30 minutes.
Bring to room temperature before serving.