Roasted salmon topped with a sweet and spicy puree of blood orange, smoked paprika, and ginger that this is then served alongside a cheesy carrot farro pilaf.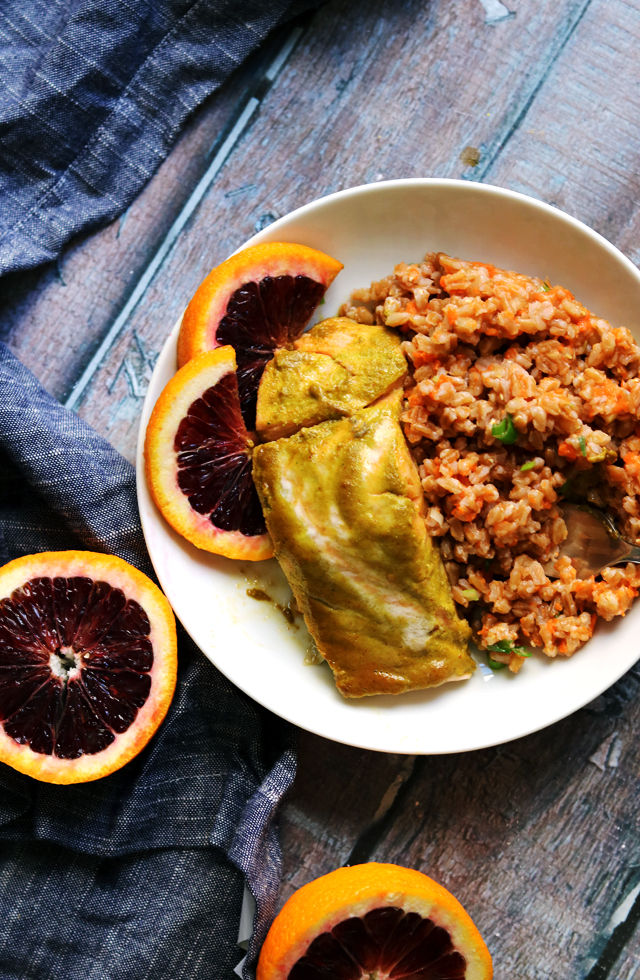 The best thing happened this weekend:
WE WENT FOR A RUN.
This is going to sound totally not momentous to most of you, but if you remember the pre-child me, then you might remember how obsessed with running I was. I would just run > 6 miles at a stretch like it was no big thing. FOR FUN! Crazy.
I think I ran once after finding out I was pregnant with Remy but then insane fatigue and med school laziness set in and I've been trying to find my way back ever since. Then yesterday, the stars aligned and the weather was perfect and my husband was like…let's go for a run. AND WE DID.
Look, it was horrifyingly slow and did not look pretty at all but I felt like a million bucks afterward (not so much today since I'm sore in places I forgot you could be sore in). That runner's high, though – it's a real thing.
The best part was that we took Remy in the jogging stroller and she loved it! She was so entertained by looking at everything around her and I loved that we were showing her how fun exercise can be.
I'm vowing (on the internet, so you know I mean business) to make it a regular (weekly?!?!) thing. Keep me honest!
Of course, the onset of warm (but not too warm) perfect running weather means that spring is here! I have two last citrus-y recipes to share with you this week and they are awesome. Starting with this roasted salmon!
It looks weird but I pinky swear it's delicious and so so simple. Basically you make a puree of blood orange, jalapeno, ginger, and smoked paprika. Then you pour it over the salmon and roast it for 15 minutes. DONE!
The recipe from Melissa Clark's Cook This Now originally called for chicken legs, but I felt like the salmon was a perfect substitute. I paired it with the carrot farro pilaf (also from this cookbook) in the hopes that I could sneak a vegetable into Remy (spoiler alert: I couldn't), and it was seriously amazing.
Make it! Then come back and remind me to run later this week. I'm counting on you.
Roasted Salmon with Blood Orange, Smoked Paprika, Ginger and Carrot Farro Pilaf
Roasted salmon topped with a sweet and spicy puree of blood orange, smoked paprika, and ginger that this is then served alongside a cheesy carrot farro pilaf.
Ingredients
For the salmon
¼ cup blood orange juice
2 tbsp olive oil
3 garlic cloves
2 tbsp cilantro leaves
1 jalapeno, seeded
1 tbsp grated fresh ginger
1¼ tsp salt
1 tsp blood orange zest
¾ tsp smoked paprika
4 salmon fillets
For the carrot farro pilaf
1 cup farro
2 carrots, peeled and grated
⅓ cup grated parmesan cheese
2 tbsp olive oil
2 scallions, white and light green parts thinly sliced
¼ tsp salt
¼ tsp black pepper
Instructions
For the salmon
Heat oven to 350F.
Combine the orange juice, olive oil, garlic, cilantro, jalapeno, ginger, salt, orange zest, and paprika in the bowl of a blender and puree.
Place the salmon in an 8x8-inch square baking pan. Pour the blood orange puree over the top. Bake for 15--20 minutes or to desired degree of doneness.
For the carrot farro pilaf
Heat a large pot of salted water to a boil. Add the farro and simmer until tender, about 20 minutes. Stir in the carrots in the last 5 minutes of cooking. Drain well and transfer to a large mixing bowl. Stir in the parmesan cheese, olive oil, scallions, salt, and pepper. Serve warm.