A very green baked egg dish filled with spinach, leeks, feta, and dill.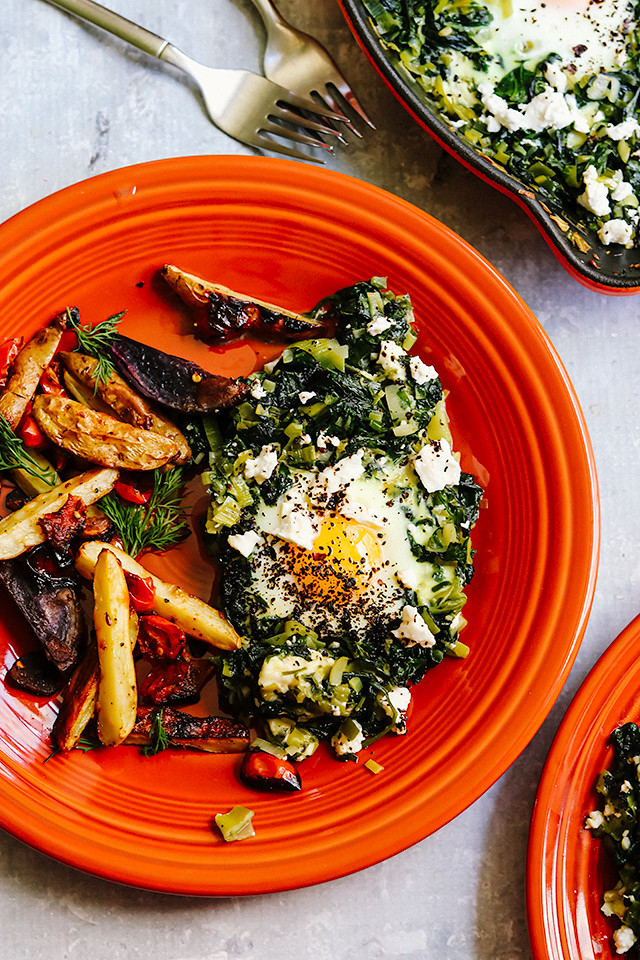 Green eggs, no ham!!
This is the original title of this dish in Melissa Clark's Dinner: Changing the Game cookbook and honestly, it just makes a heart happy to scream it from the rooftops whenever someone asks you what's for dinner.
Go ahead and try it. I'll wait.
I changed the name because, as fun as it is to say, it just doesn't give the whole picture of this dish.
Which is: spanakopita filling with runny eggs baked into the top. YES it's dreamy and way much easier than messing with phyllo dough at dinnertime.
The earthy spinach is paired with creamy feta that kind of melts in with the pan mixture and then you mix in some dill. So much dill! The original recipe actually calls for cilantro but DILL you guys. That's what belongs here.
Serve it with toast or go more authentically Greek with roasted potatoes, for breakfast, for dinner, for all the meals!
Baked Eggs with Spinach, Leeks, and Feta
A very green baked egg dish filled with spinach, leeks, feta, and dill.
Ingredients
3 tbsp unsalted butter
2 leeks, thinly sliced
2 jalapenos, seeded and minced
2 garlic cloves, minced
10 oz baby spinach
2 cups fresh dill, chopped
¼ tsp salt, plus more to taste
4 oz feta cheese, crumbled
4-6 large eggs
ground aleppo pepper, to garnish
Instructions
Heat oven to 375F.
In a large cast-iron or oven-safe skillet, melt the butter over medium-high heat. Add in the leeks, jalapeno, and garlic. Saute until tender, about 5 minutes. Add the spinach a handful at a time and cook until wilted. Add in the dill and salt. Stir in ¼ cup water and 3 oz of feta. Stir until the cheese has almost melted into the vegetables.
Make six wells in the pan full of greens and crack the eggs into them. Season to taste with salt. Transfer the skillet to the oven and bake for 7-10 minutes, or until the eggs are baked to desired degree of doneness.
Remove from the oven. Sprinkle with the remaining feta cheese and aleppo pepper. Serve immediately.