A hearty vegan winter vegetable chili filled with a hint of spice, pinto beans, and winter squash.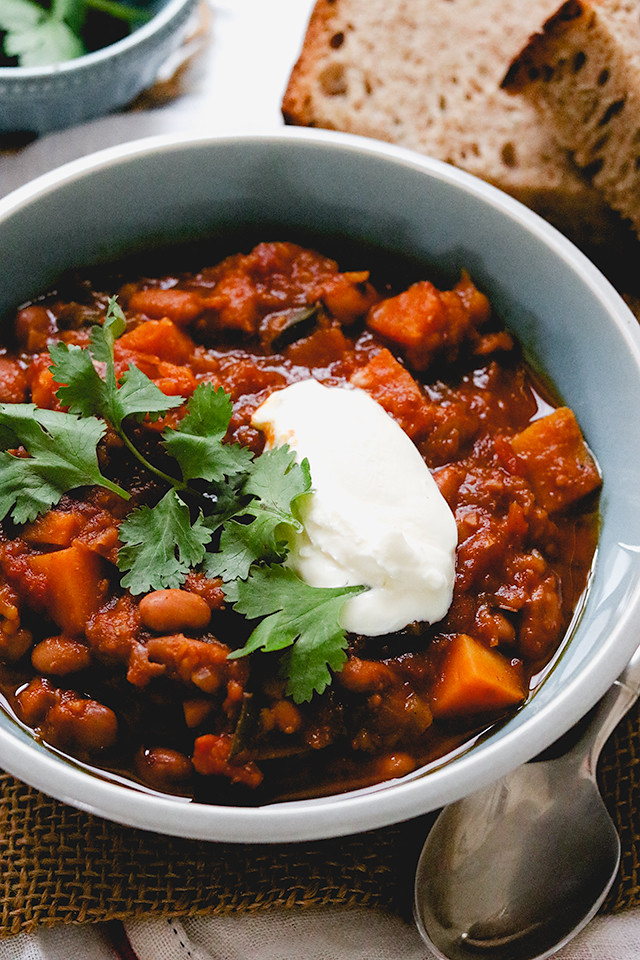 Count me out for any sort of restrictive, disordered January eating plans, but count me WAY IN for plant-filled, hearty delicious meals all year long.
Rather than any specific strategy or program, I'm more of the Mark Bittman "eat real food, mostly plants" mindset. It keeps me on the straight and narrow about 80% of the time, and the remaining 20% of the time I eat cake (okay, more likely pie).
Ain't nothing wrong with that.
And it's really not hard to do when plant-based eating tastes this good!
YES this hearty winter vegetable chili just happens to be vegan, but it still sticks-to-your-ribs in the best way. It is super thick and the perfect blend of savory smoky sweet, featuring winter squash cubes, loads of pinto beans, poblano peppers, and a whopping amount of ancho chili powder. Keep it mild on the heat spectrum if you have picky mouths to feed or add in some chipotle peppers to up the spice. I did choose to top it with some dairy-filled garnishes, but you can feel free to substitute dairy-free alternatives or just leave them off. It will be super tasty however your eating habits are rolling these days.

Hearty Vegan Winter Vegetable Chili
A hearty vegan winter vegetable chili filled with a hint of spice, pinto beans, and winter squash.
Ingredients
2 tbsp safflower oil
1 onion, diced
2 medium carrots, diced
2 poblano peppers, seeded and diced
2 garlic cloves, minced
3 tbsp ancho chili powder
1 tbsp ground cumin
28 oz canned chopped tomatoes
1 tsp dried oregano
2 tbsp tomato paste dissolved in 1 cup water
3 cups cooked pinto beans
1 lb diced winter squash
salt, to taste
cilantro, cheddar cheese, sour cream to garnish
Instructions
Heat the oil in a large heavy-bottomed pan or Dutch oven over medium heat. Add the onion, carrots, and poblano peppers to the pan. Saute for 8-10 minutes, or until the vegetables are tender. Add in the garlic and saute until fragrant, about 1 minute. Add in the chili powder and cumin. Saute for 2-3 minutes, then stir in the tomatoes and oregano. Season to taste with salt.
Bring the mixture to a simmer and cook for 10 minutes, stirring occasionally. Stir in the tomato paste and water. Return to a simmer and cook for another 10 minutes, or until thick and fragrant. Stir in the beans and winter squash. Return to a simmer. Cover and cook for 30-45 minutes, stirring fairly frequently to prevent sticking. Season to taste with salt.
Serve with desired toppings and garnishes.