Crispy stir fried tofu with summer squash, basil, and toasted coconut makes for an easy and delicious healthy weeknight meal.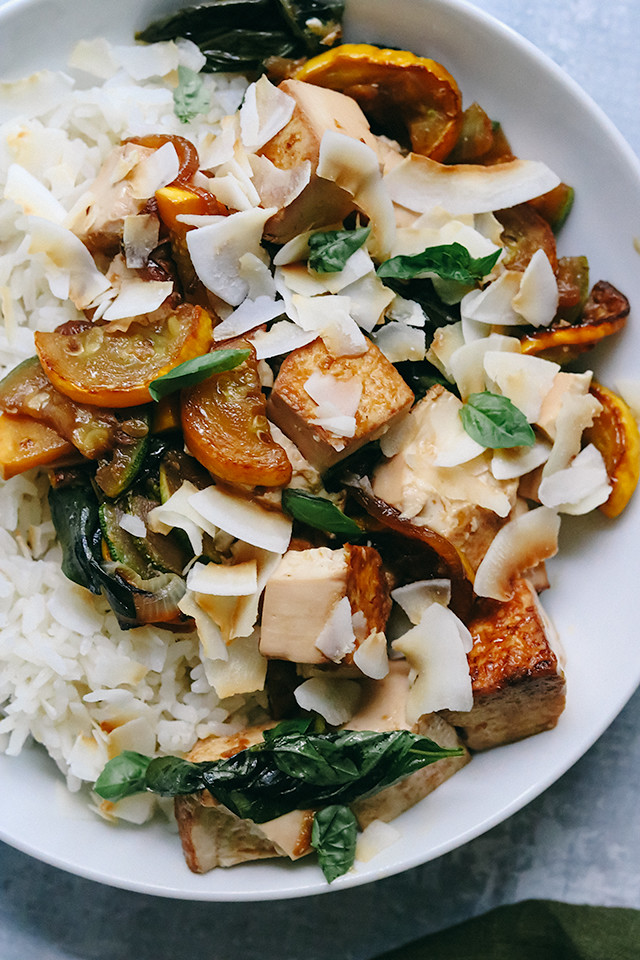 I really am one of those people who loves tofu. Really really.
Don't look at me like that!!
It basically has no flavor so, like, there's nothing NOT to love about it.
But after a quick stir fry it gets all crispy on the outside, squishy (and almost…juicy??) on the inside. Ugh, I love it. That texture combo. Mmm.
Plus it totally soaks up whatever flavors you cook it with so that they almost ooze out of it. I'm making it sound so appealing, right?
Speaking of, Remy said the ca-yutest thing this weekend. Do you want to hear it??
OF COURSE YOU DO.
She was coughing on some water and I was like, you're fine! it just went down the wrong pipe.
A few minutes later she got the most troubled look on her face and said, "But mom, do both pipes go to my belly???"
OHMYGOD. I died. So cute.
Back to the tofu.
Like I said, it's crispy and juicy and oozing with soy sesame garlic marinade.
Paired with sauteed summer squash, toasted coconut flakes (the big ones!!), and fresh basil it makes for a tasty and super easy weeknight meal. We ate it over bowls of steamy white rice and I stand by that decision wholeheartedly.
Stir Fried Tofu with Summer Squash, Basil, and Coconut
Crispy stir fried tofu with summer squash, basil, and toasted coconut makes for an easy and delicious healthy weeknight meal.
Ingredients
2 tbsp soy sauce
4 tbsp sesame oil
1 tbsp grated peeled fresh ginger
4 garlic cloves
1 lb extra firm tofu, drained, patted dry and cut into 1-inch cubes
1 cup unsweetened coconut flakes
1 white onion, halved and thinly sliced
3 summer squash or zucchini, halved lengthwise and cut into thin half moons
½ tsp kosher salt, plus more to taste
½ tsp freshly ground black pepper
1 cup Thai or regular basil
fresh lime juice, to taste
Instructions
In a small bowl, whisk together the soy sauce, 1 tbsp sesame oil, and the ginger. Grate 1 garlic clove in to the mix. Place the tofu in a shallow bowl or baking dish. Pour the marinade over it and toss gently to combine. Allow to marinate while the rest of the dish is prepared.
In a 12-inch skillet, toast the coconut flakes until golden. Transfer to a bowl and wipe out the skillet to clean it.
Place the skillet back on the stovetop over high heat. Add 2 tbsp of the sesame oil to the pan. Stir in the sliced onion and cook until soft, about 7 minutes. Add in the squash and ½ tsp salt and black pepper. Thinly slice the remaining garlic cloves and add them to the skillet. Cook until the squash is browned, stirring only occasionally, about 5-10 minutes. Pour any extra marinade from the tofu into the skillet and allow to simmer and heat through for a minute. Pour the squash mixture into a large bowl.
Drizzle the remaining tbsp of sesame oil into the skillet and heat over high heat. Pat the tofu dry again and add it to the skillet. Cook until golden on a few sides, flipping as needed. Transfer to the bowl with the squash and toss gently to combine with the basil and lime juice. Season to taste with salt and black pepper.
Divide among serving bowls and top with the toasted coconut. Serve warm.