Spinach, feta, and leek hand pies – a personal-sized handheld version of spanakopita that is full of greens and feta cheese.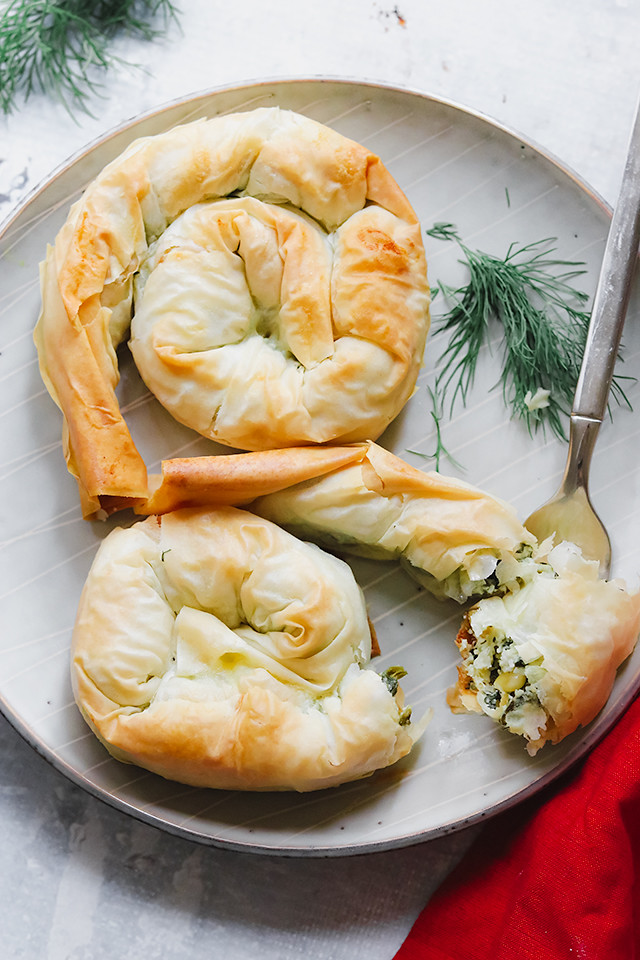 A bigger, better, handheld version of those little spanakopita triangles from the freezer section!!! That's what we've got cooking today and I am SO EXCITED.
Are they breakfast, dinner, lunch, an appetizer, a midday snack??
Uh, ALL OF THE ABOVE. Obviously.
I don't know about you guys, but I am such a sucker for spanakopita in any form.
I love all the greens, the dill, the buttery phyllo, the feta cheese….basically all of it. The whole package.
It was a little bit daunting dabbling in it given my husband's Greek heritage (and therefore very strong opinions on any and all Greek food), but whatever. Life is too short to wait for a pandemic to be over to have spanakopita again.
First let's talk filling!
This is a pretty classic mixture of spinach, dill, and feta. Where it goes a bit rogue is with the addition of leeks and pine nuts. The leeks are gently caramelized, adding a sweet oniony flavor, and the pine nuts are toasted and add a nice bit of crunch and texture.
Different, but I like it.
Next comes the phyllo dough!
Honestly, I've been avoiding using phyllo dough in recipes for years but this recipe was the gateway to a whole new era of phyllo usage. IT IS SO EASY. The key is to keep it moist and be generous with your butter. If you stick to those cardinal rules, you will have nothing to worry about.
This recipe has you roll the spinach pie mixture up into spirals, which makes it that much more fun to eat and really ups the wow factor on the presentation. You can totally make them into triangles or square pouches instead, but be warned they won't be as cute.
Spinach, Feta, and Leek Hand Pies
Spinach, feta, and leek hand pies - a personal-sized handheld version of spanakopita that is full of greens and feta cheese.
Ingredients
For the filling
2 tbsp olive oil
1 lb spinach
3 large leeks, thinly sliced
salt and black pepper
2 garlic cloves, minced
2 tbsp finely chopped dill
2 large eggs, lightly beaten
¼ cup pine nuts, toasted
8 oz feta cheese, crumbled
For assembly
12 sheets phyllo
½ cup butter, for brushing
Instructions
For the filling
Heat 1 tbsp of the olive oil in a large pan over medium heat. Add the spinach to the pan and saute until wilted, about 4-5 minutes. Transfer spinach to a colander and allow to cool a bit, then wrap it in cheesecloth or a clean kitchen towel and squeeze out as much liquid as possible. Coarsely chop the spinach and set aside.
Wipe out the pan you used for the spinach and add the second tbsp of olive oil to the pan over medium heat. Add the leeks and season with salt. Saute for 1 minute. Decrease the heat to low, then add 1 tbsp of water. Cover the pan and allow to cook for 10 minutes, stirring once or twice throughout. Remove the lid and increase the heat to medium. Saute for 5 minutes, or until starting to caramelize. Add in the garlic and saute for 2 minutes, or until fragrant. Add in the spinach and dill. Saute until warmed through, about 1 minute. Allow to cool to room temperature, then stir in the eggs, pine nuts, and cheese. Season to taste with salt and black pepper.
To assemble
Heat oven to 375F. Line two baking sheets with parchment paper and set aside.
Place a phyllo sheet on a clean work surface, with the wider side closest to you. Cover the remaining sheets with a damp kitchen towel.
Brush the phyllo with butter. Make a 1-inch fold across the side closest to you, then add 5 tbsp of the greens mixture and spread it out in a thin log along the edge closest to you. Roll carefully from the side closest to you towards the side farthest from you. Dab both ends of the log with butter, then roll into a spiral shape.
Place the pie onto a prepared baking sheet and brush the top with butter. Repeat with remaining phyllo dough.
Place in the oven and bake for 35-40 minutes, or until golden. Serve warm or at room temperature.