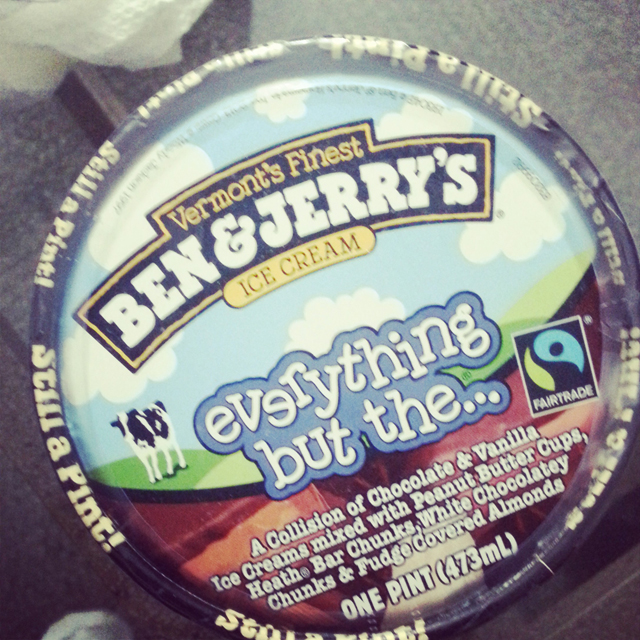 1. This weekend, we date nighted with Ben, Jerry, and American Hustle. I refuse to admit to just how much of this we ate…but let's just say it was NOT wedding diet-approved. I don't think I've eaten this much B&J's since college. Cinnamon Buns? MY LIFE. And the supermarket didn't have that flavor otherwise we would have bought and eaten TWO pints. Thank god for small favors.
2. And there you have the entire story of how I gained the freshman 15. Fine, 20.
3. I just got called for JURY DUTY in March. I wasn't super gung ho about it, as you might imagine. And then, my lawyer fiance LAUGHED when I told him which courthouse I have to go to and informed me that that was the "sucky one". Way to be supportive, babe.
4. One of my New Year's Resolutions was to be more organized so I've bought not one, but TWO life planners. This and this. Kind of obsessed. With both.
5. This whole 6 more weeks of winter makes me want mac 'n' cheese nonstop. Like big bowls of this, and this and this. Can't stop won't stop.
6. So I tried this new caramel flan latte business at Starbucks the other day and I just can't taste the difference between that and a regular caramel latte. Yet everyone else seems to love it. I feel like I have defective tastebuds.
7. My Mr. Coffee 4-cup coffeemaker, that I have loved and cherished for FIVE YEARS, tried to electrocute me this weekend. Not an exaggeration. It was turned off, but was still making weird bubbling/gurgling sounds like it was on, and when I went to flip the switch on and then off again, I got shocked. We ordered a new (cheap) one off of Amazon almost immediately, but now I'm thinking I might want to add a fancy schmancy one to our registry. What should I get?? (And don't say Keurig, because that thing does NOT make coffee strong enough for my taste.)
8. And no, I have not even started my registry yet which is absurd because it's probably the only fun thing in this whole wedding planning thing. I mean, who cares about flowers and linens when a whole set of All Clad pans could be delivered to my door FOR FREE.
9.  My wedding planning priorities are just all wrong. Registry-ing starts tomorrow. Bouquets be damned.
10. I have so many 1099s sitting on my desk. Don't make me be an adult and figure out what to do with them. Just don't.