The end of summer calls for one stellar ice cream recipe and this devil's food darkest chocolate ice cream is IT.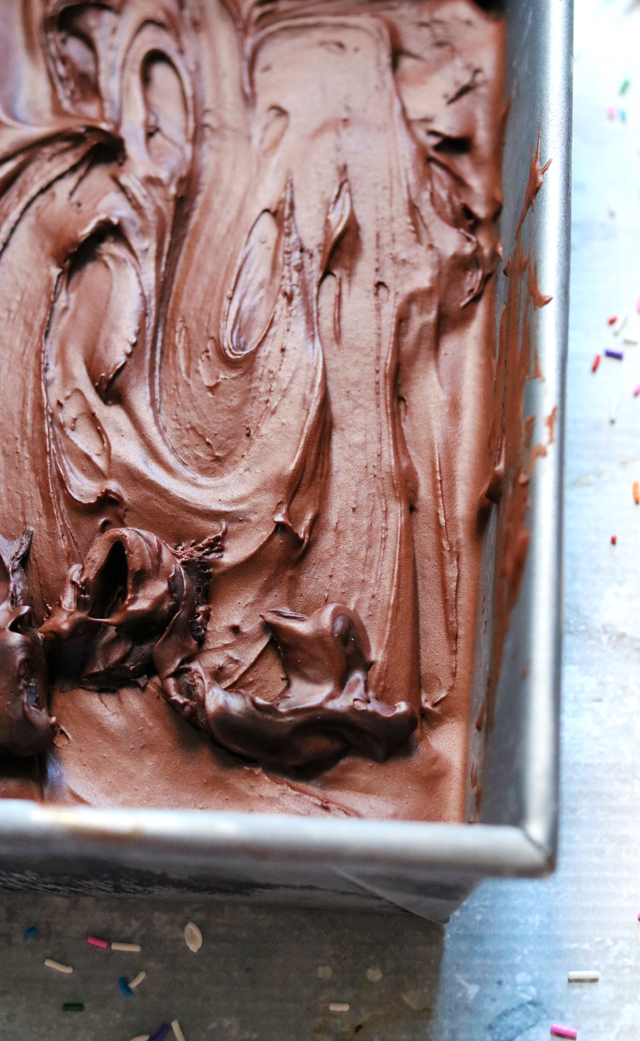 It's the unofficial last weekend of summer and I have a last chance ice cream assignment for you!!!
Just in the nick of time. Phew.
It only took all summer.
Real talk: I am Team Vanilla ice cream all the way.
Chocolate ice cream (in my opinion) is usually too light, not dark and sultry enough, and generally just devoid of depth of flavor. The exception being Jeni's dark chocolate peppermint ice cream, but even then I only need a bite or so and then I'm satisfied. Give me a pint of vanilla-based ice cream, on the other hand, and I will probably not hand it back to you until it's been emptied into my belly.
Sorry, not sorry.
BUT THEN, this devil's food darkest chocolate ice cream from the Bravetart bakebook was brought to my attention time and again in the Food52 Baking Club I'm in on facebook and it was like a car wreck – I knew that I should look away BUT I JUST COULDN'T.
Everyone who made it described it as basically the best chocolate ice cream they had ever had.
They were right.
This ice cream has a custard base that combines with a chocolate paste of both Dutch process cocoa powder AND bittersweet chocolate to make what is essentially extra dark chocolate pudding. You chill this in the fridge for a few hours or overnight so that it can thicken and then you churn it into what is basically the most luscious, sultry, sexy chocolate ice cream of all time.
It has the best mouth-feel, is absolutely scoopable, and (like most things) is lovely with a dash of rainbow sprinkles on top.
I dare you to make it for your Labor Day festivities (though you may or may not be inclined to share it).
Put away your white pants and lets get churning.

Devil's Food Darkest Chocolate Ice Cream
The end of summer calls for one stellar ice cream recipe and this devil's food darkest chocolate ice cream is IT.
Ingredients
For the base
5 large egg yolks
¼ cup sugar
¼ tsp kosher salt
1 cup whole milk
For the chocolate paste
¾ cup sugar
1 cup Dutch-process cocoa powder
3 oz roughly chopped 72% dark chocolate
1½ cups heavy cream
1 tbsp vanilla
2 tbsp creme de menthe or creme de cacao
Instructions
For the ice cream base
In a 3-quart stainless steel pan, whisk together the egg yolks, sugar, salt, and milk. Allow to warm over low heat for 5 minutes, stirring frequently. Increase the heat to medium-low and whisk constantly for 5 minutes, or until the custard is thickened and hot. Pour through a fine-mesh sieve into a large bowl.
For the chocolate paste
In the same pot (no need to clean it), whisk together the sugar and cocoa powder. Add in the chopped chocolate and cream. Bring to a boil over medium heat, whisking constantly until the sugar and chocolate have melted and the mixture is hot and bubbling. Strain through a fine-mesh sieve over the custard. Whisk to combine and then stir in the vanilla and creme de menthe. Allow to cool to room temperature, then refrigerate until cold and thickened, at least 4 hours or overnight.
For the ice cream
Churn in an ice cream maker according to manufacturer's directions, until creamy and thick. Whisk the ice cream is churning, place a spatula and quart container in the freezer to chill.
Once the ice cream is done churning, pour it into the chilled container, scraping out as much as possible with the spatula. Serve immediately as soft serve or freeze until firm enough to scoop, about 12 hours.